watch video
State educators show up in the thousands outside Presidential Palace to protest government changes
Thousands of demonstrators descended on Presidential Palace Avenue on Tuesday, protesting a Cabinet decision to trim down the number of class-exempt teaching hours in state schools.
Several thousands of people downtown joined union leaders of OELMEK, POED, and OLTEK and marched in the early evening towards the Presidential Palace, where others joined under the slogan "no to dissolution of public schools."
Police estimated the total number of protesters to around 9,000 outside the Presidential Palace.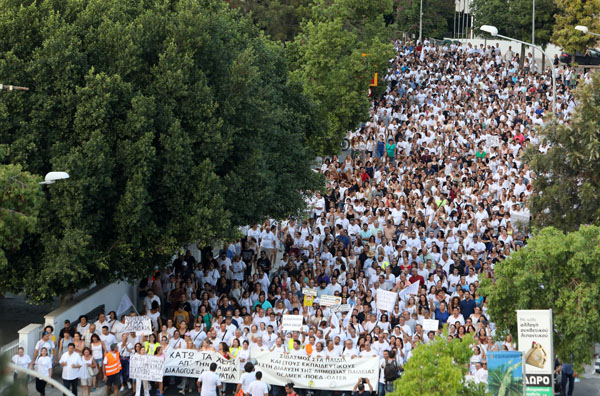 Teachers and protesters carried signs reading "Respect children and educators," "Dialogue = Democracy," and "Free education – No Dictatorship."
According to CNA News Agency, the leaders of the three unions addressed the crowd during the speeches outside the Palace, thanking people for their support and calling for the protection of institutionalised dialogue.
The government has been criticised for not listening to the unions, following a Cabinet decision in July that would reduce the number of hours teachers are allowed to be exempted from teaching duties.
The government has been criticised for not listening to the unions, following a Cabinet decision in July
Education Minister Costas Hambiaouris says the government is not cutting salaries but simply offering a plan under which a number of teachers would be able to exempt fewer hours for non-teaching tasks, with the latest proposal cutting two down to one class period.
The minister argues that more teachers are being hired even with fewer students in state public schools "because of these exemptions."
Hambiaouris called on current teachers to pick up the slack so that the government could save millions of euro in additional hires, promising to inject that money back into the education system.
But teachers say over 200 educators would lose their jobs if the measure goes into effect.
Despite a decision to report to duty on first day of classes, the unions said they will work with each other to come up with actionable measures as the school year goes in full swing.
The government says it will go ahead with the decision but also keep the door open for dialogue in order to address a full range of issues.