Trucks from Syrian Red Crescent and humanitarian partners in Ghouta, Syria
The UN humanitarian coordinator in Syria appealed to the government on Thursday to commit to a ceasefire in eastern Ghouta to let in an aid convoy containing emergency medical supplies that were stripped from a delivery on Monday.
A convoy reached the besieged, rebel-held enclave of some 400,000 people near Damascus on Monday for the first time since the start in February of a massive government bombing campaign and assault to recapture it.
It was only the second convoy so far in 2018 to access the area, where the United Nations says residents were already running out of food and medicine even before the bombing campaign began.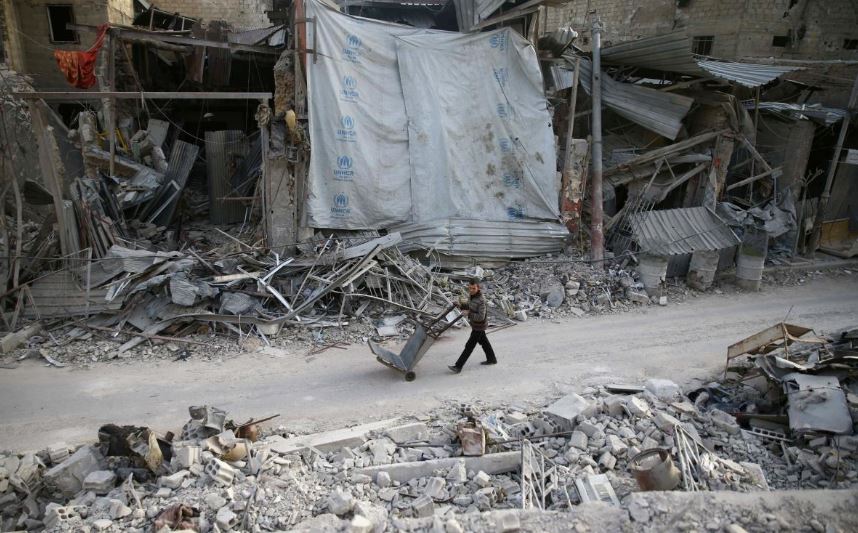 UN humanitarian coordinator Ali al-Za'tari appealed for access to eastern Ghouta in a letter to Syrian Deputy Foreign Minister Faisal Mekdad dated on Tuesday, according to a copy seen by Reuters.
A World Health Organization official said some trauma treatment kits and surgical supplies that had been approved for passage by Syrian authorities were instead removed by security forces from Monday's convoy while it was still being loaded.
Syrian authorities have often removed such medical materials from convoys out of concern they could be used to treat wounded rebels, UN aid workers say.
Za'atari said that once the convoy reached Ghouta, the trucks were unable to fully unload because military operations in the area had not stopped. 
Syria: UN & @SYRedCrescent humanitarian convoy brought life-saving aid to thousands of desperate people in the besieged Eastern Ghouta on Monday: https://t.co/wr8pfEv0gE https://t.co/oJvLZHbkcU

— United Nations (@UN) March 5, 2018
A Western diplomat in Geneva said of the convoy's hasty withdrawal: "It was a close call. There were 83 aid workers on board." The United Nations was seeking security guarantees to return, he added.
Syrian government forces bombarded eastern Ghouta anew on Wednesday in an effort to slice the enclave in two as they intensified a campaign to deal the opposition its biggest blow since 2016. 
"Desperate" conditions in enclave
Aid workers described conditions in Douma, eastern Ghouta's largest town, as "desperate", with civilians living in crowded basements in an area struggling to cope with an extra 15,000 people displaced from surrounding villages.
In addition, nearly 12 percent of children under age 5 in eastern Ghouta have acute malnutrition, the highest rate in all of Syria after seven years of civil war, UN figures show.
"A lot of children told us they have not seen daylight in 20 days, they haven't left the basements because it is too dangerous to go out," an aid worker told Reuters from Damascus.
Some treatment kits and surgical supplies had been removed by security forces from an earlier convoy
"One family told us they rely solely on food from a charity inside which provides one meal a day. They share that meal - it was a plate of plain rice."
Pawel Krzysiek, spokesman for the International Committee of the Red Cross (ICRC), said in a video posted on Twitter: "We heard the shelling around us. We had to leave actually without really offloading the full capacities of what (the convoy) had brought because it was just too tense."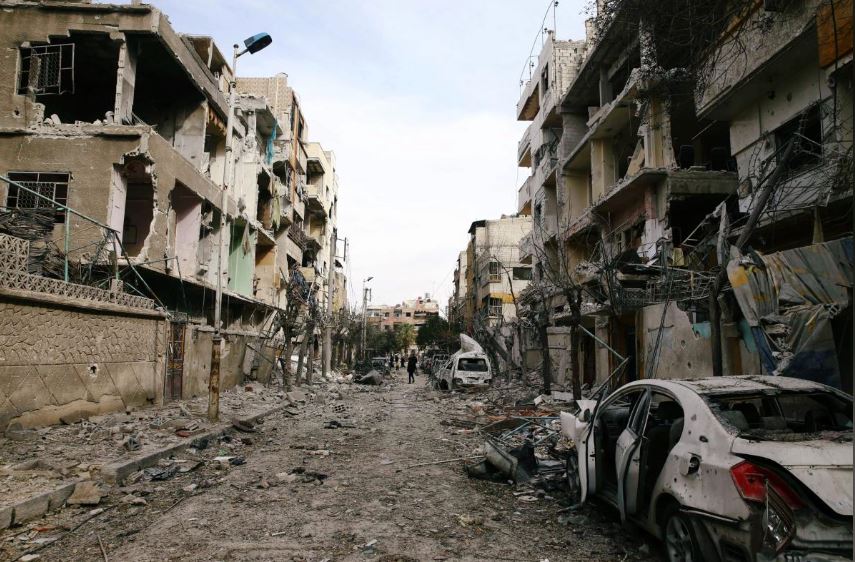 "We've seen aid workers trying to pull out corpses from the rubble. Around this there were children - no child should really be witnessing this," he said.
Za'atari said it was hoped UN aid coordinators and vehicles would be able to enter Douma on Thursday with the medical supplies removed on Monday, and without their vehicles being subjected to inspections.
He called on the Damascus government to "commit to cease fire throughout the area of eastern Ghouta during the entry of the humanitarian convoy, and during its presence in the area".
On February 24 the UN Security Council passed a resolution demanding a full 30-day ceasefire across all of Syria, but the government and its main ally Russia argue that it does not protect insurgent groups based in eastern Ghouta.
Russia has called for five-hour daily ceasefire each day in eastern Ghouta since early last week, but the Syrian government offensive to recapture the enclave has continued.