Hellenic armed forces on high alert as Ankara accuses Athens of being 'maximalist' and 'insincere'
Ankara has accused Athens of having "no legal basis" for raising objections over Turkish exploration in the eastern Mediterranean, as Greek armed forces were placed on high alert Monday after Turkey sent a seismic survey vessel in contested waters.
A senior official with the Turkish foreign ministry, Cagatay Erciyes, took to Twitter on Monday to describe Athens' claims in the eastern Mediterranean as "unjust, inequitable, and absurd."
Erciyes, who said the Turkish vessel Oruc Reis launched its offshore survey activity in "Turkish Continental Shelf declared to UN," argued that Greece's claims over an area also claimed by Turkey were based on a "maximalist" position.
"Greece makes a big fuss over this activity claiming that the survey area belongs to Greece. But how?" the Turkish diplomat asked.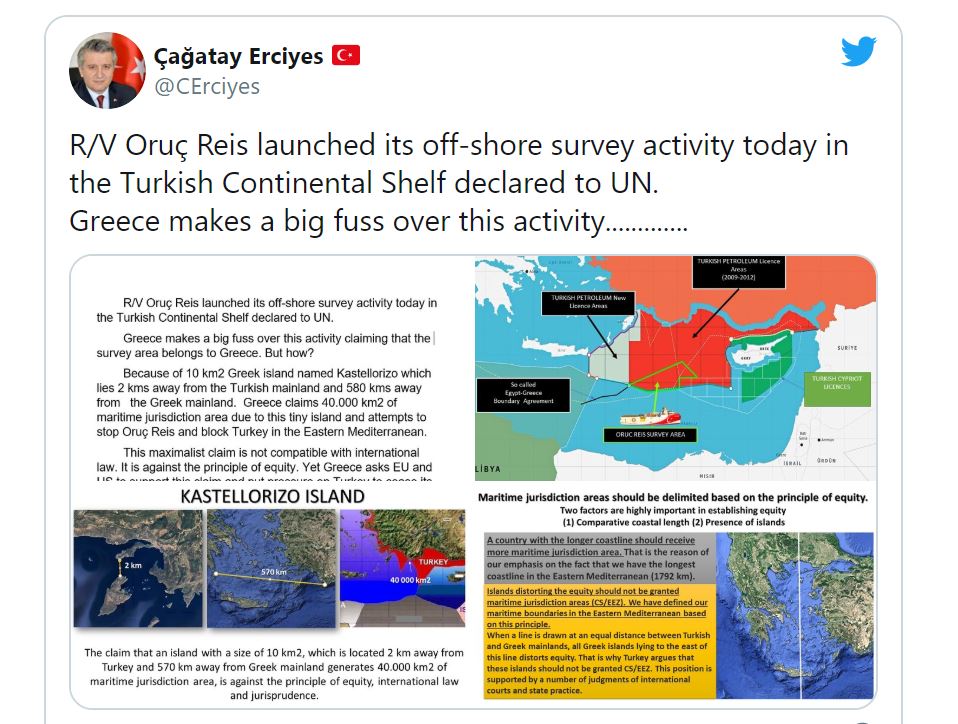 "This maximalist claim is not compatible with international law. It is against the principle of equity. Yet Greece asks EU and US to support this claim and put pressure on Turkey to cease its legitimate off-shore activities," Erciyes wrote, describing Athens' behaviour as unacceptable and unreasonable.
But Greece also cited international law in its response to Turkish activities, with Kathimerini Greece saying Hellenic armed forces were "placed on high alert Monday after Turkey sent Oruc Reis into an area within the Greek continental shelf, a move which Athens described as a threat to peace and stability in the region."
A battle of NAVTEX messages then ensued, with a Greek advisory being issued after Turkey issuing a message to mariners regarding a reserved area south of the Greek island of Kastellorizo for seismic research.
Reports said Greek warships were sending messages every 15 minutes requesting the vessel's removal from the area.
Greek Foreign Minister Nikos Dendias also issued a stern statement calling on Turkey to "immediately end its illegal actions that undermine peace and security in the region."
Reports said Greek warships were sending messages every 15 minutes requesting the vessel's removal from the area
But a statement from Turkish foreign ministry accused Greece of not being sincere, with Ankara saying it had suspended activities last month as a "gesture of good-will, aimed to give a chance to diplomacy and revitalize the dialogue channels which we made upon the request of Germany and the EU," but the move was not reciprocated.
The Turkish foreign ministry also clarified that Oruc Reis re-launching its activities came after Athens signed a deal with Egypt last week, describing it as "pirated agreement" that violated the continental shelves of both Turkey and Libya.
"There is no legal basis for the objections of Greece to this activity. As repeatedly stated on previous occasions, the Greek islands in the region, Kastellorizo in particular, cutting off the continental shelf of Turkey is against the principle of equity, which is the main principle of international law for maritime boundary delimitation," the statement said.
Ankara also argued that the recent escalation in the eastern Mediterranean was being caused by Greece, not Turkey, warning against others crossing the line in an attempt to exclude Turkey from energy deals in the Mediterranean Sea.
"Those acting under the presumption of being "the sole owners" of the Mediterranean will be deeply disappointed," the statement said.
Greek embassy officials in Turkey are reportedly lodging a demarche with the Turkish foreign ministry, while according to Kathimerini, sources said exploratory activities were rendered impossible due to the noise caused by the many naval units sailing in the area.
"This is because exploration of this sort entails the transmission of data from the seabed and the noise of the ships made this transmission impossible," sources said.