Turkish Foreign Minister Mevlut Cavusoglu talks Cyprus problem with UN envoy Jane Holl Lute
Jane Holl Lute, the special envoy of the UN Secretary General, wasted no time following a busy week by visiting Turkish Foreign Minister Mevlut Cavusoglu on Monday.
The visit was not announced ahead of time but it was made known after the fact by a post on Cavusoglu's Twitter account.
"We shared our vision on the settlement of the Cyprus issue with Ms. Lute, the official assigned by the UN Secretary-General," the foreign minister wrote.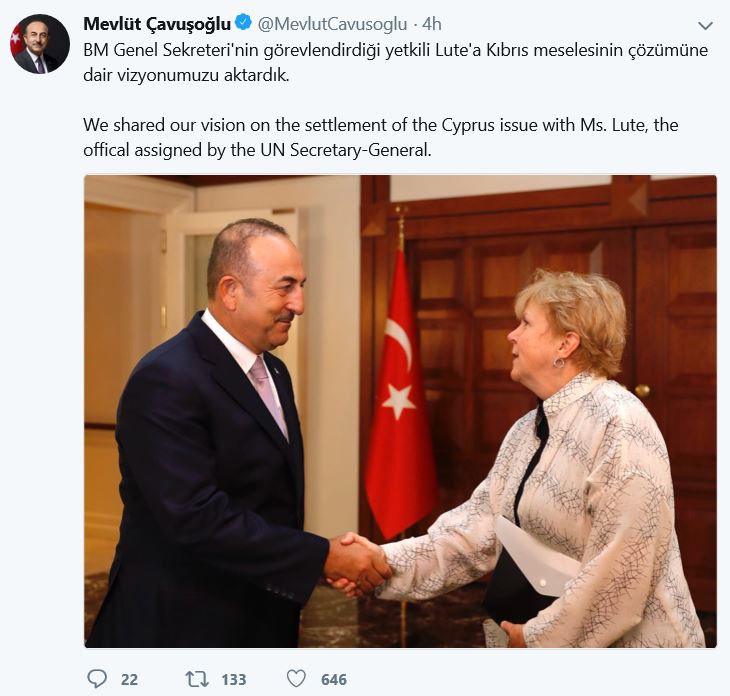 Lute is expected to meet with Greek Foreign Minister Nikos Kotzias in Athens in the second week of September according to Kathimerini Cyprus.
The UN envoy has already spoken with the two Cypriot leaders, President Nicos Anastasiades and Turkish Cypriot leader Mustafa Akinci, but she made no public comments about her meetings.
Her Cyprus tour was followed by a trip back to New York, where intense negotiations led to a vote in the United Nations Security Council last week, voting unanimously to extend UNFICYP's mandate, UN peace keeping forces on the divided island, for another six months.
Both Greece and Turkey, along with the UK, are guarantor powers in Cyprus, a status that is being brought into question by both Nicosia and Athens.
Lute has already spoken with the two Cypriot leaders but made no public comments about her meetings
London has maintained a neutral stance on the issue, saying only that it would go along with whatever the two sides of the conflict agree.
Ankara insists that military presence and guarantees are crucial to acting as a deterrent against what Turkish Cypriots perceive as a threat coming from the larger community of Greek Cypriots.
Greek Cypriots, on the other hand, see guarantees as anathema citing their own fears stemming from the summer events of 1974, when Turkish military invaded Cyprus in response to a short-lived coup engineered by Athens.
Kotzias put forward a proposal for a Friendship Pact between Greece and Turkey which fell through during the Crans Montana conference on Cyprus last year.
But the Turkish minister said recently that there had been a lot of intense negotiations for a federal solution, warning that if talks begin hastily without preparation, then it could end up being the last effort.
Lute is also expected to meet with Federica Mogherini, the High Representative of the European Union for Foreign Affairs and Security Policy, as part of a round of consultations where the UN diplomat is sounding out all parties involved in the Cyprus issue and reporting back to UN Secretary General Antonio Guterres.
Guterres said he might take a new initiative on the Cyprus negotiations only if he feels that both sides are willing and prepared to go all the way.