The multi-themed City of Dreams Mediterranean resort in Limassol, which will include a luxury hotel, casino, entertainment and sports facilities, adventure park, shops and restaurants, among others, will begin operations in the second quarter of 2023. Grant Johnson, the General Manager of COD analyzes what exactly the City of Dreams Mediterranean will be, what it will offer to the tourism product of Cyprus, how it will strengthen the country's economy and its position as a popular tourist destination and at the same time he analyzes how this project will have significant benefits for the local community and its people.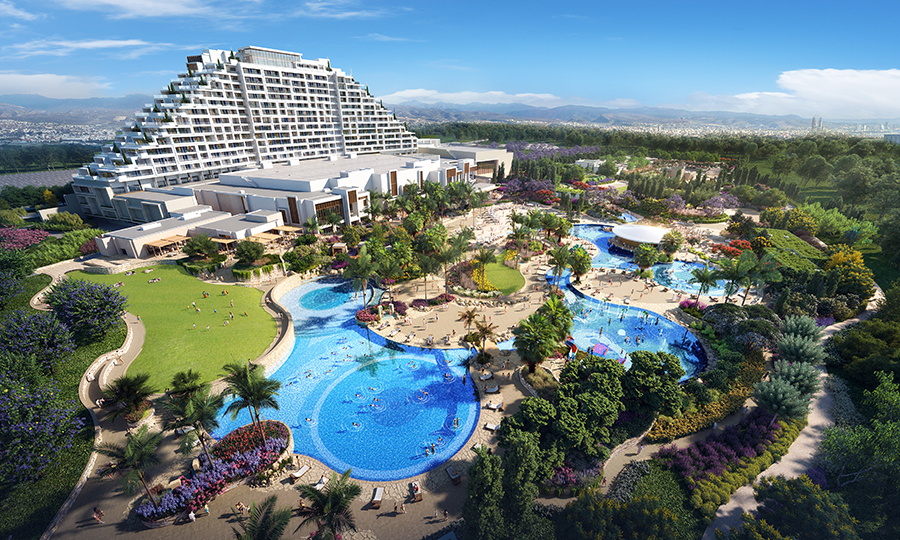 Mr. Johnson you are the General Manager of City of Dreams Mediterranean Resort and Cyprus Casinos. As the person who knows this project probably better than anyone, if I asked you to describe it from your personal point of view, what would you tell us?
With a total investment value of over €600 million, City of Dreams Mediterranean integrated resort (IR) is one of the largest development projects of its kind ever undertaken in Cyprus. Together with our local partners, the CNS Group, we believe that this project will establish Cyprus as a globally-renowned destination for tourism and entertainment for all seasons, expanding the island's tourist product and contributing to sustainable economic growth.

City of Dreams Mediterranean won't be just another luxury hotel with a casino or a luxury holiday destination. How would you like it to be known as?
Melco's vision is for City of Dreams Mediterranean to be the ultimate destination for the region's luxury hospitality and premium entertainment. It will be Europe's first integrated resort and a game changer for Cyprus' tourism industry -- a premium resort for sophisticated travellers which will raise the bar not only in entertainment and premium tourism but also, in international business and conference tourism.
What would this project bring to Cyprus - to its economy, to its status in the broader European - Mediterranean region and to its influence on the global tourism sector?
By building Europe's first integrated resort, Melco aims to establish the country as a global, year-round destination for premium hospitality and entertainment. The Company aspires to develop a landmark in the region, to boost Cyprus' economy by creating thousands of jobs and a chain of value for the local community through collaborations with local suppliers and businesses. Furthermore, it aims to address the problem of seasonality in the country's tourism product, upgrade its infrastructure and hospitality services to the highest standards, and ultimately create real and lasting benefits for local society.
And what would it bring to the people of Cyprus? How do you anticipate the local population to benefit from City of Dreams Mediterranean?
In addition to the job opportunities created by City of Dreams Mediterranean, Melco is committed to implement proactive contributions and innovative CSR initiatives to give back to the community it serves. The Company has been recently honored by Global Gaming Awards Asia 2022 as 'Corporate Social Responsibility of the Year', recognizing its CSR efforts. Melco focuses on the needs of the societies in the communities where we operate. Collaboration and partnership with governments and local organisations is a core principle of this, and we invest in strengthening these relationships with efforts that are tailor-made for each of our communities, allowing us all to progress and prosper together. Apart from promoting local employment and engaging in Corporate Social Responsibility (CSR) activities, Melco believes that economic prosperity for local businesses is also vital to the sustainability and health of our communities. In Cyprus, the Company's CSR efforts are guided by five main pillars covering: Education, Environment, Culture & Heritage, Youth Development and Women. Melco Cyprus has continued to prove its commitment in being a key contributor and partner to the community. Efforts include: sponsoring the installation of new gates at the Acropolis of Ancient Kourion and the Sanctuary of Apollo Hylates as part of the 'Heritage Gates' project. In Addition, Melco has organised beach clean-ups in collaboration with local authorities, donated light firefighting trucks to communities and contributed to the repair of a school together with partners CNS. Moreover, the company is organising the "No Child Without a Present this Year" Christmas charity campaign, during which volunteers collect & donate gift vouchers, toys, clothing, and electronic devices for children of all ages. On a global level, Melco reached out across its operations to over 1,300 NGOs, associations, schools, nurseries, government departments, and SMEs. We support local suppliers, particularly small businesses by proactively educating them on our procurement standards. It's a win-win situation; all the opportunities we provide to our SME suppliers equip them to provide the best products and services to us. For example, as a result of these efforts, in Macau, out of 80% of Melco's procurement are made with local companies and distributors, over 30% was with micro and small enterprises. In Manila, over 90% of our procurement supports local businesses. This is what we are going to apply in Cyprus too.

At the same time, the opening of City of Dreams Mediterranean will give employment opportunities for the local population. How many people do you estimate to employ? And in which sectors?
Through Cyprus Casinos (C2) Melco Cyprus employs around 700 people at the moment, in their majority Cypriots. City of Dreams Mediterranean would require more than double that figure to operate and we are currently in the middle of an employment drive to hire over 1,000 people across all operations through Open Career Days that we organize on a frequent basis. Positions range from trainee dealers, hosts, waiters, bartenders, cooks and restaurant managers to gaming machines attendants, animators, and front operation agents. Promoting local employment is part of Melco Cyprus' commitment to the country and we are proud to extend exciting opportunities to those interested in creating career paths with one of the leaders of the global hospitality industry.
What makes City of Dreams Mediterranean an attractive employment environment, in your opinion?
At Melco, we want to be a company which people choose to work for and stay with, we want our colleagues to look forward to coming to work every day and we want colleagues to find more than just a "job" at Melco. This is reflected in our policies and programs, which offer competitive remuneration, benefits packages and career development opportunities that are designed to attract, engage and retain high-performing colleagues. Melco has invested in designing and building a best-in-class work environment, what we call "Heart-of-House" in our properties to take care of our people. Melco's "Heart-of-House" comprises premium amenities such as dining rooms, its in-house Learning Academy and relaxation areas for colleagues. Melco Cyprus is proud that the "Heart-of-House" will be introduced at City of Dreams Mediterranean as well. We also encourage our colleagues to embrace lifelong learning to maximise their potential and continue building successful careers. Melco Cyprus partners with top local universities to offer colleagues practical learning opportunities through scholarships, which afford full and partial tuition fees to our staff in up to 35 fields of study. We believe that Melco offers the best environment for personal and professional growth with opportunities and long-term prospects. To date, Melco has provided colleagues with over 31,000 promotions and internal transfer opportunities across its operations globally. We don't just talk about career opportunities; we act on it.

When will City of Dreams Mediterranean open for business? Will the whole resort open at one time, or different parts of it will be opening gradually?

The City of Dreams Mediterranean is scheduled to start operating fully in the second quarter of 2023.

How long has the completion of this project taken?
We broke ground in the summer of 2018 but as was the case with the rest of the world, we experienced delays in construction due to the restrictions put in place during the Covid-19 pandemic. This was followed by disruption in the supply chain, which was compounded by the war in Ukraine. As a result, the contractor has also struggled with meeting its labour resourcing plans and maintaining progress, which has led to additional delays. But to quote Melco Chairman and CEO Mr. Lawrence Ho, we are actively dealing with these difficulties, and we remain fully committed in delivering Europe's first integrated resort in Cyprus.

Do you plan an event for the opening? How will the arrival of a resort of its status will be made known to the global market?
Campaigns will be carried out to raise awareness and anticipation for the project as well as to promote Limassol and Cyprus abroad, at an intensive pace. In fact, the launch of City of Dreams Mediterranean will mark a major milestone for Cyprus and we intend to make its opening known across the globe.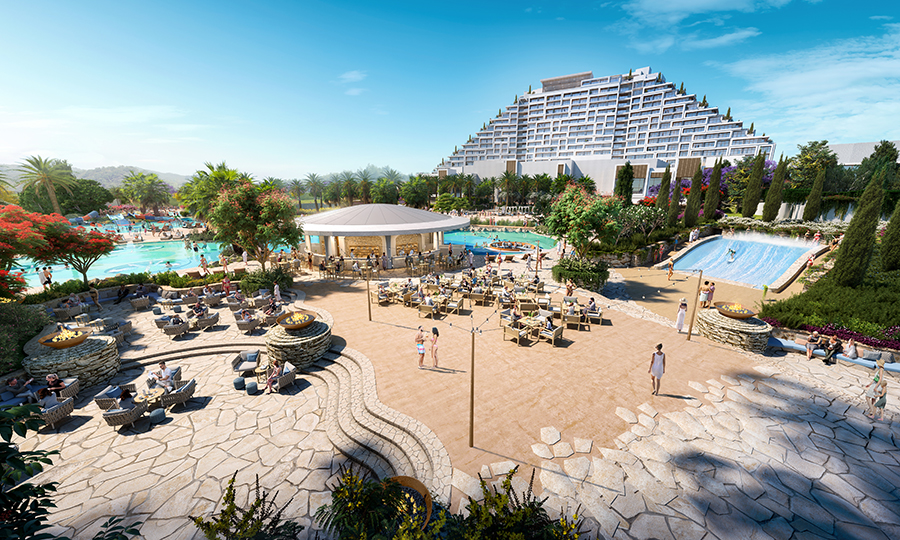 What are the key points which you believe are the biggest advantages of City of Dreams Mediterranean, as a holiday and entertainment destination? And how do you think City of Dreams Mediterranean will stand out among the rest of the luxury resorts in the world?
Being Cyprus' first integrated resort and the largest in Europe, City of Dreams Mediterranean will stand out for its variety. Specifically, it will include a unique combination of luxury hotel, premium entertainment, conference, and sports facilities, high-end retail stores, a variety of premium-dining restaurants and bars, a family adventure park and a 200-seat outdoor amphitheatre. The sports facilities feature a tennis academy, supervised by Cypriot tennis star Marcos Baghdatis, with 12 state-of-the-art tennis courts, including a professional-sized centre court, perfectly suited for international tournaments. Furthermore, the IR's over 8,000 square metres of MICE spaces will establish Cyprus as a key meeting point for conference tourism. The global tourism and hotel industry is seeing a trend towards high-end, all-inclusive resorts as visitors enjoy the convenience of having all facilities in one place. City of Dreams Mediterranean will fill this gap in the regional hospitality and entertainment market and tap into new consumer groups. Our goal is to create a destination for all-seasons, attracting thousands of new visitors annually to Cyprus, while contributing towards the diversification of the country's tourism product. Melco places great emphasis on creating the preconditions for City of Dreams Mediterranean to become a catalyst in developing alternative forms of tourism in Cyprus. City of Dreams Mediterranean will be more than a gaming destination. As part of this endeavour, Melco has formed a strategic alliance with the Deputy Ministry of Tourism of the Republic of Cyprus, to collaborate on a series of actions aimed at shaping a more resilient and sustainable model of tourism development. The two parties will work closely together to promote special forms of tourism, while exploring new niches and market segments.

What are the main points of Cyprus and the Mediterranean region (and whether) that will help City of Dreams Mediterranean achieve its goals?
The decision to pursue the development of City of Dreams Mediterranean was based on a thorough analysis and evaluation of factors which could influence the Company's long-term growth. One main driver that led us to choose Cyprus was the country's geographical location. Drawing on its strong position as a destination with established transport links to Europe, the Middle East and Asia, we strongly believe that Cyprus has all the prerequisites to enhance its reputation as a regional and global premium "must-visit" global tourist destination and emerge as a genuine point of reference for premium tourism. The country has a number of other comparative advantages including being blessed with more than 300 days of sunshine per year, some of Europe's best blue flag beaches, a highly-skilled workforce, and advanced tourism infrastructure. Taking these elements into consideration, we are certain that City of Dreams Mediterranean will become a point of reference for the region.

What can you tell us about the architectural design, the landscaping and the technology used for the infrastructure?
City of Dreams Mediterranean is being developed by Melco and its local partner CNS Group. It features a pyramid-shaped fourteen-story luxury hotel with 500 guest rooms and entertainment and sports facilities, restaurants, shops, and extensive conference space sensitively applied in the beautiful Mediterranean landscape. The IR's interior, designed by renowned international firms, is based on Melco's luxury standards and customised specifically for its development in Cyprus. Its exterior will feature Mediterranean elements with native plant species, mirroring the character of its surrounding environment and supporting the landscape's ecology. Additionally, 130,000 trees and indigenous flora species will be planted, creating a holiday oasis for guests and at the same time reducing carbon emissions. The resort will also include a retail promenade resembling the old town of Nicosia. It is also important to mention that City of Dreams Mediterranean aspires to become one of the most sustainable resorts in the region. The IR is constructed with the highest sustainability standards, from materials used, its high-tech water reuse system to the energy-saving optimisation of the building's orientation and shading. For these achievements, City of Dreams Mediterranean was recognised with a BREEAM 'Excellent rating', the world's leading method of assessment for sustainability of infrastructure projects for its design phase, becoming the first building in Cyprus to achieve this honour.

How will City Of Dreams offer its visitors the ultimate hotel and entertainment experience? How will COD touch the heart and senses of its visitors?
City of Dreams Mediterranean will offer a wide range of premium experiences to address different types of audiences across various target markets. The resort will appeal to high-revenue visitors from all over the world while becoming a major must-visit destination in Cyprus. Melco also believes City of Dreams Mediterranean will attract a whole new tourist market from the Middle East, North Africa and Europe for guests who have yet to experience Melco's IRs in Asia.

City of Dreams Mediterranean is part of a group which is a global leader in this sector. What can you tell us about Melco?
Melco Resorts & Entertainment is the brainchild of Mr. Lawrence Ho, who took over Melco International in 2001 and refocused it on leisure and entertainment, building and operating casino resorts in Macau, the Philippines, and now Cyprus. The company was founded in 2004 as a joint venture between Melco International and Crown Limited. Melco Crown became Melco Resorts & Entertainment in 2017. Through innovative multiple award-winning products and services, and by working hand-in-hand with globally renowned brands, our Company offers the best entertainment experience that aims to appeal to a broad audience and thereby become a leader in the gaming industry of Asia and Europe. Melco is a world leader in the leisure and entertainment sector whose portfolio of integrated resorts include venues like City of Dreams Macau; a $1.1 billion iconic masterpiece designed by the late Dame Zaha Hadid and named as one of the "World's Greatest Places" by TIME Magazine in 2018. Beyond Macau, City of Dreams Manila, strategically located at the gateway of Entertainment City, provides an unparalleled entertainment and hospitality experience the Philippine market and continues to set reference for Melco's robust capacity to execute on its international vision.

What is your own personal message that you wish to give to Cyprus and its people?
We believe in Cyprus and its people and that is one of the reasons we are here. This project will be setting new standards of quality across the board, but it would be impossible without help from the Cypriot people who, at the end of the day will be the face of the City of Dreams Mediterranean. We look forward to our guests experiencing the Cypriot hospitality that we have experienced since embarking on this project.
For more information https://www.cityofdreamsmed.com.cy/en/careers