US$3.2b invested in audit quality, innovation, technology and people in FY22 – part of a US$10b three-year commitment announced in FY21
More than 81m lives positively impacted through corporate responsibility program EY Ripples
Carbon negative status reached in FY21, on track to achieve net-zero ambition in 2025
Looking ahead, EY leaders have reached the decision to move forward with partner votes for the initiative to separate into two distinct, multidisciplinary organizations
EY announced combined global revenues of US$45.4b for the financial year ending June 2022 (FY22), an increase of 16.4% in local currency (13.7% in US dollars). This marks one of the most successful years in the history of the organization with the highest growth seen in nearly two decades attributed to the EY NextWave strategy to deliver long-term value for EY people, clients and society.
EY has also published its Value Realized report, an expanded annual report detailing financial performance; environmental, social and governance (ESG) efforts; and key areas of collaboration to drive social impact. 
Strong performance across all service lines
All EY service lines recorded strong revenue growth in FY22. Consulting experienced exceptional growth of 27.1% (local currency) and 24.5% (USD) to US$13.9b. Strategy and Transactions also grew by a significant 25.4% (local currency) and 22.8% (USD) to US$5.9b.
Assurance grew by 8.9% (local currency) and 6% (USD) to US$14.4b. Revenues from the Tax service line rose by 10.5% (local currency) and 7.9% (USD) to US$11.3b.
Continued investment in innovation
This year EY invested US$3.2b in audit quality, innovation, technology and people – part of a US$10b three-year commitment announced in FY21. This includes US$1b in a next- generation assurance technology platform – which is part of a sustained focus on providing high-quality audits and responding rapidly to changing expectations from regulators, governments, standard setters, audit committees and boards.
Growing investment in sustainability and technology training
In FY22 there were EY investments of US$300m in training which delivered more than 59 hours of training per employee on average. The EY organization now offers more than 250 learning accreditations – known as EY Badges – across a range of disciplines: including artificial intelligence (AI), blockchain, impact entrepreneurship, supply chain planning, DE&I and sustainable business practices, in addition to technical training in accounting and tax.
This year EY announced two new master's degrees in collaboration with Hult International Business School. The new qualifications - in Business Analytics and Sustainability - are open and free to all EY people alongside the EY Tech MBA by Hult. 95 people graduated with an EY Tech MBA and 10 people graduated in the first cohort of the Master's in Business Analytics this year. Cumulatively, 130 people have graduated from the Tech MBA and master's programs. EY also opened the EY Tech University in Palo Alto, California, delivering programs in disruptive technology for senior executives and clients.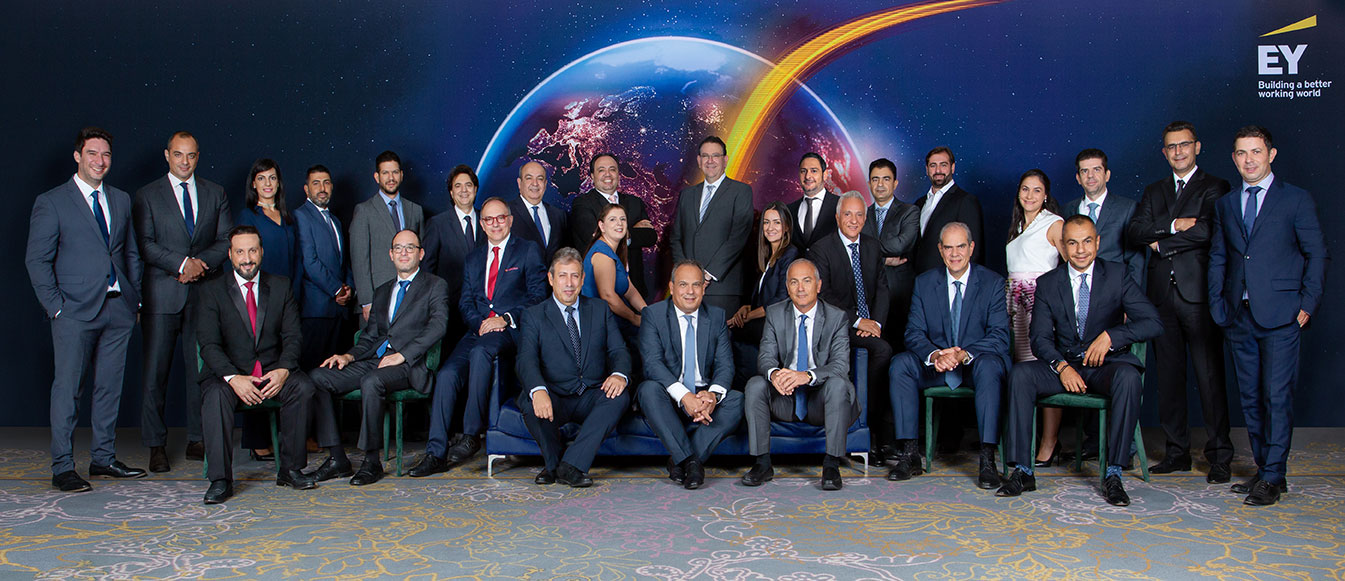 Driving the sustainability agenda
EY became carbon negative globally in FY21, a major and significant step toward achieving the organization's ambition of becoming net zero in 2025. EY continues to be carbon negative and remains on track toward achieving this net-zero ambition, with a 56% reduction in emissions recorded in FY22, compared with the baseline set in FY19. In addition to progress to become more sustainable, the EY organization is focused on the development of alliances, and the creation of innovative ecosystems to address the world's largest climate-related challenges. EY people have delivered EY Sustainability solutions to more than 3,000 clients, including technology-based solutions through alliances with Enablon, IBM, Microsoft and SAP.
Additionally, EY has developed a specific methodology to provide assurance on non-financial reporting based on the globally accepted International Standard on Assurance Engagements (ISAE 3000) released by the International Auditing and Assurance Standards Board (IAASB). The organization has also issued new guidance on the audit of financial reporting to help EY audit teams consider the effects of climate-related risks on financial statements.
A focus on EY people
This year EY evolved its approach to diversity and inclusiveness by explicitly incorporating equity. Now referred to as Diversity, Equity and Inclusiveness (DE&I), this furthers the organization's commitment to creating an inclusive environment and removing barriers to equal outcomes so everyone can thrive. EY continues to be a purpose-led organization with a culture that is strongly committed to DE&I.
In FY22 35% of partner, principal, executive director, and director (PPEDD) promotions were women. Overall, there were more than 2,400 promotions to PPEDD this year - the largest ever cohort for the EY organization.
Building a better working world
The EY global organization set the ambitious goal of positively impacting one billion lives by 2030 through the EY Ripples corporate responsibility program. Since EY Ripples was established in November 2018, more than 81m lives have been positively impacted, including 27m lives in FY22. In FY22 there were total investments made up of US$159m in projects dedicated to strengthening local communities, with EY people contributing more than 1.1m hours of time to a variety of initiatives and value-in-kind projects.
Looking ahead
EY leaders have now recommended that the organization evolves into two distinct, multidisciplinary organizations. One would be a global network of multidisciplinary member firms committed to assurance, tax and advisory services with all the capabilities required to deliver high-quality audits, serve the public interest and focus on the CFO agenda and sustainability; and the other would be a new global corporate entity comprising Consulting, Strategy and Transactions (SaT), the majority of Tax, and managed services.
In taking this bold step, EY can better serve EY people, clients and broader stakeholders in a once in a generation opportunity to redefine the future of professional services. This move will create better and more dynamic career opportunities; people can learn more, take on new roles and explore different mobility options.
It would mean increased access to capital to reinvest in people and client services and solutions, with a laser focus on the issues that matter most to clients and stakeholders.
It would also mean more choice for clients for both audit and transformation services, and an even stronger focus on ESG priorities, as well as more opportunities to develop new corporate responsibility programs – such as co-investments in ''green'' projects – so that we can make an even bigger impact in the communities in which we operate.
Both organizations will be values-focused and purpose-driven, and both will preserve the strong EY culture and commitment to DE&I.
EY will now engage in more detail with EY member firm partners, whose votes will determine whether we move forward.
Commenting on this year's financial results, Ronald Attard, Country Managing Partner of EY Cyprus, said: ''EY has concluded another extremely successful year, achieving spectacular growth, despite the current turbulent global environment. This was thanks to our continuous investment in technology and innovation as much as the professionalism and hard work of our people. In the uncertain times ahead, we will continue to support our clients, in Cyprus and throughout the world, in their transformation journey, providing the exceptional level of services that they have come to expect from EY''.