Renault is a leader in electrification. What do the latest figures show and what is your target for 2019?
We are leaders in Europe with our electric car ZOE and electric van Kangoo. Together with our partner Nissan we are also leading the world market in the electric vehicle sector. Our goal is to continue to grow as we have increased our production capacity in the last two years and we have had an increase in demand. Also, due to limitations mainly due to battery availability, we have invested and constructed new factories and now we have sufficient supplies and we expect an increase in our capacity to produce more.
In addition to existing models, what new additions to your fleet can we expect?
We are leaders in the electrification market and we are working to expand our range. But at the moment I cannot reveal more, but we are working to add new purely electric cars. We already have ZOE, Twizy, Kangoo and Master. The Clio, which we will present at the end of the year, will be a hybrid, and we have Plug-in Hybrid versions of the next generation Captur and Megane coming in 2020.
What are the biggest barriers to adopting an electric car?
There are two main obstacles. The first is the scale of the public charging infrastructure – and this is something that is being addressed as charging stations are already increasing. From the consumer's point of view, the autonomy of the vehicle is also an issue but we're seeing this rapidly improve as battery technology improves – the current ZOE has nearly twice the range today than when it first went on sale and this is a trend that will continue.
We also know that battery costs are an inhibiting factor.
Battery prices have stabilized and at the same time autonomy increases rapidly. Electric cars can cost more but in several countries governments offer incentives that lower the purchase cost, by offering a number of benefits such as tax incentives, free parking and free of city center traffic congestion charge. It is all these incentives that promote the purchase of an electric vehicle. Bottom line is that the cost of electricity is much lower than the cost of fuel. The initial purchase price of an electric car may be slightly higher for now, however the cost to run it is much lower – and let's not forget their main USP which is zero tailpipe emissions.
In Cyprus, of course, serious incentives have not yet been offered.
Even so, the buyer will have to calculate the mileage he runs along with the cost of fuel and the car's consumption, and consider whether the cost of using an electric car will reduce these costs. Of course beyond that, it is very important that the electric car does not produce any tailpipe emissions. It is therefore very important for the environment, especially in cities and in general in areas where there is a large concentration of population.
How easy is it for the Cypriot market to embrace electrification?
This is something that will depend on how well the product will be promoted. We have seen that in all the successful markets in Europe, the role of the government in this direction was extremely important either through tax incentives or other benefits. For example, Norway, ranks first in the use of electric vehicles at government level and has done everything that needs to be done to promote electric vehicles.
What is the market share of your company in 2018, in Cyprus and worldwide?
Together with Nissan and Mitsubishi, we are the number one manufacturer in the global automotive industry in the last two years, ie 2017 and 2018. Now in Cyprus, Renault has around 5% in recent years, Nissan around 10% and Mitsubishi around 1%.
From 2017 Lada became part of the Renault Group. Will we soon see such cars in the Cypriot market?
Not yet, this is not in our plans. It is also a brand that is relevant to the Russian market, where it is registering a significant increase in market share. On the other hand, Dacia, which we bought a few years ago and redesigned the brand, is also a great success, and it has been a great success in emerging markets but also in mature western markets like the UK. We create lower-priced cars that embraced by emerging markets as they meet a need in that market. We offer to the consumer what they desire and nothing more, and at an affordable price. There is a great prospect for Dacia in Cyprus and I'm sure it will be a great success.
Why did you change your business partner in Cyprus?
The reason was because our previous partner was experiencing some difficulties. Our decision was based on a joint agreement. Then, last May, I visited Cyprus where I had various offers and meetings and we finally moved forward with a cooperation with Pilakoutas Group. There are many reasons for this decision. First I was impressed by their professionalism, the great passion of Pilakoutas Group for this sector. In addition, they already had Nissan in their fleet; we belong to the same alliance of companies and that played a major role. The last point was the Group's enthusiasm for the Renault brand. It is extremely important for me to know that the next generation will follow the course and style of the previous three generations in the automotive sector.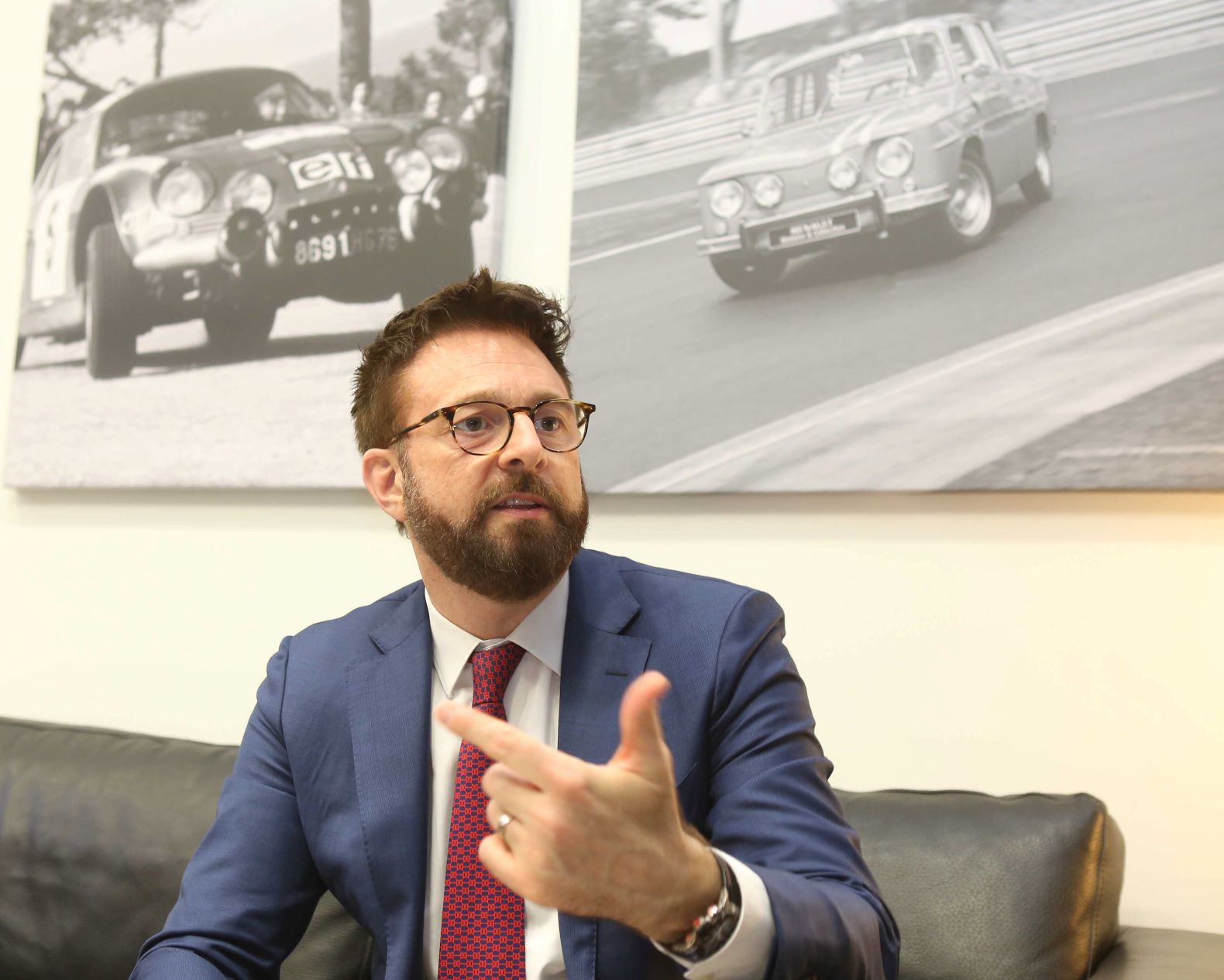 How important are such collaborations in trying to consolidate or improve your company's position in a market?
It is very important in general, but especially for Renault to have a partner who does not just do sales, but also places importance to after-sales services and customer service. These are elements that the Pilakoutas Group already has and for me this is very important in the long run.
What do you consider as the biggest challenge in the Cypriot market?
First of all, we want to increase customer confidence as, since we did not have a presence for some months, we need to rebuild a sense of trust and confidence, showing them that we have come back with a new and strong partner. This is also the biggest challenge in the short term. I have to say that the Pilakoutas Group has made investments in facilities like this one. The challenge is also to offer a high level of after-sales service, and again this is something that the Pilakoutas Group invests in. This is what differentiates our company.
What market share in Cyprus and what is your goal?
We have had good market share performance despite the fact that we have not been active for some time. However, in the last 4-5 years, we have had a steady share of around 5%. That is good, but we are aiming for more. Since our average market share in the European market is 11%, this is our target for all markets where our market share is lower.
Is there a timetable to reach this goal?
In Cyprus we will continue to renew our fleet, so we will launch new products on the market both in Europe and Cyprus and that will help. We are launching the new Duster SUV, which is a successful vehicle, so we expect this to be the case in Cyprus and will further increase our market share. An important factor is that we have the van range and we are a key vendor in Europe, we have been a leader in the market for twenty years and there is room for improvement in the Cypriot market. If we add all this together with the professionalism and investments by the Pilakoutas Group, we think we can increase our share.
Which new models will we see in the Renault fleet?
There will not be anything in the next few months, at least until the end of 2020. At present, we will go ahead with replacing and improving models that are already in our range.
Speaking about the environment, what is your opinion on the new legislation on road tax? Is it an effective step towards reducing emissions of pollutants?
It is important to encourage replacing a vehicle with another that emits less pollutants. But again, to give incentives for clean electric cars is clearly more important as it promotes cars that do not pollute the environment at all. Only electric cars offer zero emissions.
How would you describe the Cypriot market? What are the differences compared to other markets?
What I can say is that surely the Cypriot market prefers diesel vehicles much more than the rest of Europe. The market also prefers cars with automatic gearbox, which also differs from the rest of the European market. Yet another element is that the electrification market is very limited as opposed to other European markets in which electrification is gaining ground at a very fast pace. Indeed, in Cyprus, the lowest rates of electrification in Europe are recorded.
Knowing this, you go ahead and invest in electric cars for the Cypriot market.
Yes. Because electrification is something that will come inevitably. I just want to tell you that a few years ago in the automobile exhibitions we were the only ones with electric cars. Then followed by some other brands like Tesla, and now everyone is offering electric vehicles. In this field where we are pioneers, now the rest of the industry follows, so demand will follow.
More generally, however, Cyprus is a small market. Why do you want to invest in such a small-sized market?
Once we are number one in the world, we consider it our duty to have a presence everywhere, especially in markets where we have been active for several years. Seeing it in terms of profit, it may not be significant for us, but we have loyal customers for years and it is our responsibility to maintain and improve our presence in the Cypriot market.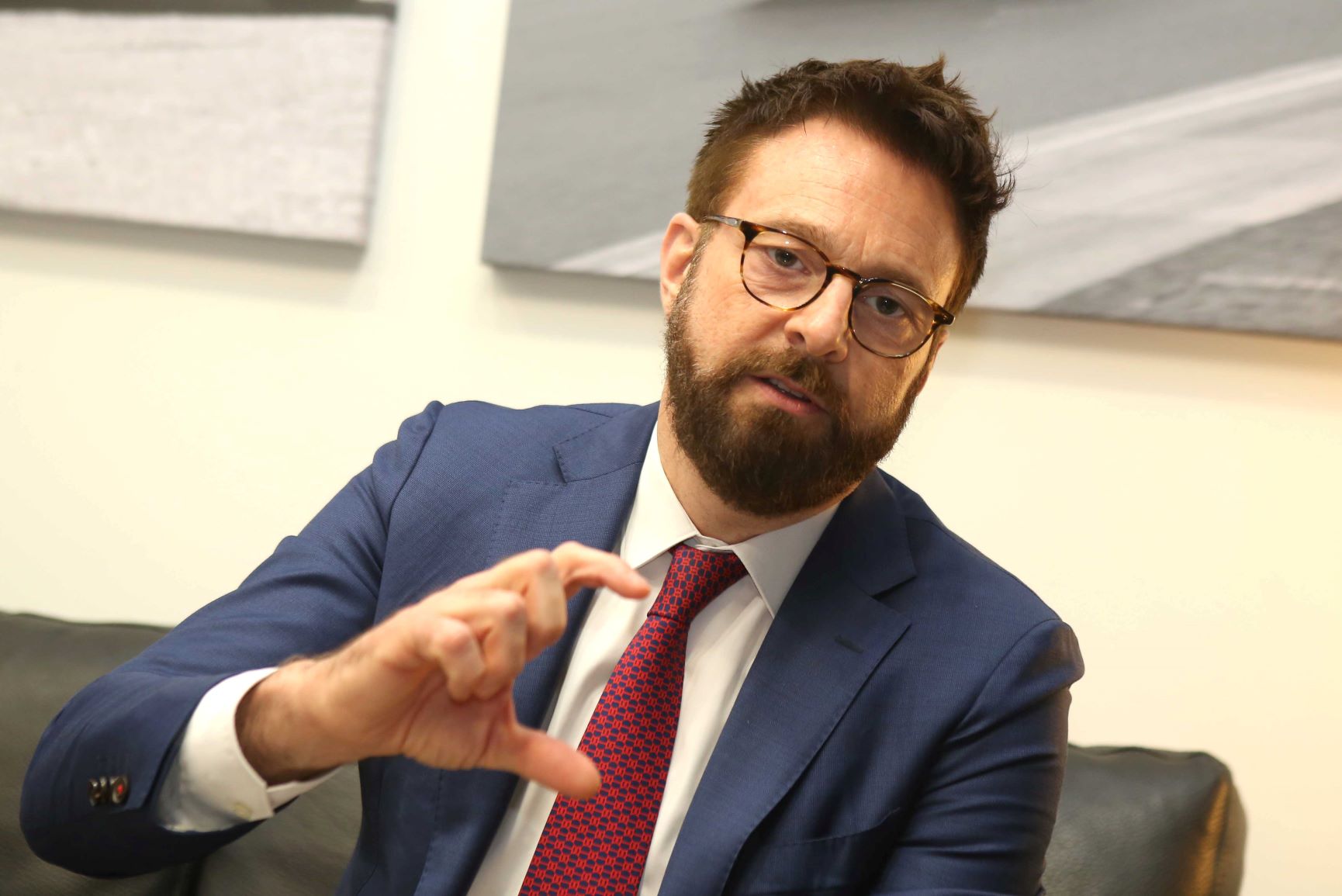 In the past few months Nissan, Renault and Mitsubishi continue their business without Carlos Ghosn. What were the effects of this transition?
It was certainly a great surprise for companies but there was immediate reaction and mobilization to manage the situation. Carlos Ghosn is no longer part of the company, and Jean Dominique Senard is the new chairman. I think that although the shock was great for everyone, the crisis was very well managed and I do not think much about it, there was no impact.
Does the removal of Ghosn change the company's forward planning?
The company's plans have not changed following these developments. The only thing that may be revised will be the management of the company, but the strategy will certainly remain unchanged. We know the advantages that we have as a carmaker alliance as well as what we can offer in the future. We must be able to invest in new technologies, in the next day and in the changes in automotive industry. The next challenge is to drive our products to the next generation of mobility, and to invest in more services, autonomous driving and new technologies and energy sources. We are already preparing and investing a lot in order to lead the future of mobility.
Published in Kathimerini Cyprus on the 14th of April 2019