A Memorandum of Understanding was signed between UCLan Cyprus and Wargaming at the premises of UCLan Cyprus on the 31st of October. 
The overall purpose of this Memorandum is to provide a framework for collaboration between UCLan Cyprus and Wargaming in the areas of teaching, research, and applied experience. In that respect, the two organisations join forces and agree to collaborate in areas of common interest with particular emphasis in innovation in Games Development, Computing and Software Engineering. The memorandum of understanding will develop collaborative activities relating to students' internships, co-organisation of events, establishment of collaborative research proposals etc. 
On behalf of the British University of Cyprus, the Memorandum was signed by Professor Irene Polycarpou, Rector of UCLan Cyprus, and on behalf of Wargaming by the Chief Business Development Officer of Wargaming, Mr Nick Katselapov.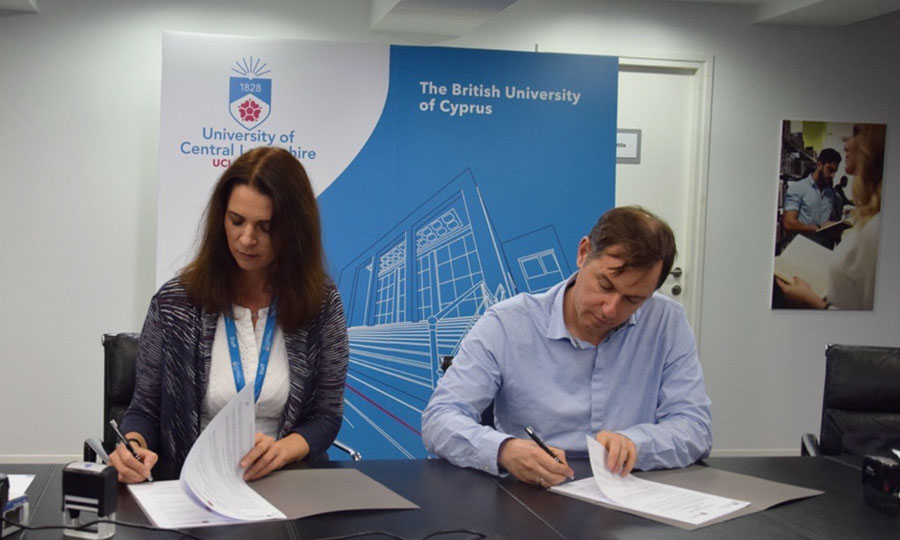 In view of the cooperation, Mr Katselapov stated:
''We are proud to announce our partnership with UCLan Cyprus," said Mr Nick Katselapov, Chief Business Development Officer, Wargaming. ''At Wargaming, we have a philosophy that helps bridge the gap between academia and industry and we are eager to share our wealth of experience with the up-and-coming industry experts. This is an important step in shaping the future of game development in Cyprus, our beloved island, and there's much more to come!''
Prof. Irene Polycarpou also emphasised the significance of this cooperation:
''We are honoured and excited for the signing of this MoU, which only indicates the beginning of a long-term partnership between UCLan Cyprus and Wargaming. A partnership that is built on the strong foundations that the two organisations developed during the last few years, through collaborative activities aiming to educate the future generation of game developers, and beyond. As part of its strategy, UCLan Cyprus has a strong commitment in cultivating a culture of unique partnerships with the industry, in order to facilitate cutting-edge research as well as enhance its students' learning experience, industry informed knowledge and skills, and future employability.''
Dr Louis Nisiotis, Course Leader of the BSc (Hons) Computing programme, also commented:
''Establishing this strategic partnership contributes towards our ongoing efforts of connecting our students with the industry, shaping the curriculum, and improving our teaching and learning practices. It is also ensuring the relevance and currency of the games development specialised modules of the BSc Computing course, helping to prepare our students for a successful career in the gaming industry and not only''
Wargaming:
Wargaming is an award-winning online game developer and publisher headquartered in Nicosia, Cyprus. Operating since 1998, Wargaming has grown to become one of the leaders in the gaming industry with 16 offices around the world, including studios in Chicago, Prague, Shanghai, Tokyo, Vilnius and Belgrade. 200 millions of players enjoy Wargaming's titles across all major gaming platforms. Our flagship products include the free-to-play hits World of Tanks, World of Warships and World of Tanks Blitz.
Official website: wargaming.com
UCLan Cyprus
UCLan Cyprus is the first Branch Campus of the University of Central Lancashire and at the same time a fully licensed University in Cyprus. A unique and innovative model of a Cypriot and British University Educational Experience, accredited by the UK Quality Assurance Agency and the Cyprus Agency of Quality Assurance and Accreditation in Higher Education (CYQAA), respectively. The completion of studies at UCLan Cyprus will result in a double-awarded degree from the two Universities, UCLan UK and UCLan Cyprus, recognised not only in Cyprus and the UK, but also across Europe and beyond.
Official website: uclancyprus.ac.cy