Photo courtesy CNA
Serious clashes unfolded last night in the Enaerios area between police and AEL fans following the final match of the Football Cup, which ended with a 1-0 victory for Omonia, crowning them the Cypriot Cup champions.
According to the Police, the clashes began shortly after 11 p.m. when AEL fans gathered near the headquarters of the fan club of the Limassol-based team allegedly attacked the police officers present in the area, throwing Molotov cocktails, flares, stones, firecrackers, and other objects.
They also set fire to waste bins and burned a parked car nearby, while the police used tear gas. During the clashes, a police officer was injured in the leg and initially taken to Limassol Hospital, then transferred to Paphos Hospital, where they received initial medical aid and were subsequently discharged.
Two young individuals have been arrested in connection with the incidents.
Meanwhile, in Nicosia, tension arose between Omonia's fans and the police following the end of the cup final.
Players of the team allege that they were targeted with tear gas by members of the police and that the bus transporting them to Papankoli Street for the celebrations of their cup victory was affected.
In a post, Omonia's forward Andronikos Kakoulis stated, "Two tear gas canisters were thrown on the bus for no reason or cause (alleged tension that occurred while there were 4-5 individuals in front of the bus). Congratulations, incompetents. Thank you, Cyprus Police, for the gift, you are incompetent." Charalambos Kyriakidis wrote in his post, "Incompetent police, thank you for the tear gas."
According to information received from the police during our communication regarding the incident, fans launched an attack on police officers, leading to the deployment of tear gas. Unfortunately, due to the bus's open roof, the tear gas permeated the surrounding area where the football players were.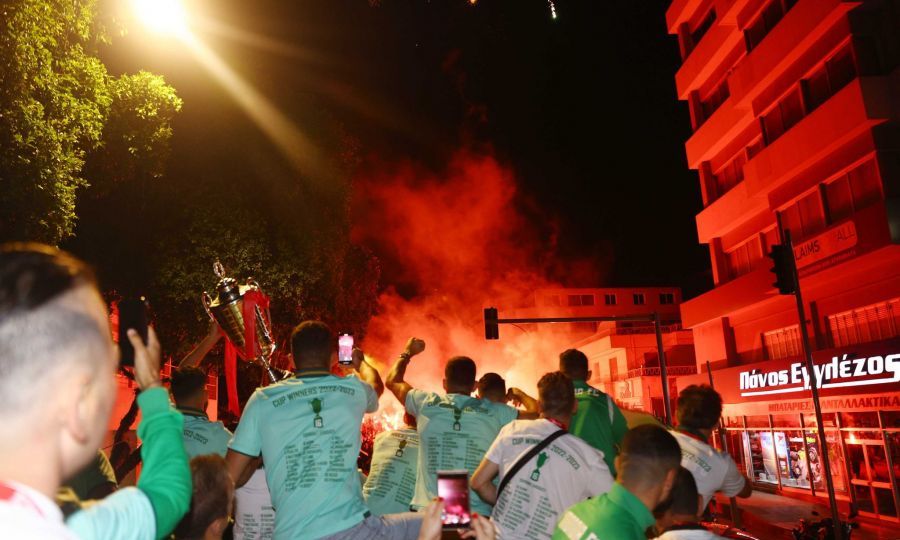 [with information sourced from 24News and CNA]