The facelift at Elias Latsi Holiday Village Resort is progressing smoothly, thanks to the recent positive response from the Environmental Authority. The rebranded tourist accommodation, now named Leonardo Club Family Resort, will boast a capacity of 272 beds. This impressive transformation represents an investment exceeding €30 million, with approximately €16 million allocated for land acquisition and roughly €20.5 million dedicated to renovations and the creation of new facilities.
This substantial investment is courtesy of Leonardo Hotels Cyprus, a branch of the Israeli conglomerate Fattal Group. It marks the latest addition to their growing portfolio in Cyprus, joining the ranks of the Grand Resort Hotel in Limassol. Leonardo Hotels Cyprus currently manages nine hotel units on the island and has invested more than €300 million in Cyprus' tourism sector.
Among their diverse portfolio, two stand out. The first involves the management takeover of a unit in Protaras. The second is the investment in NYX Nicosia, located in the city center. Although initially scheduled for 2023, it appears to have been postponed indefinitely. Meanwhile, the company has shifted its focus towards beachfront tourist accommodations, contributing to the rising wave of Israeli investments in this sector.
Leonardo Hotels Cyprus currently manages nine hotel units on the island and has invested more than €300 million in Cyprus' tourism sector.
Notably, Fattal Group isn't the only Israeli investor exploring opportunities in Cyprus' tourism sector. Recent examples include the Palm Beach Hotel on the Larnaca-Dhekelia road and a luxury apartment complex in the Mackenzie area, both demonstrating Israeli investor interest.
However, the most significant investment thus far hails from the Fattal Group, which initiated its Cyprus portfolio in 2017, beginning with properties in the Paphos area. Over the next three years, the group aims to complete renovations on their two newly acquired units in Limassol and Latsi.
140 Million Euros in Paphos
In Paphos alone, the company entered the scene in April 2017 by acquiring Cypria Maris, Cypria Bay, and Laura Beach Hotel, with an initial investment of approximately €80 million. Subsequent expansion efforts, including room increases, cost around €35 million. The purchase of land and renovation in Latsi raised the Paphos investment total to roughly EUR 140 million, with €16 million for land acquisition and €20.5 million for renovations and new amenities.
Investing in Limassol
In 2018, the group acquired the property where NYX Limassol now stands, an investment estimated at €34 million, encompassing €25 million for construction and €9 million for land purchase. Their latest venture in Limassol, the five-star Grand Resort, will undergo renovation. According to Mr. Mourouzidis, phase 1 will begin in November and will be completed by the start of the 2024 summer season, while phase 2 will take place in the fall of 2024 and will be completed in the summer of 2025 with a total facelift cost of around €20 million. Post-renovation, the hotel is expected to join the Leonardo Hotels Limited Edition brand.
Beyond these developments, the company also acquired and renovated the former Samirana boutique hotel in Larnaca, now operating under the Israeli brand. They also manage the Leonardo Crystal Cove in Protaras. Notably, the group is committed to providing year-round tourism services, not limited to the summer season.
NYX Nicosia Delays Continue
The fate of NYX Nicosia remains uncertain, with construction possibly starting in 2024 but no official decision as of yet. Originally slated to open in 2021, pandemic-related challenges led to revised plans with hopes of starting work in 2022 and launching in March 2023. However, progress has stalled, and it currently appears to be a lower priority for the company. The estimated investment for NYX in Makarios stands at €30 million, including €6.7 million for the site's purchase. The initial plan envisioned a 14-storey unit with 198 rooms. The eventual operation of the hotel, even if delayed, is expected to significantly boost activity in Nicosia's city center, addressing the city's need for quality tourist accommodations. Meanwhile, the company is also exploring opportunities in Greece. NYX Athens is already in operation, with work underway on NYX Thessaloniki, set to be completed by the end of 2024, and plans for new units in Nafplio and Rhodes.
Latsi Welcomes Leonardo Club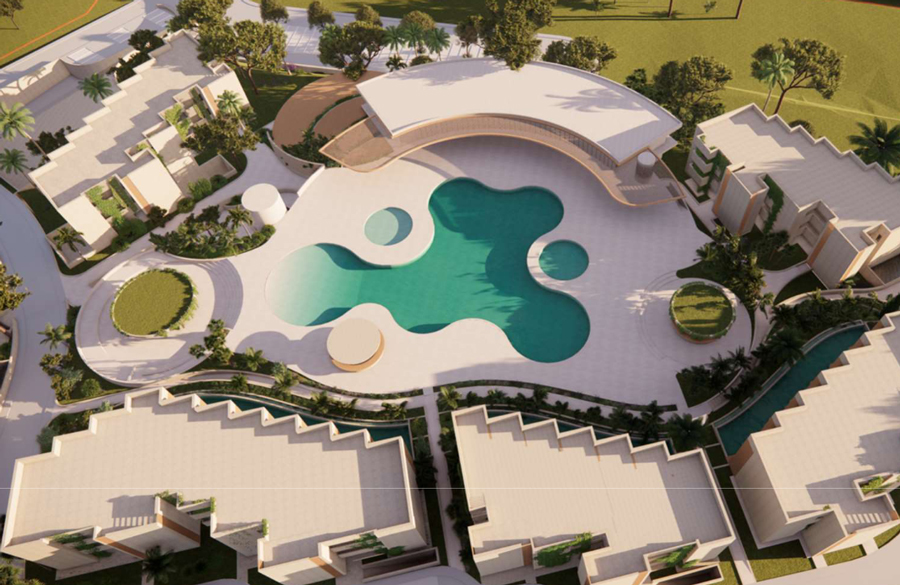 The Environmental Authority has approved the Leonardo Club in Latsi, a construction comprising organized apartments with 272 beds and communal spaces. This development includes 18 sections, 11 designated for tourist use, five for public use, one control point, and a sports area with underground support space in the Municipality of the City of Golden City. The proposed project encompasses a total coverage area of 6,477.55 m2 and a building area of 7,750 m2. It will offer 136 rooms, including 11 for disabled individuals, each with two beds, accommodating a total of 272 guests. The premises will feature a restaurant, pool bar, snack bar, and ice-cream parlor, along with commercial and office facilities, a gym, a games area, and storage space. The development boasts 12 swimming pools, including children's and spa pools. Additionally, 215 parking spaces are proposed, with nine reserved for disabled persons. The architects emphasize energy-saving measures, including thermal insulation, photovoltaic panels on the roofs, and energy-efficient building materials, aiming for an Energy Class A rating for the project.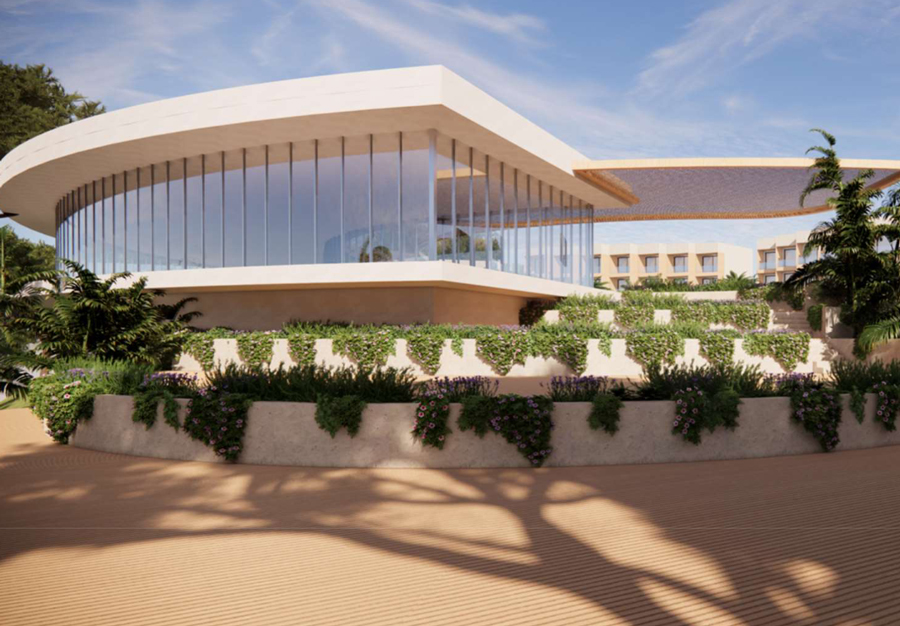 [This article was translated from its Greek original]