Larnaca police investigate attempted murder, friends of victims retrieve and hand over machine gun after incident
A man and a young boy were wounded in an ambush shooting in Oroklini on Sunday, with reports suggesting law enforcement took a back seat in the investigation after it emerged that friends of the victims were the ones who retrieved and handed over evidence to police.
Local media said a 42-year-old man and a 6-year-old boy were wounded in an ambush shooting in Oroklini on Sunday morning.
CID Larnaca said they were investigating attempted murder while media reports suggested the incident was related to a possible dispute within the criminal underworld involving protected witnesses.
Local media said friends of the victims had sought out evidence when they followed the perpetrator's suspected escape route before police were called to the scene
The incident took place in the early morning around 5:30am, after the man, thought to have been the main target, got into his pickup truck to go hunting. He was joined by a father and son, aged 39 and 6, with the dad sitting in the front passenger seat and the boy taking a seat directly behind the driver.
According to local media, a number of shots were fired as soon as the pickup truck started moving, with the driver sustaining injuries in the abdomen and leg while the boy suffered an open wound to the leg.
CID Larnaca director Menelaos Antoniou told reporters at the scene that police were investigating attempted murder.
"An unknown person fired shots at the moving vehicle," Antoniou said, adding that preliminary information was being evaluated.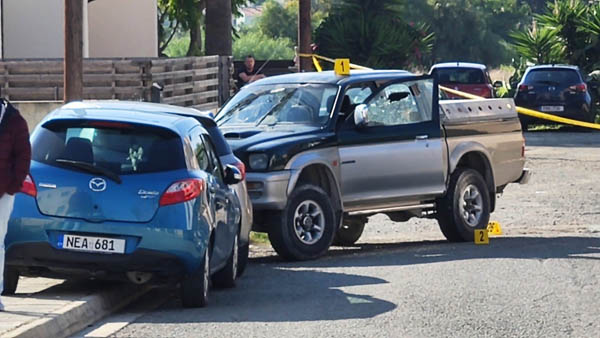 Local media reported that friends of the victims said they sought out evidence by following the perpetrator's suspected escape route following the incident.
Reports said citizens had located a gun, a pair of gloves, and a hoodie several hundred meters from the crime scene before calling the police. Law enforcement agents who arrived at the scene took possession of the items, including a number of cartridges.
The two shooting victims were said to be out of any immediate danger while the other passenger, also thought to be liked to possible criminal gang disputes, was reportedly unharmed.