Photos: PIO Office
By Charalambos Stylianou
President Nikos Christodoulides delivered a stirring address at the reception hosted by the US Ambassador, marking the Independence Day of the United States and emphasizing the deepening partnership between Cyprus and the United States. His speech centered on the universal values of freedom, self-determination, and the pursuit of a brighter future for all Cypriots.
Speaking amidst the picturesque backdrop of the University of Cyprus's courtyard, President Christodoulides acknowledged the significance of the July 4th celebrations in the United States, drawing parallels between the American Dream and the aspirations of individuals worldwide. He stressed the shared desires for freedom, progress, justice, and the celebration of individual liberties that unite people across nations.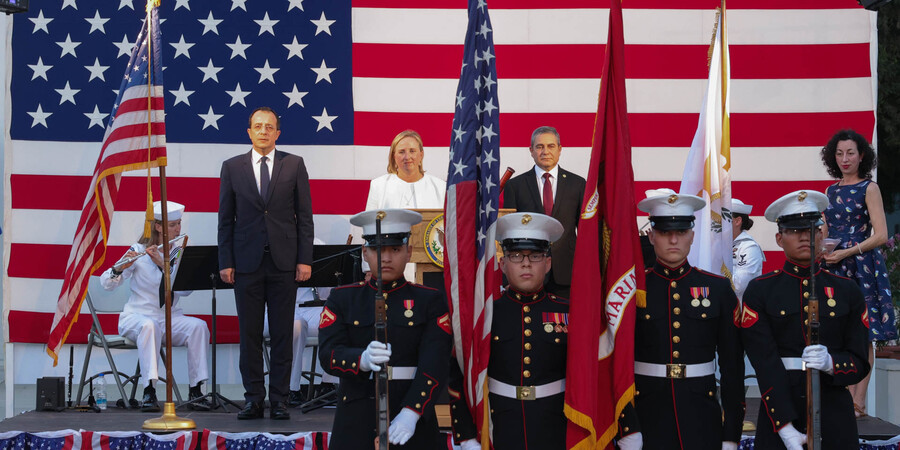 Recalling the ongoing struggle for freedom in Cyprus, the President highlighted the battle against the illegal Turkish occupation that has plagued the island since 1974. He expressed regret that the Cypriot people's dream of freedom remains elusive, urging unity and perseverance in their quest to build a prosperous and free society.
"Cyprus and the United States have come together and will continue to do so, in the fight against terrorism, and the proliferation of weapons"
President Christodoulides underscored the flourishing partnership between Cyprus and the United States, which has recently scaled new heights. Beyond the focus on resolving the Cyprus problem, the bilateral relationship now spans various strategic domains, including security cooperation, joint scientific and technological endeavors, military exercises, and the protection of cultural heritage.
The President expressed gratitude for the steadfast support of the US government and President Joe Biden's commitment to a comprehensive settlement aligned with UN Security Council Resolutions, advocating for a bizonal, bicommunal federation with political equality.
"Cyprus and the United States have come together, and will continue to do so, time and time again, in the fight against terrorism, human trafficking, illegal drugs trafficking, and the proliferation of weapons, he said."
Emphasizing the urgency of ending the unacceptable status quo on the island, President Christodoulides highlighted the importance of reunification. He noted that the reunification of Cyprus would open doors to a better future for all Cypriots, regardless of their ethnic backgrounds. The President called on international partners to rally behind Cyprus's vision and support realizing the dream of a reunified and free Cyprus.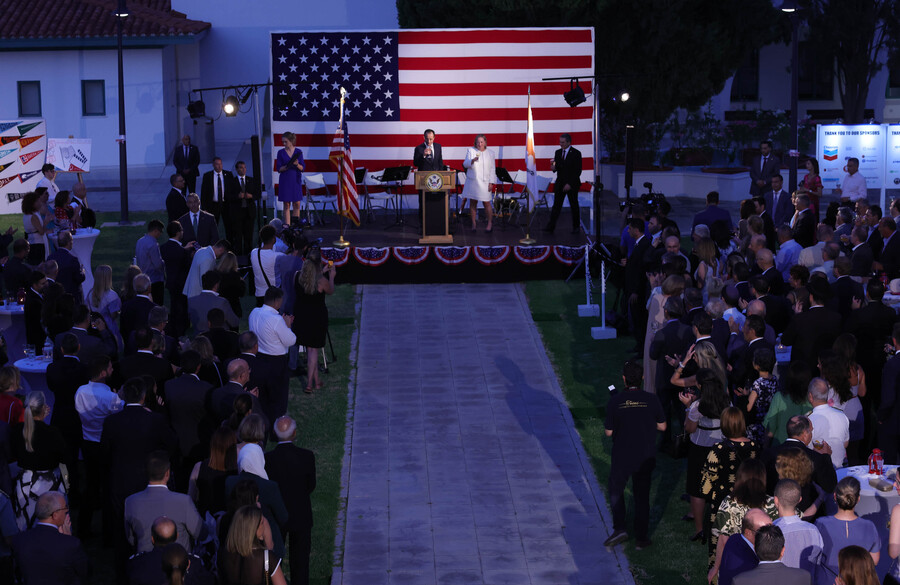 Concluding his speech, President Christodoulides expressed gratitude to Ambassador Fisher for her invaluable insights and extended thanks to the US government for their unwavering support. He also commended Ambassador Fisher for hosting the celebration, which served as an opportunity to honor the ideals of peace, liberty, and justice. Inviting the audience to raise their glasses, the President encouraged a toast to these fundamental values.
As Cyprus and the United States reaffirm their dedication to shared values, the pursuit of a peaceful and reunified Cyprus remains at the forefront of their partnership. President Christodoulides's address resoundingly conveyed the determination to surmount obstacles and forge a future where all Cypriots can flourish in harmony and collaboration.