Orounta residents got violent on Tuesday during a demonstration against a mobile antenna installation
Local residents in Orounta broke through a police line to block the installation of a mobile antenna on Tuesday, with the Green party leader showing support and calling for stricter safety thresholds.
According to media reports, residents in Orounta village in Nicosia district staged a protest to block an MTN crew from installing a mobile antenna at a roof of a building.
Police had been called to the scene to provide safety for the workers, while an angry mob at one point managed to break through the police cordon with one resident heard saying "let's get them."
Two police officers were reportedly injured during the incident.
The residents say they do not want mobile antennas installed near their homes for health reasons, primarily for children's safety.
Green Party leader George Perdikis was present at the demonstration according to a real-time social media post by the party, which posted an update an hour later saying the protest had been successful.
"Orounta residents were united as they attempted to break through the police ring to stop the MTN crew from installing the mobile antenna," the post said while also noting the absence of the local community leader.
"They did it," the party wrote.
Scientists insist there is no evidence to suggest these mobile phone antennas are harmful, while Perdikis is calling for stricter safety thresholds
The overwhelming majority of scientists insist there is no evidence to suggest these mobile phone antennas are harmful, and more specifically, no studies have shown direct links between the use of cell phones and cancer in humans.
In 2011, the International Agency for Research on Cancer classified radiofrequency fields as "possibly carcinogenic to humans" through a programme aimed at identifying factors that can increase the risk of cancer in humans. Radiofrequency fields were classified in Group 2B, which means the radio waves possibly could be carcinogenic to humans.
Critics of antenna protesters dismiss the concern, citing the fact that coffee is also classified in the same Group 2B, as a possibly carcinogenic agent. Other agents in this group include coconut oil, lead, and welding fumes.
The government has told local media in the past, through the Transport Ministry, that antennas must be properly licensed and officials from the Electromagnetic Services department carry out measurements regularly. Officials said mobile antenna signals fell well below the thresholds set by the EU.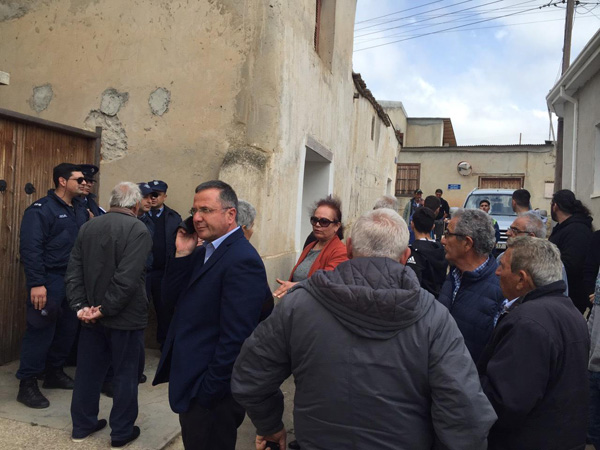 Last year, Pissouri residents staged a similar protest where they argued that cell phone signals could cause cancer, following a number of studies that had not ruled out the possibility that some effects on human health remained unknown.
Perdikis took the position on Tuesday that the residents had a right to block the antenna installation while he also wrote on Facebook that his party is simply calling for "proper delimitation" for approved mobile antennas as well as lowering the safety thresholds.