Cypriot speaker livid as Turkish colleague takes exception to her Turkish-Russian invasion analogy
Another odd exchange about Cyprus with references to age and sexism ended up crashing an international conference on Russia and Ukraine on Monday in Prague, where Cypriot House Speaker Annita Demetriou took exception to her Turkish counterpart's response after he took issue with her Turkish-Russian invasion analogy.
Demetriou spoke about European values when she addressed a session on "Russian aggression against Ukraine and the EU response in a broader geopolitical context" at the Conference of Speakers of the European Union Parliaments.
While speaking of Cypriot support to Ukraine and condemning Russia, Demetriou called for Cyprus to find its place in a new "security architecture" that will defend European values in the future.
"Parallels between the invasion of Ukraine and the Turkish invasion of Cyprus in 1974 are profound," she said, further suggesting that EU sanctions against Russia ought to be extended to other countries as well as calling for an end to "case-by-case approaches" and "double standards."
"Dear colleagues I'm positive that no matter how difficult the situation is, we will prevail and we will manage to win this battle, together, unified, Slava Ukraini," Demetriou concluded.
After the coffee break, Turkish Parliament Speaker Mustafa Sentop took the floor to respond to what he described as "groundless and unlawful accusations of the representatives of the Greek Cypriot administration against Türkiye."
"As we have repeatedly stated, comparing Türkiye's 1974 peace operation in Cyprus to an invasion by Russia is nothing but a cheap distortion of the facts," Sentop said.
'As we have repeatedly stated, comparing Türkiye's 1974 peace operation in Cyprus to an invasion by Russia is nothing but a cheap distortion of the facts' Sentop said
The speaker went on to say that Turkey had acted lawfully based on international agreements in Cyprus, referring to his country's guarantor power status stemming from the 1959 Zurich-London agreements and adding that Ankara intervened to protect Turkish Cypriots.
"What a surprise to have an intervention after my speech by Turkey, surprise, surprise," Demetriou responded.
The Cypriot House Speaker went on to say that "an invasion is an invasion", and "an occupation is an occupation," adding that "any intervention using the same rhetoric like Russia cannot be approved."
A hesitant moderator, who pointed out his concerns over a debate getting out of hand, gave the floor to the Turkish official on condition the counter-response would be brief.
"We didn't say anything to the Greek Cypriot administration, they provoked us, they verbally attacked us, that's why we responded," Sentop said, adding that it was parliamentary tradition for a delegation to request a point of order.
The Turkish official went on to say that Ankara responded in 1974 after a pro-Greek coup in Cyprus, while also making reference to massacres of thousands of Turkish Cypriots years earlier.
"In line with international law, Türkiye had to intervene in the island and from there on no bloodshed on the island and peace prevailed," Sentop argued.
"Who has the right to intervene in a sovereign country? I really cannot believe I'm hearing this testimonial today," Demetriou rebuffed.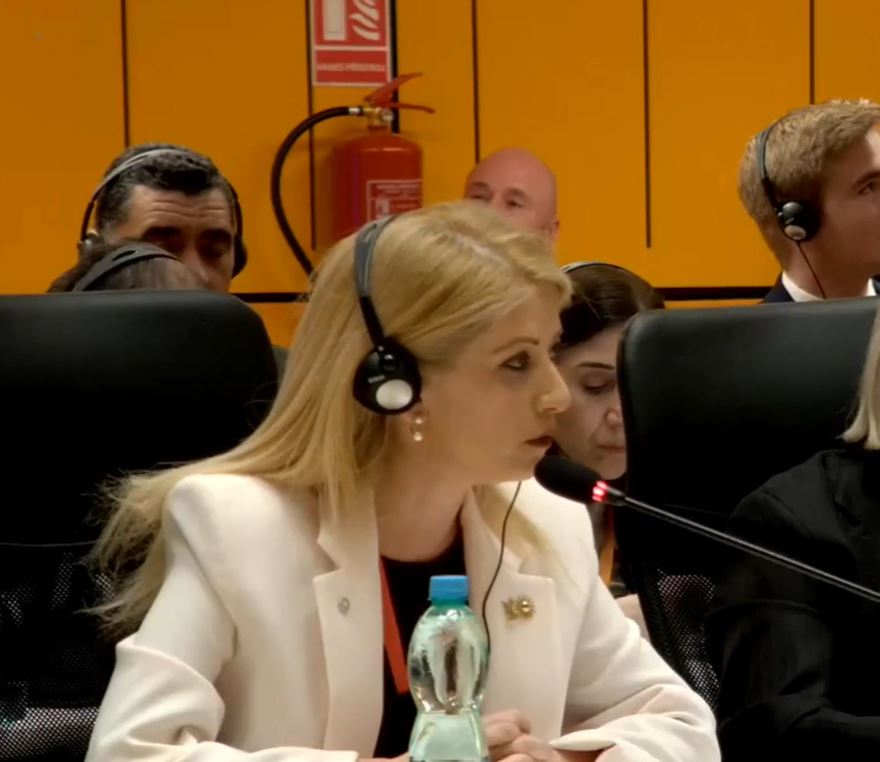 "In 1974 that country invaded my country like in 2022 Russia invaded Ukraine," Demetriou continued, adding that no rhetoric could justify cruelty.
A visibly-irritated moderator warned Sentop that his response should be final, adding that he would then allow Demetriou to reply and offering to mediate between the two delegations privately.
"We are here to discuss the Russian and Ukrainian war and my speech was all about the Russian and Ukrainian war. They wrongfully accused Türkiye, that's why I had to respond, but if she continues to do that, then we have the right to respond of course," Sentop said.
"Maybe her age is not old enough, she says that there are no international rules," Sentop added, as he embarked on the issue of guarantor states based on an international treaty and saying they were obligated to guarantee the independence of Cyprus as a bicommunal state.
"My age? Really?"
Demetriou then responded as she was given the floor for the last time.
"Dear president I'm not the representative of the Greek Cypriot community, I am the president of the parliament of the Cyprus Republic, let us make that clear," Demetriou said.
"My age? Really? Are we having sexist behaviors here in this room and we are accepting that? My age?" she continued, as she looked around the room.
"I didn't expect nothing less, I have nothing more to say, I'm really disappointed, and I'm really expecting the support of the others as well," Demetriou added.
Chronic disease
Polish Speaker Tomasz Grodzki, who was next in line to speak, called for the debate to end, adding that participants had gathered to show support for Ukraine.
"I'm sorry. We met here to show the commitment and full support for Ukraine and I would kindly ask to stop this quarrel between Cyprus and Turkey because we can organize another conference," Grodzki said.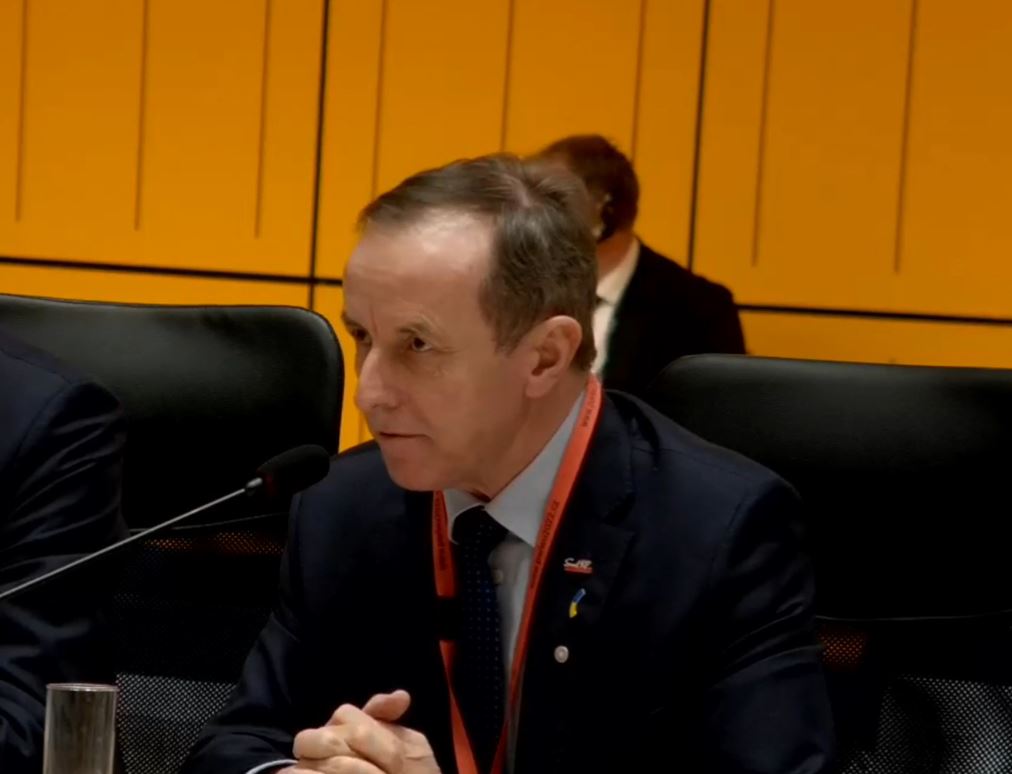 The Polish speaker went on to use the Cyprus-Turkey debate as an example of an unsolved crisis, suggesting this should encourage full support for Ukraine at every level.
"It's a good example that if [the] international community is unable to solve the sharp problem, it changes into chronic disease," Grodzki added.
Demetriou had a similar incident with the Turkish delegation last year in Zagreb, during a parliamentary summit on Crimea, when she went off script to call on countries to "be consistent in all situations no matter what country is involved."
Cyprus is divided between a Greek Cypriot south that represents the Republic of Cyprus internationally and a Turkish Cypriot north not recognized by any country except Turkey.
Demetriou presides over a parliament of 80 seats, where 56 are allocated to Greek Cypriots and 24 remain empty. Originally there were 56 seats according to the Constitution, with 24 allocated to Greek Cypriots and 24 allocated to Turkish Cypriots.