Treppides Group presence in Malta grants exceptional expertise in Blockchain Technology:How Cyprus can excel in legislation and become leader in EU taking advantage of Malta's Recent Regulatory Framework in respect of Blockchain Technology and Virtual Financial Asset
K. Treppides & Co Limited operates in Malta thought its subsidiary company Finanz-Audit Limited whereas it provides statutory audit, IT–audit, tax and advisory services to a broad range of business from sole entrepreneur to the large multinational corporation spanning multiple industries.
The selection of the most suitable jurisdiction for either international trade or investment can often be difficult.Malta's developed infrastructure and regulatory framework make it a country for financial services firms to base their operations similar toCyprus.
Malta has lured to its shores various market players in the field of hedge fund industry, iGaming and blockchain technology industry, ranging from specialist software providers interested in using Malta as a base of operations, to asset managers and trading platforms seeking their way of entry in the EU Market. The island became an attractive jurisdiction for the licensing and operation of businesses; and especially for blockchain technology.
The blockchain sector has been until now unregulated – with no peace of mind and serenity for both customers and business, with no checks and balances and no clear frameworks.
The Maltese island is described as the global trailblazer in the regulation of blockchain-based businesses and the jurisdiction of quality and choice for world class fintech companies. Malta with its three new cryptocurrency bills that have been adopted by parliament on April 24; became one of the first EU country to provide an official set of regulations for operators in the blockchain, cryptocurrency, Distributed Ledger Technology ('DLT') space and Digital Financial Products and services, such as virtual currencies and Initial Coin Offerings ('ICOs').
The relevant bills grant regulatory power to the Malta Financial Services Authority to publish and enforce specific rules regarding cryptocurrencies.
Malta Digital Innovation Authority Bill (MDIA Act). It establishes the Malta Digital Innovation Authority, which on a voluntary basis, will certify blockchain platforms to ensure credibility and provide legal assurances regarding cryptocurrencies.
Innovative Technology Arrangements Bill (ITAS Act). It provides a framework for the registration of technology service providers and the certification of technology arrangements concerning system administrators and auditors.
Services and Virtual Financial Asset Bill (VFIA Act). It provides the regulatory framework for cryptocurrencies and initial coin offerings (ICOs).
Blockchain is undoubtedly one of the most talked-about technologies in financial services today. It can be technically defined as "a distributed, decentralised database technology that maintains a growing list of transactions and, through encryption and other activity, verifies their permanence". It means that every participant in the process can add transactions to the ledger securely and without the need for a central authority, because it will be replicated to all participants in the blockchain network.
Understanding how the system works is complex, but one should be more interested in its application and benefits.Exploiting the full potential of blockchain requires a solid technology infrastructure, along with the necessary skills to set it up, maintain and operate it.
History has proved many times that when a country is ready and willing to embrace a new technology or industry, unprecedented growth follows, and that benefits both of the them.
Regulations will enable all stakeholders; users and providers - to operate in a stable environment with clear rules and responsibilities. It will allow users to be protected and providers to make longer-term investment decisions. This is why Cyprus needs to follow and perform a regulatory framework.
According to Stasis.Net, the official consultant of Maltese government's taskforce on crypto regulation, there are still some vital fields for improvement.
The approved Virtual Financial Assets Act by Maltese government is progressive. The requirements described in the Virtual Financial Assets Rules for the Issuers are investor-protective.Nevertheless, it seems that the division of tokens into VFAs, financial instruments, and virtual tokens needs further detailed elaboration, and the classification of VFAs is broad.
It is pointed out that very few tokens can be classified as virtual tokens in the way they are stated in the Act.Moreover, the further division of VFAs into more specific classes would fuel the discussion on how a VFA (token) may fit into a company's capital structure and taxation regime. An absolute majority of tokens in circulation can be typified as either:
An Asset backed Token, a cryptographic embodiment of an asset that provides ownership rights for that asset to its holder;
A Blockchain Token/ Coin that provides a functional ability to the blockchain it uses and gives its owner exclusive rights to employ its functionality for their own purpose.
A Utility Token that is a form of prepaid service(s), that is(are) provided by its issuer to the holder of the token.
A Tokenized Security that represents either equity- or debt-like security and provides passive income to its holder (this type is widely analyzed in the VFAA);
An exchange or Hybrid Token that combines a security and a utility token features. Their business model provides calculable cash flows. Therefore, the tokens have real intrinsic value.
Unlike the regulatory space (with many countries developing similar ones), tax rules are still not developed.
According to the taxation laws, assets are charged with taxes while means of payments usually are not. Some VFAs should be classified as assets, while othersas currency or analogues. Due to the absence of concrete specifications, some VFAs would be considered assets even though they have the potential of serving as means of payments.
Other tax cases to be considered are VAT, taxes on ICOs, on holding and exchanging crypto, on mining, and investing. In short, tax treatment will depend on the nature of an asset and whether it is charged against an issuer or investor.
If we want to continue our innovation mission in the financial service industry, we must give sustained and serious support to innovators of technology.
The progress of Digitalisation(and in this respect Blockchain Technology and FinTech Companies) is driven by the growth of e-commerce and the proliferation of smart devices and internet of things ('IoT') as well as Artificial Intelligences ('AI'). Cyprus must have e leading role in these technology areas in respect of legislations.
Shall Cyprus seize the innovation opportunity and excel in legislation?
K. Treppides & Co Ltd, the largest independent consulting firm, with established international presence and offices in London and Malta, offers a full range of legal, tax, accounting, consulting and financial advisory services to international Investors that are operating within a wide range of industry sectors.The company possesses many years of experience and a team of experienced members of staff who remain on hand to assist individuals and businesses throughout the entire investment process, in and through Cyprus.
Cosmas Cosma
Director of Finanz-Audit Ltd and
Principal, Member of Board of Management in K. Treppides & Co Ltd
Finanz Audit Limited is a wholly own subsidiary of K. Treppides & Co Limited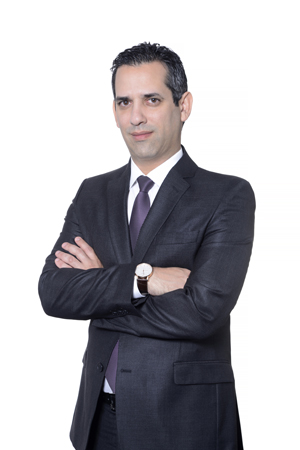 Contact Details:
cacosma@treppides.com
www.treppides.com
Nicosia: Treppides Tower, Kafkasou 9, Aglantzia, CY 2112, Nicosia, Cyprus
Limassol:Kristelina Tower, 12 Arch. Makarios III Avenue, Mesa Geitonia, CY 4000 Limassol, Cyprus
London: Office 3.1, 12 Hay Hill, Mayfair, London W1J 8NR
Malta: Level 1, Somnium, Tower Road, Swatar, Birkirkara BKR 4012
Tel: +357 22678944, +357 25822722