Ukraine blames Russia after 'signs of torture' emerge, Moscow accuses Kiev of yet another false narrative
UN investigators in Ukraine have been asked to investigate burials in a forest in Izyum where Kiev officials pointed to evidence of Russian war crimes, with Moscow accusing Ukrainian authorities of pushing a false narrative about soldiers who were killed in action and left behind.
Ukraine's defense ministry says over four hundred "unmarked" graves were found in Izyum in recent days, following a retreat of Russian troops that were forced to regroup in other areas, with Ukrainian President Vladimir Zelensky pointing the finger at Russia and saying some of the bodies showed "signs of torture."
"The whole world should see this. A world in which there should be no cruelty and terrorism. But all this is there. And its name is Russia," Zelensky wrote on social media.
UN investigators already in Ukraine would be looking to see if those buried were soldiers or civilians, and whether they had died in hostilities or from natural causes
Moscow has not commented officially on the allegations but a Russian oversight committee said Kiev was "attempting to pass off Ukrainian soldiers killed in action in the Kharkov Region as victims of alleged repressions by Russia."
But Kharkov region's Chief Prosecutor Oleksandr Filchakov suggests there is evidence of torture of civilians, adding that a rope had been found around the neck of the first body to be exhumed.
Foreign journalists taken to the site on Friday said witnesses of the bodies being exhumed said they saw signs of people having been shot, killed by artillery fire, mines, as well as targeted by airstrikes.
But according to Russian officials, the narrative in the media did not paint an accurate picture.
According to Russian News Agency TASS, Russian Civic Chamber member Alexander Malkevich argued that the media event was "necessary in order to promote this issue in the foreign press and accuse Russia of mass slaughter."
"Actually, Russian troops and frequently the officials from military-civilian administrations were burying those killed Ukrainian soldiers that were abandoned on a battlefield by their so-called comrades," Malkevich said.
The Russian official also said that dead bodies were "now being passed off as the victims of Russian repressions while actually those are the Ukrainians whom their so-called comrades-in-arms didn't care about."
Kiev points to fresh graves of civilians
Ukraine's Center for Strategic Communications on Thursday stated that some of the "fresh" graves found at Izyum contained corpses of victims who were "mostly civilians."
On Friday, the office of the UN High Commissioner for Human Rights said "UN investigators already in Ukraine would be looking to see if those buried were soldiers or civilians, and whether they had died in hostilities or from natural causes."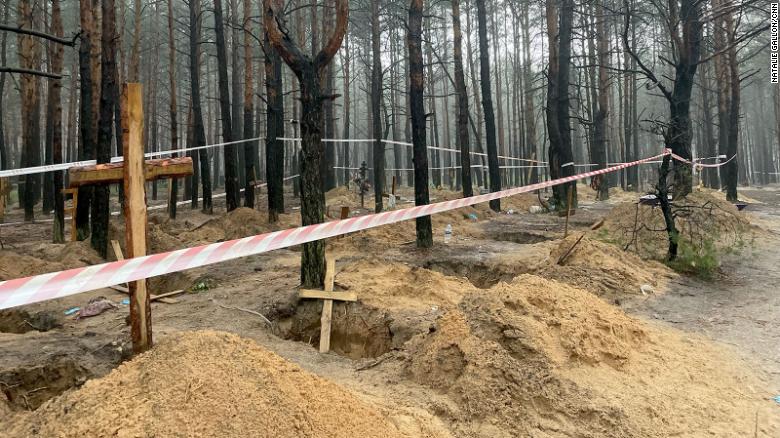 Similar allegations and counter-arguments were made about other places including Bucha back in April, when Kiev accused Russians of torturing and executing civilians before withdrawing from the area. Moscow has rejected the accusations and argued there was evidence that there were no bodies in the street until after Ukrainian nationalist extremists came into town.
Like Bucha and other locations, Izyum has been divided based on allegiances, with pro-Kiev Ukrainians being hostile towards fellow residents who were either viewed as pro-Moscow or had accepted rations from the Russian military.