The Michael Anastassiades exhibition runs from March 7 through July 20 at NiMAC (photo credits Michalis Kyprianou)
Press release
7 March 2019
«THINGS THAT GO TOGETHER»
A Michael Anastassiades exhibition
The Nicosia Municipal Arts Centre (NiMAC) is hosting an exhibition which everyone should visit: a retrospective by Michael Anastassiades titled "THINGS THAT GO TOGETHER," made possible thanks to the sponsorship of the Cultural Services, Ministry of Education and Culture, and Bank of Cyprus as a partner in innovation.
Michael Anastassiades currently lives and works in London. An Industrial Designer, he has collaborated with world-famous manufacturers and designers such as Flos, B&B Italia, Herman Miller, Cassina, Bang & Olufsen, Puiforcat, Fratelli Fantini and others.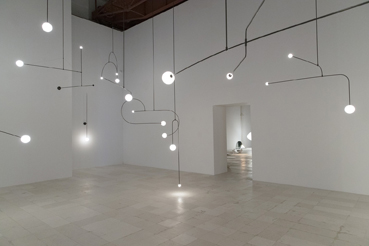 His works are featured in the permanent collections of the Museum of Modern Art (MOMA) in New York, the Art Institute of Chicago, the Victoria and Albert Museum in London, the Museum of Applied Arts (MAK) in Vienna, the Craft Council in London, and the FRAC Centre in Orleans, France.
Speaking to reporters during a tour of the premises on the day before the exhibition opened for the public, Daphne Prodromou, Manager for Communications and Advertising for Bank of Cyprus, said: "Bank of Cyprus is excited to support this exhibition by Michael Anastassiades, an exemplary artist whose work proves that an innovative idea can be translated into a business plan and become a success, beyond the narrow Cypriot space. This is precisely what we are supporting through our IDEA programme, through ARIS in Limassol, and it is in this context that the Open Stage event at Faneromeni was held, as well as other events which have taken place or are being planned for the near future."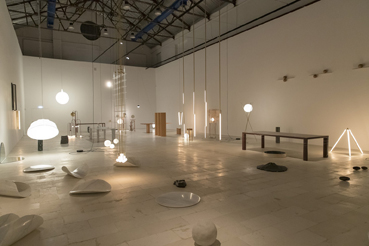 NiMAC Director Yiannis Toumazis said he was immensely pleased with the staging of the exhibition. "It is the first major international exhibition where the diverse works of a world-renowned Cypriot designer are on display. Anastassiades' works are featured in the collections of the largest museums in the world. We hope that this impressive exhibition will meet with similar success as it tours other museums abroad, promoting Anastassiades' versatile talent. I would like to warmly thank all those who played a part in realising this challenging and demanding venture."
For his part, Michael Anastassiades explained that the word "retrospective" in describing his exhibition is perhaps somewhat inaccurate. "Artists usually hold a retrospective exhibition towards the end of their career. In this case, a better term would be 'mid-career' exhibition, as I believe I am now at the midpoint of my trajectory. I think of the exhibition as more of a study, finding myself in the fortunate position to be able to look back and review my career so far. It will help me going forward."
From Nicosia to the grand museums of modern art
The works of Anastassiades, born in Nicosia in 1967, are featured in the permanent collections of the Museum of Modern Art (MOMA) in New York, the Art Institute of Chicago, the Victoria and Albert Museum in London, the Museum of Applied Arts (MAK) in Vienna, the Craft Council in London, the FRAC Centre in Orleans, France, and elsewhere.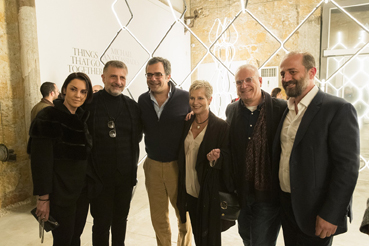 Anastassiades is a Royal Designer for Industry (RDI) as part of the Royal Society of Art (RSA), and participates in educational programmes with international institutes such as Central Saint Martins, University of the Arts London, and ECAL in Lausanne.
Recent solo exhibitions include: «Reload the Current Page» at the Point Center for Contemporary Arts in Nicosia; «Time and Again» at the Geymüllerschl.ssel /MAK in Vienna; «Doings on Time and Light» at the Rodeo Gallery in Istanbul; «To Be Perfectly Frank» at the Svenskt Tenn in Stockholm; «Kinetic Light 2 – Gold Pendulum» at the Norfolk House Music Room of the Victoria & Albert Museum in London; Cyprus Presidency at the European Parliament in Brussels; and «13 Mobiles» at the Atelier Jesper in Brussels. Notably, the Leventis Gallery in Nicosia has commissioned him to create on-site installations at Saint Sophia Cathedral, London.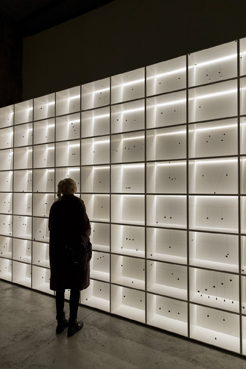 In parallel with the exhibition, which will run until July 20, NiMAC will be hosting a series of events, including tours, lectures, discussions, educational programmes, activities and workshops. Also in May 2019 it will be releasing a special-edition publication by Apartamento Publishing S.L., featuring writings by the following: Yiannis Toumazis, Director of NiMAC; Zoë Ryan, Chair of the Art Institute of Chicago; John H. Bryan, Curator of Architecture and Design of the Art Institute of Chicago; Emily King, design author and curator; Eleni Parpa, author, researcher and curator; Mario García Torres, artist and editor for the publication; and Alessandro Rabottini, Curator and Artistic Director at Miart.
Programme of events
The exhibition runs from March 7 to July 20, 2019
Guided tours in Greek:
Wednesdays 18:00
March 13 & 27 | April 10 & 24 | May 8 & 22 | June 12 & 26 | July 10 & 17 2019
Reservation required: Tel.: 22.797.400 (Monday to Friday 08:30-14:30)
Educational programmes:
For children aged 4-8 years
Saturdays 10:30-12:30
March 23 | April 6 & 20 | May 4 & 18 | June 8 & 22 2019
Reservation required: Tel.: 22.797.400 (Monday to Friday 08:30-14:30)
Exhibition opening hours:
Tuesday to Saturday, 10:00 -21:00
Nicosia Municipal Arts Centre (NiMAC)
19 Palias Ilektrikis Street, Nicosia 1016
Tel: 22.797.400
info@nimac.org.cy
www.nimac.org.cy
www.facebook.com/NiMACnicosia/