Video sheds light on hunt for fugitive financier and Cypriot-passport holder Jho Low who seeks a deal to avoid jail
Cypriot-naturalized citizen Jho Low, the Malaysian fugitive financier whose golden passports came under scrutiny last year, was back in the news this week after Al Jazeera published a video with actual voice recordings of "the biggest fish" seeking a way out of the 1MDB colossal scandal.
In the latest installment of a series of exclusive investigations into international financial fraud and corruption, Al Jazeera published this week a video in two parts on "Jho Low: Hunt for a Fugitive" which includes previously unheard recordings of the man himself.
Al Jazeera suggests that the global fugitive, whose whereabouts still remain unknown, holds many secrets about financial fraud and money laundering and is desperately trying to strike a deal with the Malaysian government to avoid going to jail.
Archbishop Chrysostomos admitted he recommended Low for a Cypriot passport and that he urged the interior minister to fast-track the application
Low, whose real name is Low Taek Jho, made headline news in Cyprus and around the world after it emerged that the fugitive financier had obtained Cypriot citizenship in September 2015 through an expedited process as a foreign investor. 
Archbishop Chrysostomos, whose name had come up in reports over Low's naturalization process, admitted he recommended the financier to then-interior minister Socrates Hasikos and urged him to fast-track the application.
Chrysostomos also admitted that Low, who came to Cyprus on 18 September 2015, made a donation to the church to the tune of €300,000 while additional reports said the foreign investor then bought an unfinished villa during that weekend. The transaction posted the following Monday, September 23, at a cost of €5 million according to reports.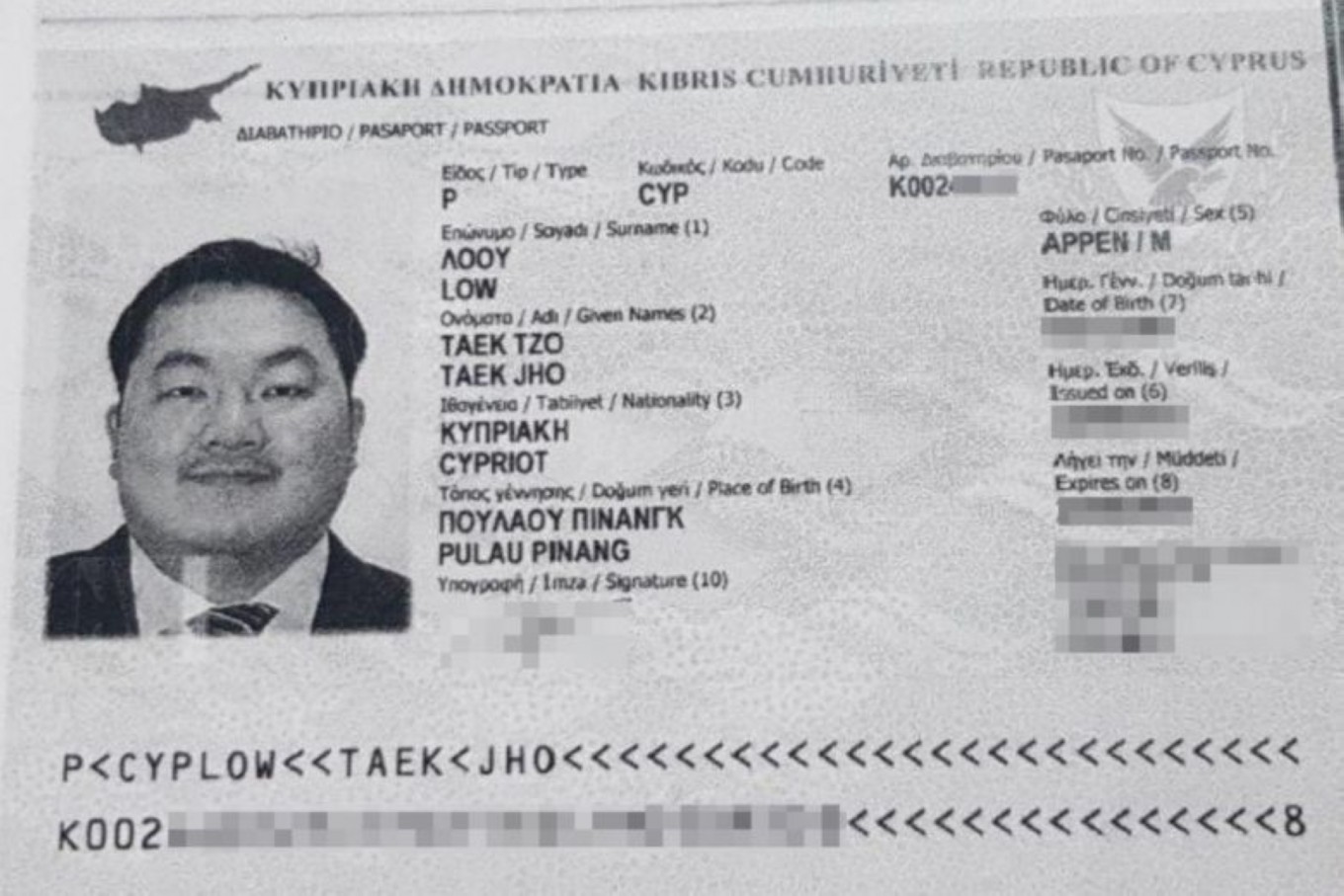 Last month Low's name was included in a list of golden passports to be recommended for revocation, after findings from a mini-probe suggested the financier had obtained his Cypriot passport fraudulently and based on falsified information.
Cyprus ended its Citizenship by Investment Programme on November 1, with some 1400 applications still pending, after Al Jazeera published a series of articles and videos alleging systemic corruption in the island's golden passport scheme.
Known as the "Billion Dollar Whale" -a name given to Low by Wall Street Journal authors- Low is accused of defrauding billions from 1Malaysia Development Berhad fund founded by former Prime Minister Najib Razak, who was sentenced to 12 years in prison for abuse of power as well as several counts of money laundering and breach of trust.
Low has maintained his innocence, and according to his website, he "believes he will be vindicated once all the relevant evidence has been presented in a fair and legitimate court of law."
But the disgraced financier, "perhaps the biggest fish" in the 1MBD scandal according to Al Jazeera, "potentially holds all the secrets to exactly how much money was stolen, who took it and who called the shots," the Qatar-based global network wrote.
A recording obtained by Al Jazeera that contained a voice attributed to Jho Low was heard in the first part of the video talking about a woman described as a "shopping guru" saying "definitely she's the one person that would have records dating back years and years of everything," suggesting that a deal to reveal more secret information could be in the works.
"I'm pretty sure she kept it as leverage" Low said, referring to information on others possibly involved in over half a billion worth of jewelry bought with money diverted from the investment fund.
Low has already signed a deal with US prosecutors to return money and assets in exchange of not being prosecuted in that country.
But the man who has been staying away from the public eye for five years, after Malaysian authorities issued a Red Notice on him, says he hopes to sign a deal with authorities in that country if prosecutors there and around the world would accept the deal without an admission of any wrongdoing.