Brief chat with handshake unpacked differently in Greek and Turkish media, Greece's Mitsotakis kept at bay
Cypriot President Nicos Anastasiades had a brief encounter with Turkish President Recep Tayyip Erdogan in Prague on Thursday, with conflicting reports emerging as to what exactly they talked about on the sidelines of the first European Political Community summit.
Leaders from 44 nations on the European continent including EU's 27 member states attended a wider format of European countries during the first summit of the European Political Community at Prague Castle on Thursday.
During an informal reception event, a photo published in local media showed Anastasiades shaking hands and chatting with Erdogan, with the two leaders appearing calm as they exchanged pleasantries while other guests looked on.
What was said exactly during "stop & chat"
While the encounter was described as cordial and civilized, different accounts emerged in Greek and Turkish media as to what exactly was said between the two men.
According to Greek Cypriot media, Anastasiades told Erdogan it was about time to move forward with reaching a settlement to the Cyprus Problem.
The Turkish president agreed with Anastasiades about the need for a settlement, according to Greek sources, but he also said "now is not the right time to discuss."
Erdogan tells Anastasiades to take it up with Tatar
But according to Turkish media, Erdogan told Anastasiades that the Greek Cypriot leader should discuss the issue with Turkish Cypriot leader Ersin Tatar, suggesting there was a different to be had between Athens and Ankara.
"We having nothing to say to Greece now," Erdogan appeared to have told Anastasiades based on how the chat was relayed by Turkish sources.
The Turkish version of events appeared to be a direct hint at Greek Prime Minister Kyriakos Mitsotakis, who had a heated exchange during a formal dinner for leaders attending the summit.
According to Kathimerini Greece, Erdogan made references at the dinner where he accused Athens of "raising tension in the region with provocative actions."
It was not clear whether protocol allowed for open dialogue when Erdogan had the floor, but Kathimerini reported that Mitsotakis immediately took the floor and responded that "Turkey must stop questioning the sovereignty of Greece's Aegean islands."
The Greek premier also called on Ankara to refrain from further provocations, saying "there should be communication and dialogue without extreme rhetoric, as responsible leaders ought to behave."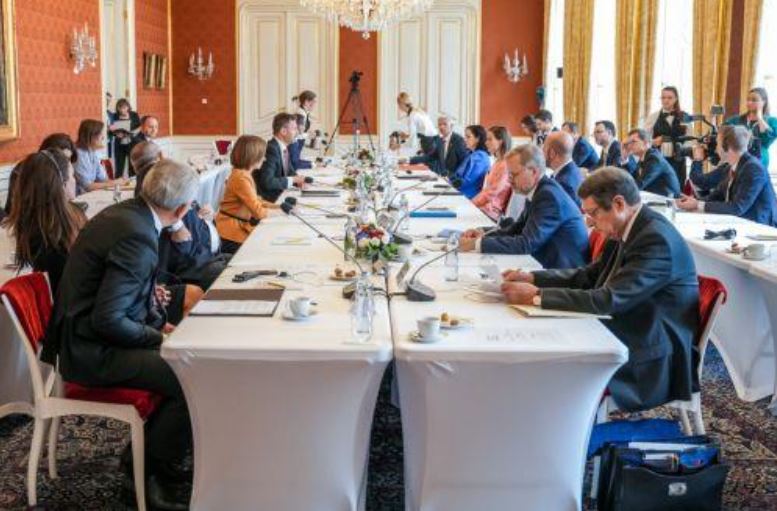 In late May, Erdogan labeled Mitsotakis persona non grata after the Greek premier addressed a joint session of the US congress, where he lashed out at the Turkish president and also called on Washington not to send military equipment to rival Turkey.
Last month Erdogan stood at the podium before the UN General Assembly and called on the international community to stop imposing sanctions on northern Cyprus, which is recognized only by Ankara.
Turkey has also been accusing Greece and the Republic of Cyprus in the south of trying to keep Ankara out of energy conversations, while Athens and Nicosia maintain that regional efforts exclude no country that adheres to the rule of law.
Media sources said Erdogan and Mitsotakis avoided each other as the two men had no close encounter on the sidelines.