by Marina Economidou and Oriana Papantoniou
In an interview with K, DISY presidential candidate and president of DISY Averof Neofytou reiterated his position that if he loses the elections, resulting in a victory for Nikos Christodoulides, DISY will be the committed opposition. He stated unequivocally that only those who agree with his own positions, his program, and the positions of DISY will be able to serve in his government. He denied reports that the DIKO president had proposed a 50-50 split in his cabinet, raising the issue of ethics on his part. "I never went into this process intending to say that I am willing to call my principles and values into question because the chair of the president or the chair of sharing comes first," he says.  He is adamant that the results of the polls will be contested, pointing out that DISY runs the risk of fracturing and disintegrating based on the results of the polls each time we have elections.
"Are you saying that Averoff woke up and said this thing without talking to some people?" -Neofytou responds when asked about the reactions of interested parties on direct membership in NATO.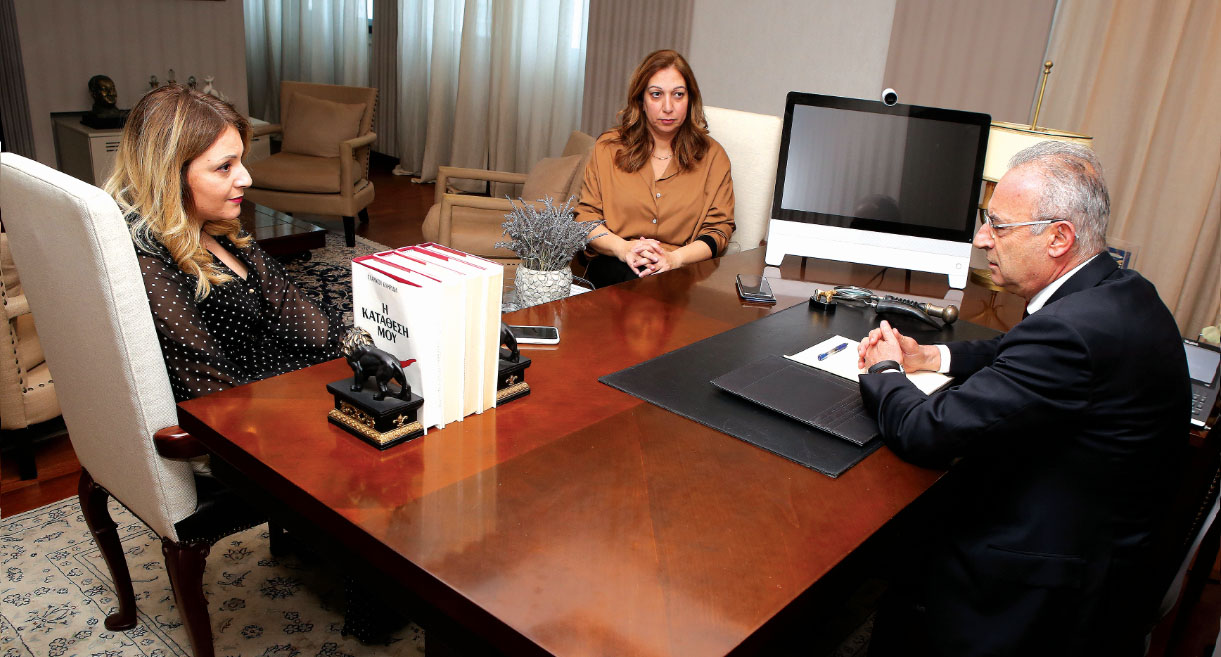 -In an interview, you stated that your political career began as a personal gamble. Was it a personal gamble that prompted you to announce your candidacy, which many considered premature?
Because I am a staunch democrat, I value all points of view. However, if you believe I made my announcement too soon after serving on the front line for 40 years, then put it in writing.
-Looking back, didn't you jump into the campaign too soon, announcing a year ahead of time?
DISY has always chosen the same dates. Matsi and Clerides met at the DISY Supreme Council in early April 1992. On March 17, 2012, Eleni Theocharous and Nicos Anastasiades competed for the position of DISY candidate. This is the history of DISY; neither Glafkos Clerides nor Nikos Anastasiades thought it was demeaning to participate in a democratic process. But, as you know, people are more concerned with the country's future than with the party's procedures. Whether stability and security will be maintained, or whether other options will be pursued, potentially leading to the country's destabilization...
-We've seen your recent comments about pollsters. You're a numbers man, how do you think the current predictors can be overturned?

If polls had determined the outcome, the Coalition would have received 19% of the vote in the parliamentary elections.
-All polls predicted it would be the first party, and it was.
But what do 19% and 28% have in common? Based on the analyses and pollsters, there would have been no Coalition if DISY had not existed. DISY is in danger of splitting and disintegrating every time we hold elections.
-For the first time, however, it appears that a party leader and presidential candidate's party supporters are only half as large compared to those in the past and that there are significant defections to support another candidate from DISY.
We are the first country in the world where some people believe that polls can replace the political process.
-Do you, as DISY, conduct polls?
Tell me about another country where polls are published before candidates even appear on the ballot. The vote of the people determines elections. Respect the pollsters, respect the polls. Of course, a minister in the DISY government who is running for office and who served as a DISY official for nine years is also being supported by the party, according to polls. Respect the voters.
-You promised to sign the Guterres Framework right away after stating that it was not a viable solution to the Cyprus problem...
I said it in Crans Montana, at the first national council, and I'm saying it again now. It will take a significant effort to solve the Cyprus problem. At the same time, anyone who believes that the Guterres framework will be on the table and that we will be sorting through it is mistaken. Whether you accept it as a philosophy or not, it is a package. It is not a viable solution to the Cyprus issue. Is the framework flawless? Obviously not. Will it be the ideal solution? Obviously not. The TCs will reject the ideal solution for us and vice versa. Yes, two at the same time and in parallel. What we don't realize is that half a century has passed...
-Over the last five years, we have had discussions in the background about other types of solutions and new successes. 
But why was DISY established? Because Glafkos Clerides has been concerned since 1976 that long-term policies would cement the occupation...
-But your party has ruled for the past ten years. Nicos Anastasiades.   Are we to assume that you acknowledge we have wasted valuable time?
Even the AKEL candidate claimed that the President was not to blame for the failure to reach an agreement.
-At the same time, we created a fait accompli, and we found ourselves on the verge of partition.
And I reiterate Andreas Mavroyiannis' (AKEL candidate) response.
-You have proposed a direct membership with NATO. Have you consulted with the other members? Because those involved, such as Stephen Lilly in an interview with K, find it extremely difficult. 
I refer you to the NATO Secretary General's public statement that we are ready to consider any application. I wish Europe had its own defense mechanism, but even if it decides to build one, it will take decades. The Western world cannot possibly afford two parallel defense mechanisms. The unresolved Cyprus issue also poses serious challenges to the smooth operation of Europe-NATO. Do you think Averof is naive to believe that by applying with an unresolved Cyprus issue, we will be admitted to NATO? Obviously not. However, politics can destabilize the entire process. Do you mean Averof woke up and said this without speaking to anyone?  The West does not want Cyprus to remain split into 2 camps, but resolving the Cyprus issue will strengthen European Cyprus's Western orientation. These stories, which led the country on many adventures, came to an end when we chose the Non-Aligned Movement over the West and the East decades ago.
-If you were elected, would Prodromos Prodromou serve as minister of education?

By choosing Averof, you get Averof. A Democratic Rally with party and government officials would be positioned next to me. Under one strict condition, we will also have cadres from the wider society. One who supports a free economy. I will not allow a man who opposes the policies that this historic party and I personally support to speak about broader unity. Unity is essential, especially in our country, but it is also beneficial to build on shared goals.
Why, then, did you start off by talking to the EDEK, which rejects the Bi-zonal, bi-communal Federation?

Did you hear me talk about participation?

-Wasn't the purpose of your meeting with them to promote your candidacy?
I collaborated with the EDEK, DIKO, and many other organizations without adopting their positions.
-But Nicolas Papadopoulos himself says that you extended a 50/50 offer to include him in your cabinet. If that's not true, isn't it time you proved it? 
- Even if it were true, which it is not, relying on private conversations is unethical. Just as it is for someone who wants to be President of the Republic to come out and share it publicly, even if he was talking to some party officials, which I doubt a genuine party member would do. It's a cop-out, not a new ethos. If that's the new ideology, I'd rather be traditional. I've talked to a lot of people about a wide range of topics. And, regardless of what they accuse me of, I will uphold my principles, morals, and ethics. My positions on all issues are well-known among Cypriots, and I will not reduce politics to the level of gossip. These things have no place in modern societies and we hear them from those who want to bring change. The so-called change.
 -You claim to be more to the left on the Cyprus issue. Will you approach AKEL for assistance if Andreas Mavroyiannis is not selected for the second round?

The priority for me is the Cyprus problem and the economy, which is why I am a Coalitionist. And, while I would be happy to collaborate with AKEL on the Cyprus issue, I am concerned about AKEL's economic management. Similarly, I am concerned about the national management being associated with those who not only disagreed with certain proposals. They are forces of perpetual denial who did not want us to enter into negotiations.
-Doesn't that seem a little harsh? Especially if you intend to call on them to cooperate tomorrow.

I have provided you with the facts. You are not being harsh when you say facts.

-But you'll want to cooperate with them tomorrow. How can you do it with such inflammatory statements?

I cannot entrust the management of the national question to parties whose views I respect but with which I strongly disagree. These forces didn't want us to go to Crans-Montana at all. You are not inflammatory when you record facts.
-You stated in previous interviews with Kathimerini that both sides had backed down. Some are concerned about Cyprus, while others are concerned about the economy...

I will not abandon my beliefs about the Cyprus problem in the name of cooperation.

-Is it still your position that if Nicos Christodoulides is elected, you will be in opposition?

We went into the elections expecting to win. In a democracy, the winner is responsible for governing. Whoever loses bears the burden of responsible opposition. If you are in opposition and the government does something right, you must support it while also constructively criticizing the rest. That doesn't mean you have to be in government to support the right policies. 
[This article was first published in Kathimerini's Sunday edition and translated from its Greek original]