Some exceptions expected for android app that can show customer's name and DOB on door greeter's phone screen
Door greeters at supermarkets and other businesses will have to use an android app when checking Safe Pass, according to a Cabinet decision, but the policy going into effect on Monday has left many questions unanswered with citizens calling even pharmacies to get the latest scoop.
According to a Cabinet decision on Thursday, checks for SafePass in the Republic of Cyprus will be carried out only via CovScan Cyprus, the official application of the government for verifying the validity of an EU Digital COVID Certificate (EUDCC) for domestic usage.
Knews has learned that citizens have been calling pharmacies early in the morning to ask whether they could obtain a QR code with their rapid test results
A Health Ministry press release said all establishments where SafePass is required must have the application in order to conduct the checks.
But the application, which is not available on iPhones, will be offered only on android devices, such as smart phones and tablets, while the application can be downloaded through the Google Play store.
The ministry says the application allows for a quick and safe validity of the EUDCC, with users scanning a QR code to establish the validity of a SafePass holder.
A green "valid" indication on the user's phone will mean the person's QR code reflects full vaccination against or recovery from COVID-19, while an amber "limited validity" message means a person's PCR or rapid test is within the permitted 72-hour period. A red "invalid" indication means the document could be fake or expired.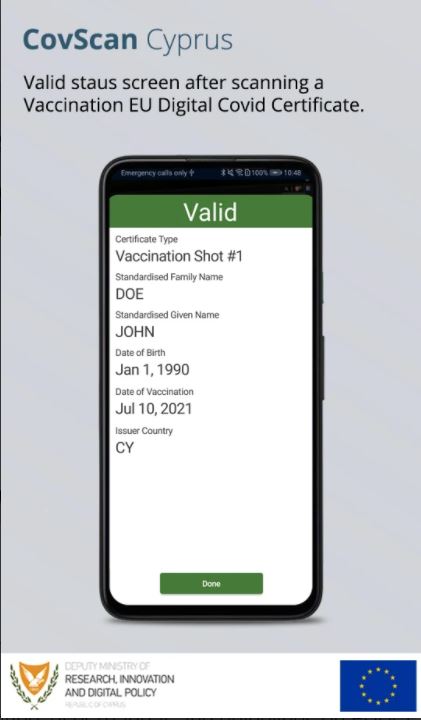 Innovation Deputy Minister Kyriacos Kokkinos told state radio Friday morning that the CovScan was meant to help business establishments verify the validity of a Safe Pass document.
But many questions were left unanswered during the brief conversation Kokkinos had with the radio host.
Kokkinos said the application would not check whether the QR code belongs to the person presenting the document, adding that it is up to door greeters to inspect identification documents.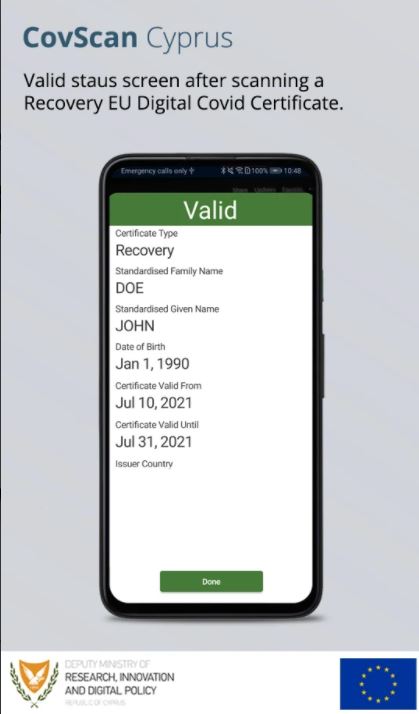 The minister also said the application was ready six months ago but it was not used due to people being more relaxed with measures.
"Well, there was a complacency by all, let's face it," Kokkinos said.
But there were also many problems with the app according to information made available recently, including technical glitches as recently as late September.
Full details of the Cabinet decision were not made available as of Friday morning, but Kokkinos said more information would be provided before the system goes into effect on Monday.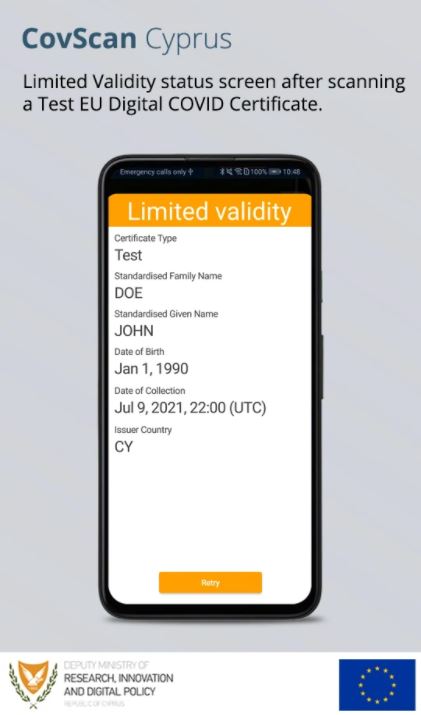 Knews has learned that citizens have been calling pharmacies to ask whether they could obtain a QR code with their rapid test results. A QR code can be printed or downloaded from the government's EUDCC portal after results have been recorded by officials.
Kokkinos said people over a certain age, possibly 65, would be exempt from presenting a QR code.
It was also not clear whether all vaccination certificates would be associated with a QR code.
Critics have argued that the app could lead to privacy breaches, as personal information will appear on the door greeter's android phone or tablet screen.
Kokkinos said door greeters are obligated to ensure that a document matches its user, pointing to an emergency law regarding employees authorized to verify true identity of Safe Pass holders.

The health ministry says personal data will be protected during a CovScan inspection, saying the actual scan would show only the name and date of birth of the user while no data will be stored anywhere at any time.