Turkish foreign minister tackles host of issues during Cyprus visit, reaffirms Ankara's common vision with north
Turkish Foreign Minister Mevlut Cavusoglu says Ankara does not accept the mentality that Turkish Cypriots are a minority in Cyprus, accusing Greek Cypriots of denying equality between the two communities while also pulling favors from the European Union.
Cavusoglu, who paid a visit to the northern part of Cyprus on Thursday, met with Turkish Cypriot leader Ersin Tatar, with reports saying the two men wanted to discuss a recent UN proposal about appointing a special representative to delve deeper into the search of common ground.
No basis for special representative
Cavusoglu and Tatar turned down the idea, which was relayed to the Turkish Cypriot leader recently by the UN Secretary General himself, adding that peace talks could commence if sovereign equality between two states on the island would be accepted as a basis.
'This mentality that Turkish Cypriots are a minority doesn't register with us, that era is long gone,' Cavusoglu said
The foreign minister gave his interpretation of how the Greek Cypriot side viewed shared sovereignty in a future federation, accusing the south of viewing their counterparts in the north as a minority and "hiding behind UN Security Council resolution that remained on the shelf and got buried there."
"This mentality that Turkish Cypriots are a minority doesn't register with us, that era is long gone," Cavusoglu said.
The minister also went on to accuse the Greek Cypriot side of putting pressure on other countries not to attend an Antalya Diplomacy Forum last month, an event Turkey plans to hold every year after saying over 1000 delegates were hosted including diplomats, politicians, bureaucrats, academics, business people, media and opinion-makers.
Ankara says Nicosia has shown its true face
Cavusoglu went on to accuse the Greek Cypriot got upset over the forum and picked up the phone calling up countries to ask them not to attend.
"Our friends in Europe told us that they were bothered by this phone call," Cavusoglou said during his Thursday visit, according to the Cyprus News Agency.
"Actually, this is a humiliating on the part of those who did this, and our friends were able to see their true face," the Turkish minister added.
Over a dozen heads of former heads of state as well as dozens of foreign ministers and minister-level guests attended the Antalya forum, prompting reactions from the Republic of Cyprus over the participation of a Turkish Cypriot delegation that represented the north of the island, a regime not officially recognized by any country except Turkey.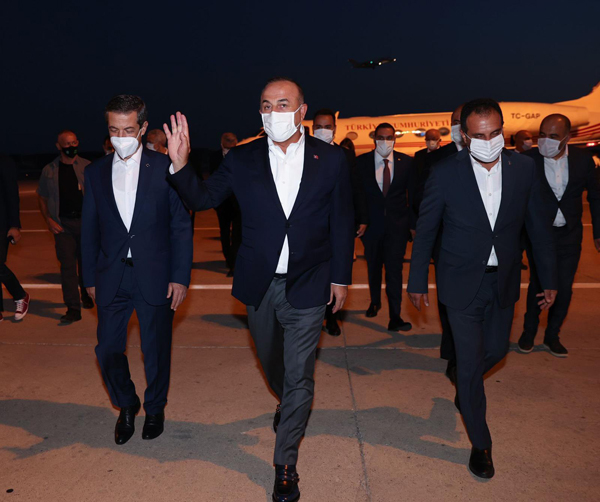 The forum took place weeks after foreign ministers of Greece, the Republic of Cyprus, France, Italy, Spain, Portugal, and Malta met in Athens to prepare for an EU-Med7 Summit in the Greek capital in September.
Ankara had criticized the Athens preparatory meeting, accusing the group in a statement of advocating "maximalist demands and policies of the Greece-Greek Cyprus duo on the Cyprus issue and the Eastern Mediterranean."
"As we mentioned before, a real environment for cooperation cannot be created in the Eastern Mediterranean without Turkey and the TRNC," the statement said.
But Greek politicians and diplomats, with the exception of one honorary diplomat, said they could not attend the Antalya forum because the nametag for the Turkish Cypriot delegation made reference to a state entity that does not official exist, prompting others including European commissioners to bail out on the forum or parts of the summit.
Varosha and hydrocarbons
Cavusoglu also said he discussed with Tatar other issue, including the ghost town Varosha and hydrocarbons, both of which had been brought up during meetings between the Turkish foreign minister and foreign officials.
Nicosia has accused Ankara of violating Cyprus' exclusive economic zone, a claim Turkey and Turkish Cypriots have disputed.
Cavusoglu said a regional conference on the issue was on the table, telling reporters that Turkey and Turkish Cypriots were "not coveting anything" but wanted everyone to know they would not give up their rights.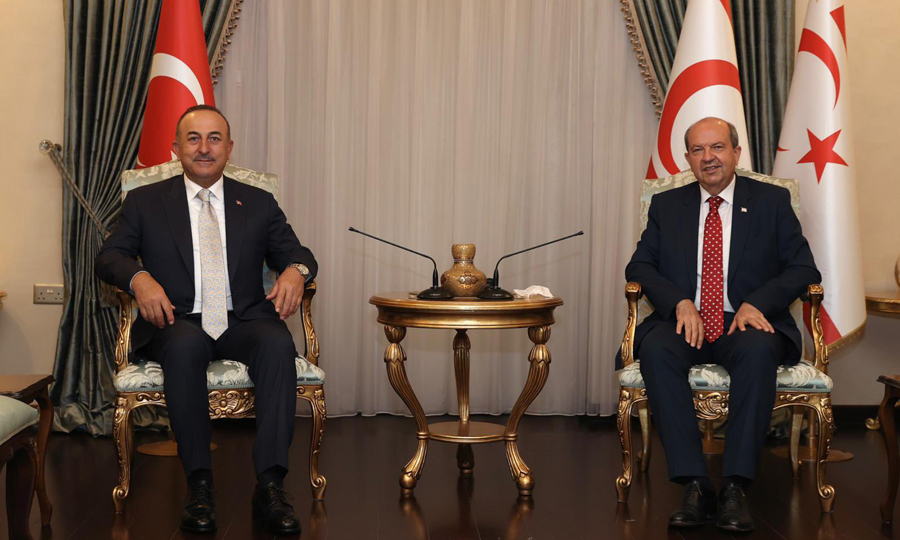 Nicosia has also accused Ankara of violating UN resolutions on Varosha, a ghost town on the eastern coast of the island that has been fenced-off since 1974 by the Turkish army.
Cavusoglu argues that Turkey's recent actions to spruce up Varosha were not in breach of UN resolutions, adding that more Greek Cypriot property owners were showing interest over latest developments.
"We tell everyone that opening Varosha will take place in a transparent way within international law," Cavusoglu said, while adding "there has been no violation of property rights."