Brussels extends helping hand to Turkey on migration, makes promises on trade but ready to take it all back
European Union leaders made good on Thursday on a 2016 promise to deepen trade ties with Turkey, but also warned Ankara to expect sanctions if it restarts exploration over disputed hydrocarbons in the eastern Mediterranean.
Following a video conference, EU leaders mixed encouraging words for Ankara with concern about its worsening human rights record, lamenting the decision to quit an international accord to protect women from violence.
"Turkey has shown a more constructive attitude," European Commission President Ursula von der Leyen told reporters following the summit. "However, we also know this process of de-escalation remains fragile.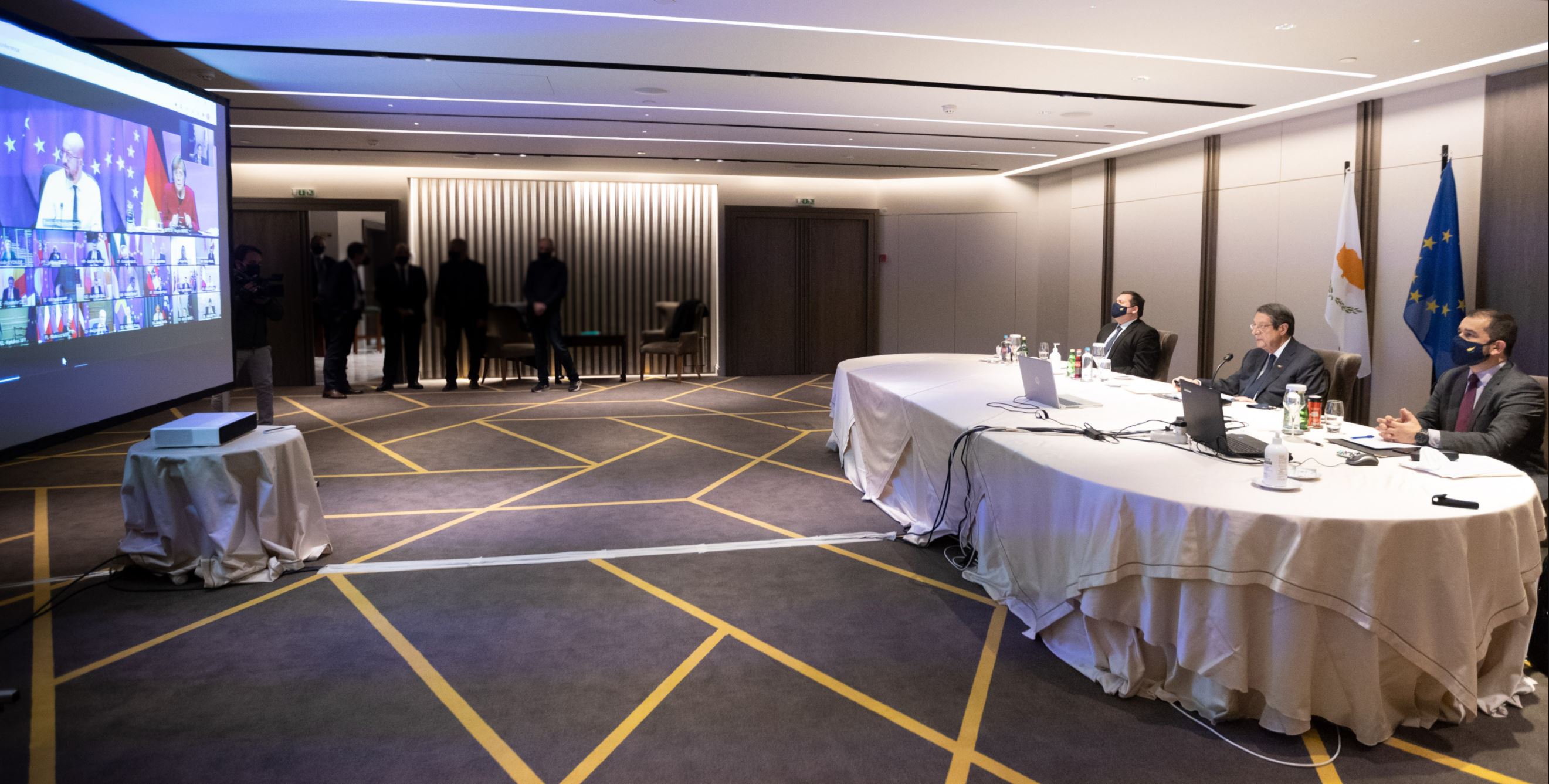 "We call on Turkey to abstain from renewed provocations or unilateral actions in breach of international law," EU leaders said in the statement, saying they will review progress in June.
Following steps by Turkish President Tayyip Erdogan to pull back from a confrontation over gas exploration in the eastern Mediterranean, the bloc will start preparations for a deeper customs union with Ankara, according to the EU27 statement.
Christodoulides said the final draft 'rightly reflected' earlier conclusions on Turkey
The customs union expansion would bring Turkey, an EU candidate for membership, fully into the internal market of the world's largest trading bloc, allowing for almost all goods and services to flow unhindered and swelling its size by 80 million Turkish consumers.
But the EU also included a warning in the resolution which was presented as a way to provide a strong incentive for Turkey to constructively seek a solution to a row over energy with Greece and the Republic of Cyprus.
Brussels threatened in the statement "to use the instruments and options at its disposal to defend its interests," referring to travel bans and asset freezes on individuals, as well as sanctions on important sectors of the economy such as energy and tourism.
Ankara welcomes statement but also points fingers
Turkey welcomed the positive agenda overall saying it wanted to develop its relations with the bloc on the basis of cooperation and mutual benefit.
But the foreign ministry in Ankara, which previously said the EU had no jurisdiction on drilling in the eastern Mediterranean, also made references to an evaluation "written under the influence of the narrow-minded claims of several member states and with a one-way view of Turkey-EU relations."
Earlier this week, Nicosia had sought stronger EU27 statements on Turkey, after expressing concerns over previous drafts of the resolution.
Cypriot Foreign Minister Nikos Christodoulides said the final draft "rightly reflected" earlier conclusions on Turkey, telling media the Cyprus issue ought to be linked with Ankara's European aspirations.
Ankara had accused Brussels of "playing for time" and rejected talk of sanctions as unhelpful and a distraction between the two trading partners.
Turkish officials also cried foul over European leaders who adopted the view that the country's gas exploration activities in the eastern Mediterranean were "illegal."
The European Commission will also seek to enhance ways to continue to help finance an estimated almost 4 million Syrian refugees in Turkey, building on a 2016 agreement that reduced migrant arrivals to the Greek islands.