Greek and Turkish leaders put differences aside as they offer to help each other's country after Friday's natural disaster
The leaders of Turkey and Greece communicated a rare sense of solidarity to each other in the wake of a deadly earthquake in the Aegean, felt in both Athens and Istanbul.
Turkish President Recep Tayyip Erdogan took to Twitter to thank Greek Premier Kyriakos Mitsotakis following a phone conversation the two political rivals had on Friday, expressing hope that both countries would see a speedy recovery.
The Greek Premier, who said on Twitter that he had just called the Turkish President to offer his condolences, also wrote "whatever our differences, these are times when our people need to stand together."
Erdogan responded to Mitsotakis' tweet, saying "thank you, Mr. Prime Minister. I offer my condolences to all of Greece on behalf of myself and the Turkish people."
"Turkey, too, is always ready to help Greece heal its wounds," Erdogan wrote, adding "that two neighbors show solidarity in difficult times is more valuable than many things in life."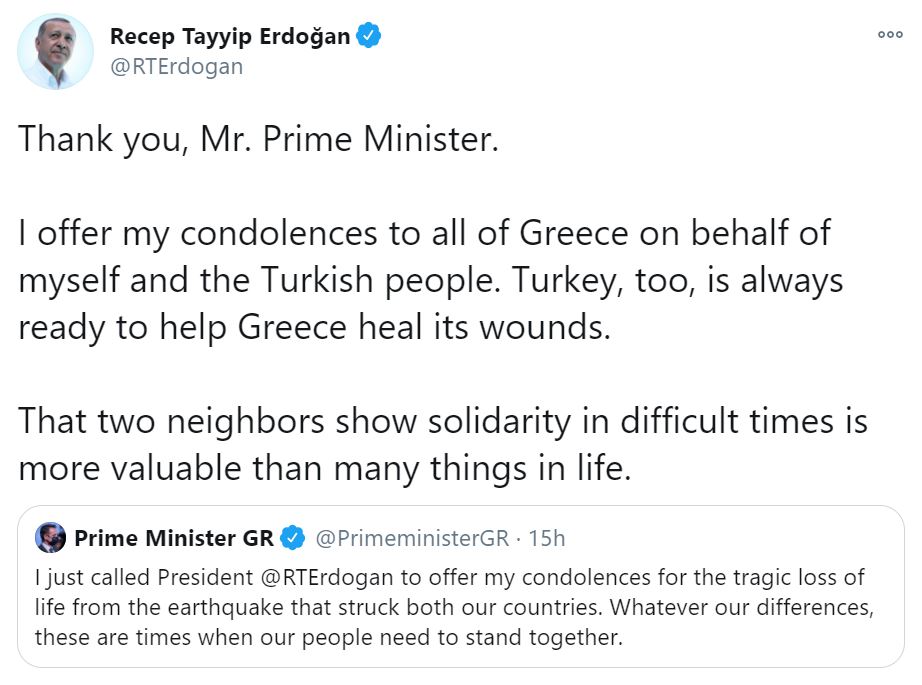 Over two dozen people were killed in Turkey and Greece when a powerful earthquake hit the Aegean Sea on Friday afternoon, near Turkey's Izmir, sending buildings crashing down and triggering what authorities have called a "mini tsunami."
Ismail Yetiskin, mayor of Izmir's Seferihisar, said sea levels rose as a result of the quake. "There seems to be a small tsunami," he told broadcaster NTV.
Residents of the Greek island of Samos, just off the Turkish coast, were urged to stay away from coastal areas, Eftyhmios Lekkas, head of Greece's organisation for anti-seismic planning, told Greece's Skai TV.
"It was a very big earthquake, it's difficult to have a bigger one," said Lekkas.
Turkey and Greece have been caught up in a bitter dispute over maritime jurisdiction claims as well as exploration rights in the eastern Mediterranean, with political frustration also growing at the European level.
Cooperation between the two countries after a devastating 1999 earthquake had led to a period of warmer ties between the two NATO allies.
'Cyprus is ready for any help needed,' Anastasiades wrote on Twitter
Social media users in Cyprus, including some politicians, wrote messages of solidarity with the people of Samos and Izmir.
Cypriot President Nicos Anastasiades also took to Twitter to express readiness to help.
"I am shocked after seeing images from Samos and Izmir. Human loss, especially involving children, is most painful," the president wrote, while expressing his condolences to the families of victims and wishing speedy recovery to those injured.
"Cyprus is ready for any help needed," Anastasiades added.
Story updated with comments from President Anastasiades