Judy Garber uses pandemic response to highlight Cyprus as a "fantastic place" for business
US Ambassador to Nicosia Judy Garber says the pandemic aftermath in Cyprus could be seen as an opportunity for the island, praising officials for managing the crisis and calling the country a "fantastic place for people" to do business.
Speaking to members of the press during a Fourth of July function on the occasion of the US Independence Day, Garber praised Cyprus for the way it managed the coronavirus crisis, adding that "every crisis brings an opportunity."
Garber said Cypriots are extremely well educated, noting that the island is a fantastic place for people to operate their businesses.
According to the Cyprus News Agency, the American ambassador congratulated Cyprus on the way it handled the COVID-19 pandemic, noting the international recognition on the matter.
Invited to speak on ways to bring more American investments into Cyprus, Garber said 'every crisis brings an opportunity,' and there was 'good base on which to grow things'
Invited to speak on ways to bring more American investments into Cyprus, the US ambassador said that every crisis brings an opportunity, adding there was a "good base on which to grow things," CNA reported.
Garber, who was nominated for ambassador by US President Donald Trump, said the United States has worked with the Republic of Cyprus to strengthen the fight against money laundering, noting that there has been a "really good progress on that front" and that they look forward to continue this cooperation.
The American diplomat also made references to Turkey, saying relations between Washington and Ankara were "complicated" while adding that "it is important to continue to engage with Turkey in a way that keeps Turkey anchored to the West."
Garber reiterated the US position of support for the Republic of Cyprus to develop national resources in its Exclusive Economic Zone, adding "we also hope that the benefits of those resources will be shared equitably between the communities." 
The ambassador also said she was proud "of what we've been able to do to strengthen the US – Republic of Cyprus partnership over the past year and excited about what we have to do going forward."
Asked if US State Secretary Mike Pompeo was going to visit Cyprus, Garber said they were hopeful that there will be an opportunity to reschedule it and that the COVID-pandemic was not helpful in that effort.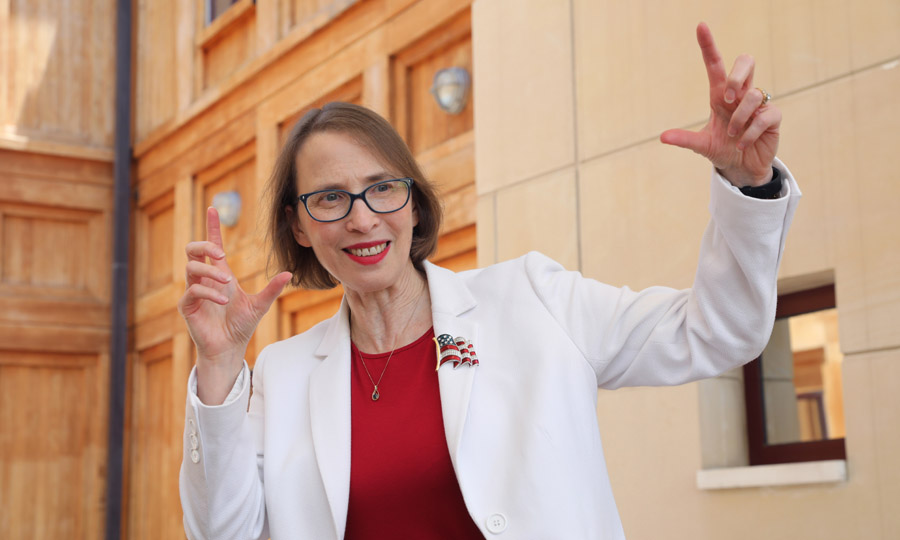 "I can't tell you when and if the Secretary of State will come for a visit. I as much as anyone else hope that he certainly will be able to reschedule that visit," she noted.
Pompeo on Wednesday urged Turkey to let Hagia Sophia in Istanbul remain a museum, days ahead of a contoversial vote that could restore mosque status of the UNESCO World Heritage site.
Turkish President Recep Tayyip Erdogan has proposed readjusting the status of Hagia Sophia, one of Turkey's most visited monuments that was turned into a musuem, with the building being at the heart of both Christian Byzantine and Muslim Ottoman empires of the past.
Speaking on the issue, Garber recalled a statement made by Pompeo.
"We call for Hagia Sophia to continue to be a museum and to continue to have access for everyone. That is very important to us. Freedom of religion is something that is a priority for this administration," she stated.