Her Excellency, the Ambassador of Italy, Ms Federica Ferrari Bravo, visited the University of Nicosia on Tuesday, 15 February 2022, following an invitation by the Rector of the University, Professor Philippos Pouyioutas. The Ambassador met with the Rector, the Vice Rector for Academic Affairs, Professor Panayiotis Angelides, and the Vice Rector for Faculty and Research, Professor Demetris Vrontis, jointly exploring possible areas for collaboration with the Embassy.
Rector Pouyioutas presented the Ambassador with information regarding the number of Italian students studying at the University of Nicosia and the programmes they are enrolled in, as well as information regarding Erasmus+ collaborations with Italian universities.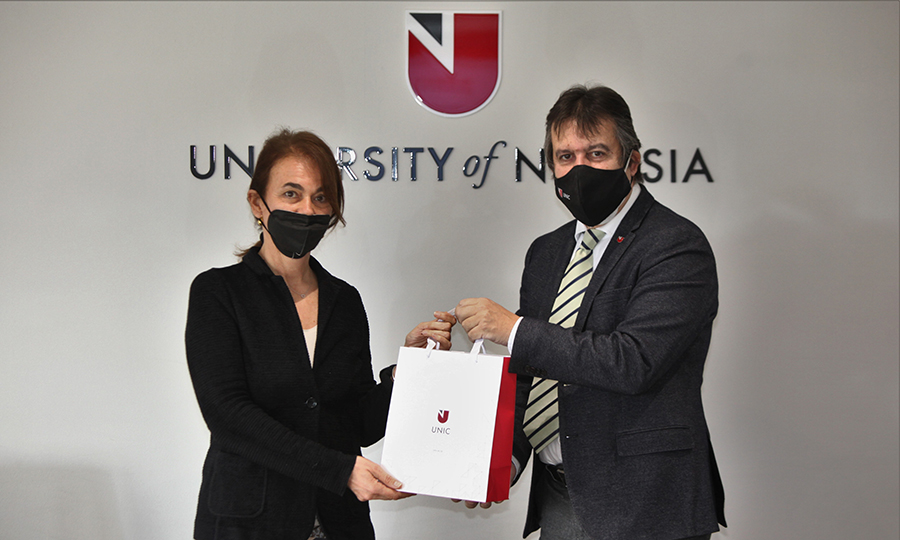 Focusing on the high-quality education offered by the University of Nicosia, Rector Pouyioutas then highlighted the University's distinctions in the major university rankings and especially its achievement in being ranked among the top 601-800 universities in the world, according to the 2022 edition of the Times Higher Education World University Rankings.
Referring to the internationalization initiatives and the broader strategy of the European Union vis-à-vis Higher Education, Professor Pouyioutas briefed the Ambassador on the inclusion of the University of Nicosia in the newly established NEOLAiA European University Alliance, which includes eight other top European universities, including the University of Salerno in Italy.
On her part, Ambassador Ferrari Bravo suggested possible avenues for collaboration and focused on one suggestion pertaining to the organization of an Italian-Cyprus Research Day, which she envisions as an event that can bring together Italian and Cypriot researchers to examine research issues of current concern. Vice Rector Vrontis will be following up with a concrete proposal on this in the coming period.  
In closing, Rector Pouyioutas thanked the Ambassador for accepting his invitation, underscoring that the University of Nicosia is always at the disposal of the Embassy to assist and support the Embassy and students from Italy.