22 hotels agreed to host arrivals from abroad who will be quarantined for two weeks
As of Saturday, the National Guard will be bolstering efforts for the surveillance of quarantine facilities where over one thousand repatriated Cypriots will be isolated for two weeks.
Soldiers will be tasked with ensuring that quarantined persons follow orders and that others do not attempt to enter the quarantine premises.
So far, 22 hotels have come to an agreement with the government to host repatriated persons for a period of two weeks, offering a total of 2,500 rooms.
So far, hotels in the mountains that agreed to accommodate persons in quarantine have been filled up, with Limassol hotels next in line to host arrivals to the island.
The island's confirmed coronavirus cases hit the 100 mark on Thursday, when the number in the Republic of Cyprus rose to 67 (including three confirmed cases in the British Bases) and to 33 in the north of Cyprus.
Returnees flooding in as universal flight ban enforcement edges closer
Waves of Cypriots have been arriving from abroad in recent days, while more will be rushing to beat the universal flight ban set to be enforced at 3am on Saturday.
The Cyprus government revised its previous position which urged Cypriots abroad to stay in place, and chartered two flights to repatriate persons stranded in the UK.
Flights from Greece were also scheduled on Friday, with Transport Minister Yiannis Karousos reassuring those who do not manage to secure a seat that flights will be chartered to bring them home.
On Friday, a flight had arrived from Athens, with passengers being boarded on buses to be transported to the Aldiana hotel in Mazotos where they are to remain isolated for two weeks.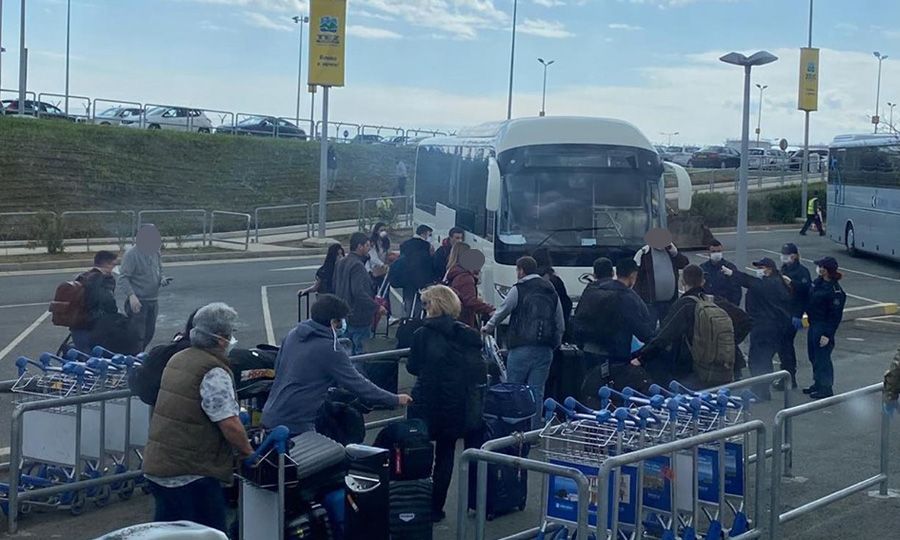 A total 198 people have so far been repatriated from abroad where they had remained stranded amid the coronavirus outbreak.
According to Karousos, by 2pm a total of 198 people who met the conditions set by the government in order to be allowed to fly home had returned to Cyprus and had been transferred to quarantine premises where they will remain for two weeks.
In the coming two days, some 700 additional people are expected to be repatriated through chartered flights from the UK and Greece organized by the government, Karousos said.
He added that the government and embassies abroad are make all possible efforts to repatriate those who fulfil the criteria previously announced: those who traveled abroad for medical reasons or for a short stay, for business or professional purposes, and those who are entitled to enter on the basis of the Vienna Convention.
Karousos noted that while many Cypriots have been stranded in countries other than the UK and Greece, the only two countries from which chartered rescue flights will be departing, they can arrange to travel to the two countries in order to board the flights to Cyprus.