Fresh guidelines issued by public and private medical bodies showing united front
A text message sent by the Interior Ministry and the Press and Information Office made the rounds on Thursday, warning that the island is "at a critical stage".
The text message read:
"We are at a critical stage. Isolation minimizes the spread of Coronavirus. Limit movements to the absolute necessary. Protect high risk population."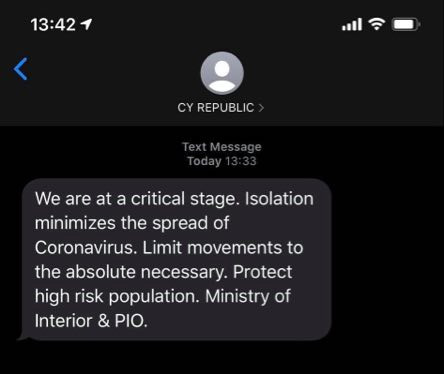 All registered doctors under the Health Minister's orders
Starting 6pm on Friday, the Health Minister said all doctors and nurses registered in the medical registry will be placed under his orders and will execute the duties assigned to them.
In an order issued on Thursday noon, Health Minister Constantinos Ioannou said those doctors and nurses who belong to vulnerable groups will either be used in other duties or will be exempted all together.
Fresh guidelines issued by public and private medical bodies showing united front
The Health Ministry, along with the Health Insurance Organization and the Cyprus Medical Association asked the public to stictly follow the new guidelines issued on Thursday in view of tackling the consequences of the spread of Covid-19.
If someone experiences suspicious symptoms pointing to coronavirus, they should first contact their General Practitioner, with whom they are registered under the General Health System (Gesy), who will provide initial instructions to be followed. The GP will then communicate if deemed necessary with the Health Ministry's Epidemiological Surveillance Unit to jointly decide on the treatment plan to be followed for each case, before informing the symptomatic person.
If someone is diagnosed as positive for coronavirus and instructed remain isolated at home, they will be monitored via telephone by their GP, who will provide instructions which must be followed faithfully.
Given the state of emergency, it is expected that the public will cooperate fully and, above all, help health professionals perform their duties. To make this possible, those experiencing non-emergency symptoms are urged to seek the help of their GPs via telephone. Only in emergency situations, and if it is deemed necessary by the GP following a telephone evaluation, will the patient be treated in person by their GP.
In the event that a GP is unable to serve the Gesy beneficiaries in their list, the GP shall appoint another GP to temporarily fill in.
If someone is unable to reach their GP or their substitute, they must notify the Health Insurance Organization at pdavailability@hio.org.cy so that the situation can be handled.