More measures by the day in the Republic of Cyprus as concerns linger but situation not out of control
There were no clear signals this week in the fight against the coronavirus spread in Cyprus, with more confirmed cases causing alarm and the government having to shift gears on many fronts.
New confirmed cases of Covid-19 in the Republic of Cyprus this week included a female pediatrician at Limassol General Hospital, who had traveled in early March.
Reports said the doctor is believed to have contracted the virus on a trip to Greece in early March. She then went back to work on her return to the island without taking any self-isolation measures, at a time when Greece was not on a list of high-risk countries for the coronavirus.
Knews has been told of instances where shoppers were asked to stand three metres apart
Officials were tracing all her known contacts by going through her appointment schedule, with several people already under self-isolation and awaiting test results.
Another case involved an individual whose history of contacts was not known. Officials said this case was particularly worrying, while there was no further information whether authorities had been alerted to other similar cases,.
Supermarkets in Nicosia, such as Alfa Mega and Athienitis, had elevated their measures even further, controlling the number of shoppers in and out of the building as well as dictating proper physical distance between invididuals, at least one metre. Knews has been told there where instances where shoppers were asked to stand three metres apart.
The President's Cabinet, in an effort to promote the message of keeping distance, released a photo showing everyone sitting at the table at more than an arm's length from each other.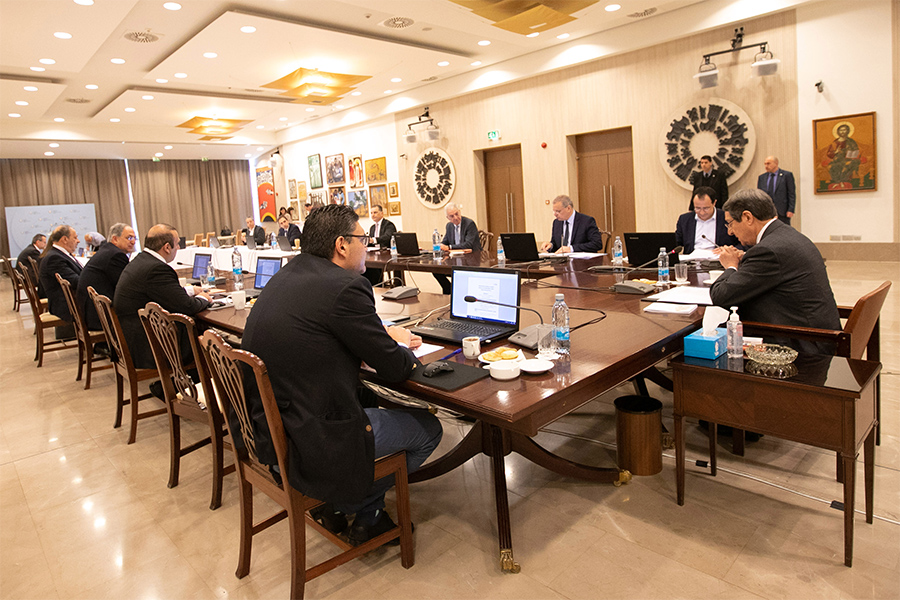 The government immediately issued additional measures that went in effect on Wednesday, including banning all hospital visitations in both state and private sectors.
Body shops banned one day, allowed the next
But another measure that was also introduced, ordering body shops to close down, was quickly pulled back after mechanics said they had been working on cars and couldn't leave them unfinished.
The government signaled later on Wednesday that it would retract the body shop ban, which was made official Thursday morning at 6am. But a ban on interior car wash services was left in place, along with no use of tables and chairs in canteens at the workplace.
Drive-through restaurants were specifically mentioned in the new measures, along them to continue operating based on health guidelines established earlier.
According to Kathimerini Cyprus, experts say the island could see over 300 confirmed cases of the novel coronavirus in the next month, but dismissed reports that 60% of the population was expected to get sick.