IPOB Family Cyprus administers oath to new members as separatist leader faces trial in Nigeria
A Twitter post in Cyprus this week showed youths from Nigeria being administered an oath of allegiance to separatist group Indigenous People of Biafra, who are calling for the release of their leader Nnamdi Kanu who is on trial for treason.
According to IPOB Family Cyprus, a Twitter handle for Nigerians who call themselves freedom fighters, a group of youths were inducted into the group this week after being administered an oath at a local venue in Limassol.
"Yesterday 12 December 2021, IPOB in Limassol Cyprus led by our great Leader Nnamdi Kanu administered oaths of allegiance to our new members," a tweet said, adding the group remained resolute in a campaign to restore sovereignty for Biafra.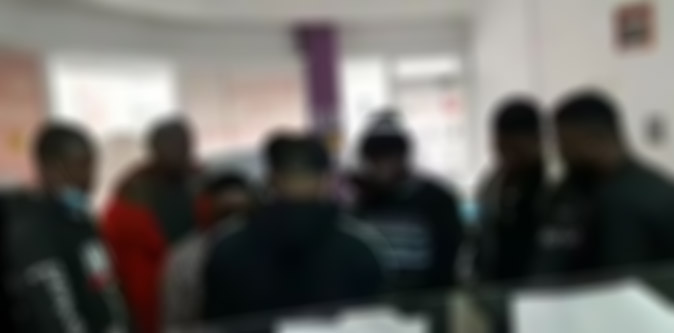 IPOB followers have been active in Cyprus through social media posts and public demonstrations, where young men and women often wave flags, chant freedom slogans, and sing peace songs.
In May 2020, Greek Cypriot immigration officers rounded up asylum seekers from their places of residence on the island, including Nigerians from Biafra, with some crying foul over being bused to a migrant camp under threats of deportation.
Biafran media say federal government forces in Nigeria have been reacting strongly to resurgence of separatism in the southeastern region of the country, which has been embattled by civil disobedience led by IPOB leader Nnamdi Kanu.
Kanu, who is a dual British citizen, has pleaded not guilty to multiple charges including terrorism, treason, as well as leveling false accusations against Nigerian government officials during his broadcasts on social media.
The separatist leader has accused the Nigerian government of violating his human rights, alleging that a doctor had been instructed by security agents to take his blood sample over 20 times.
Additional complaints from the activist prompted a federal court earlier this month to order that the IPOB leader be allowed to have "maximum comfort" while in detention, meaning he could have a change of clothes, better food, accept visits, and practice his faith freely.
IPOB denies being a terrorism organization, saying it is fighting for the south while equating Nigerian security forces to terrorists who are trying to overthrow the government in the northern part of the country.
But reports said the group in the south has been amassing foot soldiers, with Kanu saying civil disobedience is necessary "to end years of terrorism" in the region that has been struggling politically and financially.