Young man has leg amputated after collision with turning car, secondary crash with police also at the scene
A young man is in critical condition after having his leg amputated on Tuesday, following a crash in Limassol where he collided with a vehicle that was reportedly attempting to make a right turn.
(Click here for an update to the story)
According to local media, a 20-year-old male from Limassol was riding his motorcycle eastbound on Spyrou Kyprianou Avenue Tuesday evening, around 8:25pm, when he collided with another vehicle in the opposite direction.
Limassol traffic police director Michael Michail said the driver of the other vehicle, described as a 47-year-old local woman, attempted to make a right turn at the traffic light onto Panayioti Anagnostopoulou Street, blocking the path of the motorcycle.
The biker, who was said to be wearing his helmet, was injured critically in the collision, while his high-powered motorcycle was split in two pieces. Police did not share details over which motorist had right of way at the time of the crash, citing an ongoing investigation.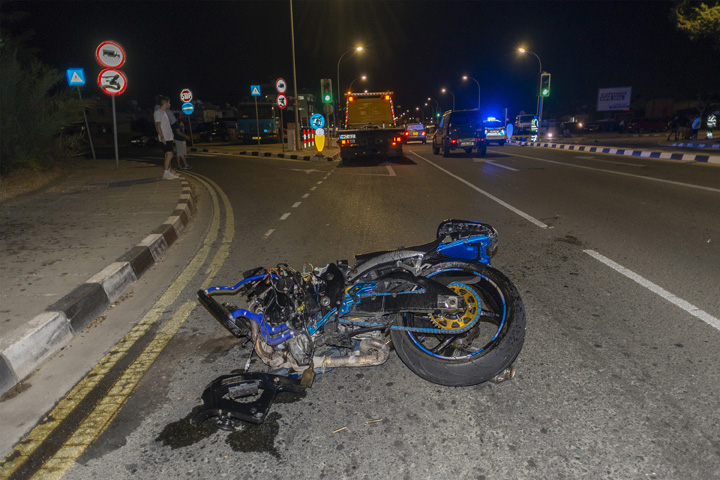 He was rushed to the Emergency Room at Limassol General Hosptial, where doctors amputated his left leg. Police also said he had an open wound in his right hip, chest injuries, and a broken collarbone, with doctors describing his condition critical.
Moments after the accident, another collision took place nearby when a different car crashed into a police vehicle that was parked in the street, with police saying officers were outside the vehicle regulating traffic.
The 27-year-old car driver was administered a Breathalyzer test which showed alcohol at double the permitted limit, while an initial drug test came back positive.
Police told Knews the officers were not hit in the second accident but they later visited the ER for treatment of minor injuries.