The Saudi prince had filed an application in 2017, two years before Cyprus added a condition banning the provision of citizenship to public officeholders
Cyprus' controversial citizenship-by-investment scheme was thrust into the spotlight once again after the investigative journalism platform Organized Crime and Corruption Reporting Project (OCCRP) published an in-depth report on the granting of a 'golden passport' to a senior member of the Saudi royal family and six of his family members.
According to the report, Prince Saud bin Abdulmohsen bin Abdulaziz Al Saud applied for Cyprus citizenship in 2017, after his uncle, Saudi Arabia's King Salman, ousted him as governor of Ha'il province, and before Cyprus added a condition banning the public officeholders of people under sanction by other governments from the programme in 2019.
To satisfy the requirement of the citizenship-for-investment scheme, which gives out passports in exchange for minimum investments of €2 million, Saud and his family ordered the construction of two villas, according to a leaked document obtained by OCCRP.
"The investment was to be made through two companies, Romolo Ltd and Casipa Ltd, registered in December 2016 with Cypriot lawyer Christos Patsalides as sole shareholder via two proxy companies," the report said.
It added that though several high-profile Saudi citizens have sought and obtained citizenship, Saud and his family are so far the only Saudi royals to be publicly identified.
The report referred to another case in 2015, involving Abdulrahman bin Mahfouz, a son of deceased Saudi banker Khalid bin Mahfouz, who was given a Cypriot passport, along with 36 family members.
"Patsalides, the lawyer who incorporated the companies used by Saud to buy the Cypriot villas, also represents bin Mahfouz," the OCCRP report said, adding that it has "identified 17 companies registered in Cyprus in which both Patsalides and bin Mahfouz serve as directors."
The controversial 'golden visa' scheme has been a source of contention within the EU. Citing a recent report by anti-corruption NGO Global Witness, OCCRP said that since 2013, the island has sold passports to around 4,000 foreign nationals, raising over €7 billion.
Referring to data published by Kathimerini Cyprus, the report said that between January 2013 and August 2019, just 56 of 2,700 applicants were rejected, while a single application can cover multiple people.
In February, the European money laundering watchdog Moneyval cautioned that the secretive investment-for-passports programme run by Cyprus was vulnerable to money laundering and fraught with risk.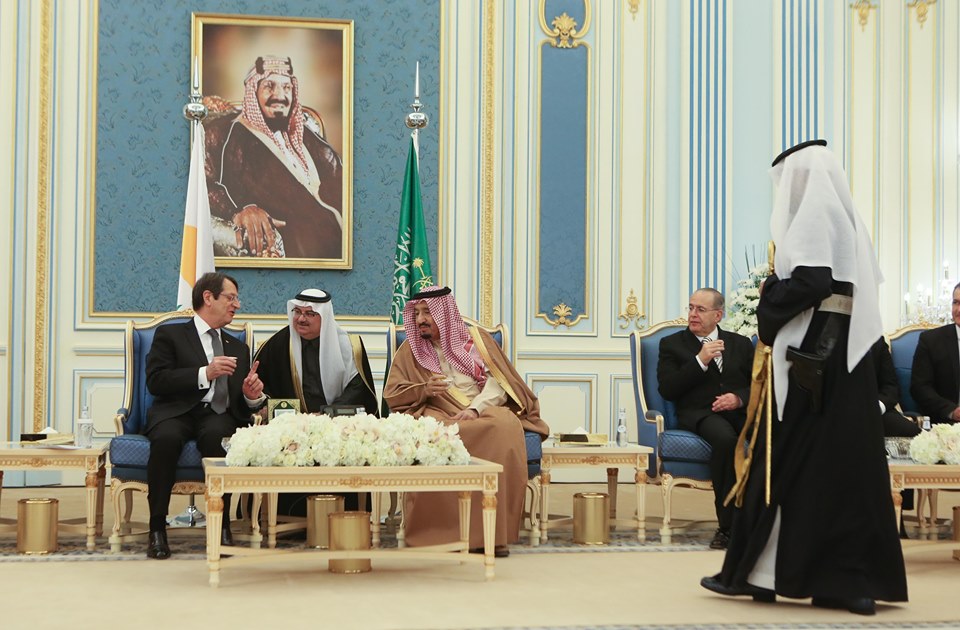 The OCCRP report also focused on the political dimensions of the matter, exposing how "Cyprus' Ministry of Interior submitted Saud's application to the Council of Ministers for approval and also notified the parliament just days before Cypriot President Nicos Anastasiades made an official visit to Saudi Arabia in January 2018 — the first by a sitting president of Cyprus."
In September of the following year then Foreign Minister of Saudi Arabia Ibrahim bin Abdulaziz Al-Assaf became the first Saudi official to visit Cyprus. In January 2020, Cypriot Foreign Minister Nicos Christodoulides was received by King Salman in Riyadh.
"Unlike other countries, Cyprus does not seem to shy away from maintaining a friendly relationship with Saudi Arabia," the report said.
Opposition party AKEL demands answers
Responding to the exposé, AKEL spokesman Stefanos Stefanou said Wednesday that "the government is once more called to give answers both for the specific case of the Saudi prince, but also for the general issues that still remain."
Stefanou said the government must finally come up with answers to the questions of whether the necessary criteria were met by the application of Saud and his family, and why the government refuses to conduct the scheme with transparency.