The Cyprus-Greece-Israel trilateral meeting led by Nicos Christodoulides, Kyriakos Mitsotakis, and Benjamin Netanyahu has successfully concluded its discussions.
The extended trilateral meeting followed private discussions among the three leaders and bilateral meetings involving the Greek and Israeli delegations. Private one-on-one meetings took place between Mitsotakis and Netanyahu and between Christodoulides and Mitsotakis.
President of the Republic Nikos Christodoulides emphasized the importance of natural gas as a primary objective of trilateral cooperation, particularly in light of recent developments in the Eastern Mediterranean. He reiterated that their partnership was not directed against any country but aimed at fostering cooperation.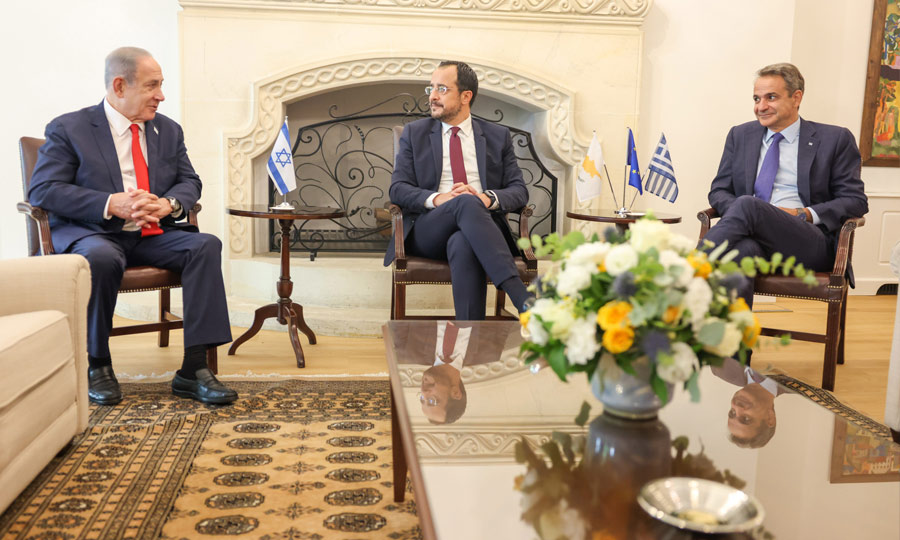 Israeli Prime Minister Benjamin Netanyahu underscored the need for political decisions in the next six months regarding the utilization of natural gas deposits. He also extended an invitation to Christodoulides and Mitsotakis to visit Israel in 2024 for the next Trilateral Summit.
Greek Prime Minister Kyriakos Mitsotakis announced the openness of the Trilateral for cooperation with other nations and revealed plans to invite the Prime Minister of India to the next summit. He expressed gratitude to the President for supporting Greece during recent firefighting efforts.
A press conference was held after the meetings followed by a working lunch at the Presidential Palace.
"September and October Crucial Months for Cyprus and Greek-Turkish Issues"
Earlier, President Nicos Christodoulides received Prime Ministers Kyriakos Mitsotakis and Benjamin Netanyahu at the Presidential Palace.
Greek Prime Minister Kyriakos Mitsotakis was the first to arrive and held a one-on-one meeting with the President. President Christodoulides emphasized that the trilateral mechanism demonstrated the vital role Cyprus and Greece, as EU Member States, could play in the Eastern Mediterranean's regional cooperation.
He also highlighted the significance of the upcoming months, stating, "September and October are crucial for the development of the Cyprus problem and Greek-Turkish issues." He emphasized the readiness to resume talks as soon as possible and resolve the Cyprus problem for the benefit of all parties involved.
Greek Prime Minister Mitsotakis endorsed the President's approach to restart talks within the framework of UN resolutions and pledged Greece's unwavering support. He expressed cautious optimism regarding Greek-Turkish relations and announced upcoming talks between Greek and Turkish foreign ministers.
Mitsotakis extended gratitude to Cyprus for its assistance during Greece's recent wildfires.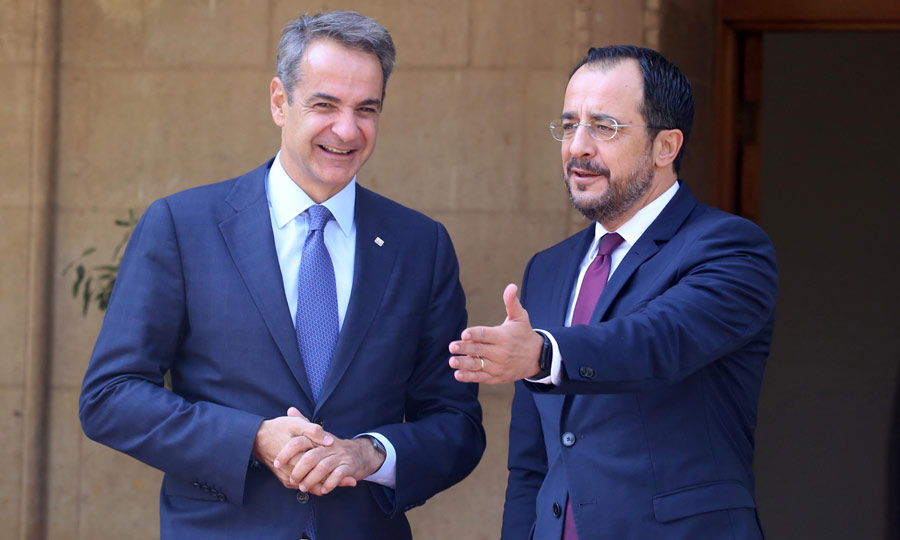 Christodoulides, Mitsotakis, Netanyahu Highlight Trilateral Cooperation's Benefits
At the start of their discussions at the Presidential Palace, the leaders praised the benefits of trilateral cooperation among Cyprus, Greece, and Israel.
President Nicos Christodoulides welcomed Prime Ministers Kyriakos Mitsotakis and Benjamin Netanyahu, expressing anticipation for their talks.
Israeli Prime Minister Benjamin Netanyahu commended the effectiveness and productivity of trilateral cooperation, highlighting cooperation in firefighting and defense. He emphasized the prosperity trilateral business brings to the three nations.
Greek Prime Minister Kyriakos Mitsotakis praised trilateral cooperation's value for the countries and their citizens. He noted the challenges posed by climate change and highlighted energy and economic sector cooperation, benefitting all citizens and offering numerous opportunities.