Close contacts in Cyprus get vaccine after government receives urgent batch from unnamed source
A handful of close contacts in the Republic of Cyprus were cleared for an urgent monkeypox jab on Sunday after vaccines arrived ahead of schedule, but the country providing the vaccines was not named as doctors in the European Union have been turning people away due to a serious shortage.
Seven people who were close contacts of the first monkeypox case detected last week in Cyprus were to be vaccinated on Sunday, Health Minister Michalis Hadjipantela told reporters after attending a memorial service in Paphos district.
A day earlier 1260 monkeypox vaccines were flown urgently and reportedly free of charge to Cyprus from an unnamed country.
Last week a mother argued a delivery by end of August was not soon enough, saying her infected son was deeply worried about people he had potentially infected on the island after a trip abroad
Last week the mother of a male patient made headline news when she said her son was deeply worried about people he had potentially infected on the island after flying back from a trip abroad, with the woman criticizing government officials and arguing a delivery by end of August was not soon enough.
According to the Cyprus News Agency, Hadjipantela on Sunday thanked EU Health Commissioner Stella Kyriakides for help "so that we could get the vaccines a lot faster than we had anticipated."
But Hadjipantela did not specify which country had sent 1260 vaccines over the weekend.
Doctors in European Union member states have been turning patients away due to a lack of doses, with media pundits saying the bloc's collective procurement policy was stalling again, in reference to COVID vaccine mishaps and delays during the peak of the coronavirus pandemic.
The minister also publicly thanked his counterpart in Israel for "offering to provide vaccines in case securing a delivery through the European Commission was not possible."
Israeli health agencies, which were scheduled last week to begin vaccinating men from the LGBTQ community, had been expecting only a limited supply of monkeypox vaccines during the first shipments.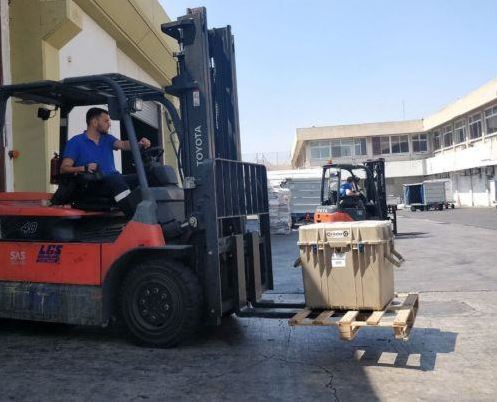 Cypriot and Israeli officials said they would target vaccinations in high-risk groups, with the health ministry on the island focusing on close contacts of infected patients and medical staff who treated them, while agencies in the neighboring country stated their targets also included persons within the LGBTQ community.
According to Elena Panayiotopoulou, Acting Director of Pharmaceutical Services, a total of 1400 doses had been scheduled to be delivered to Cyprus through EU mechanisms.
"Because the number of vaccines in Europe is limited, that's being distributed based on cases in a country. Hence through this initiative. In other words, today's delivery would not have been possible without this initiative," Panayiotopoulou said on Saturday.