Man from personal security detail arrested as police and officials point fingers at each other over GSP incident
Safety assurances for the beautiful game were in doubt on Friday when two large knives were confiscated at GSP stadium, with police arresting two people following an unforeseen altercation between angry local fans and members of a security detail of a visiting team.
The circumstances surrounding the arrests of two men, a 34-year-old Iranian member of a Personal Protection Detail and a Greek Cypriot businessman aged 46, remained unclear following an altercation during halftime at the APOEL – Karmiotissa match on Friday at the GSP stadium outside Nicosia.
Local media said APOEL fans, who reportedly hurled insults at the leadership of the Limassol team, got into a physical altercation with rival fans in the stands, prompting PPD men from the visiting team to come down from their sky box. 
It was not clear who started the fight but as angry APOEL fans surrounded Karmiotissa staff and bodyguards, stadium security officials intervened and managed to help the visitors escape while scenes of the incident were being recorded on video.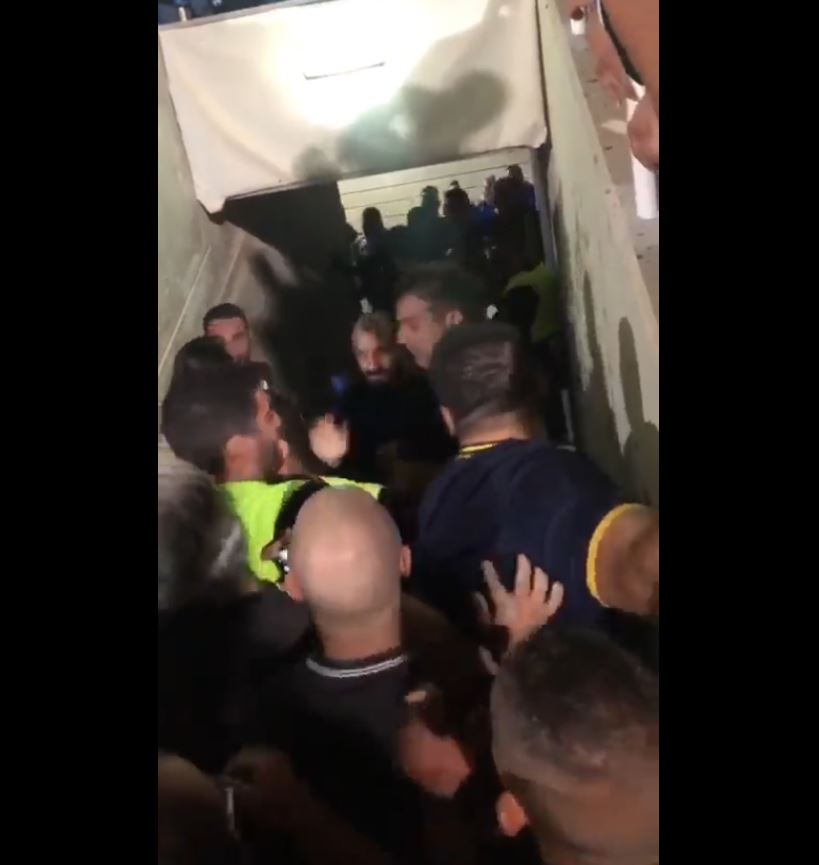 Information relayed to police officers, who arrived at the scene moments later, suggested the Iranian PPD was taken to the toilets nearby while he was also seen having a knife in his possession as he and stadium officials were trying to hold back angry fans.
Police told Knews two knives, with 4-inch and 8-inch blades respectively, were confiscated after a second knife had been found in the restroom during a search that was conducted in the presence of the suspect.
A second individual described as a 46-year-old Greek Cypriot businessman who had worked in the sports industry, had also been injured and was taken to a private clinic in Limassol, where he was arrested on Sunday on spectator violence charges. Reports said the man had refused to leave the stadium after officials instructed him to back away.
It was not clear who started the fight but as angry APOEL fans surrounded Karmiotissa staff and bodyguards, stadium security officials intervened and managed to help the visitors escape
Local media also said the Iranian suspect was facing immigration violation charges as well but police declined to comment whether the Karmiotissa PPD had traveled to Cyprus illegally.
Stadium officials later said they were disappointed with police spokesperson Christos Andreou, who had suggested in his statements that security officers had failed to do their job.
But Alexandros Papadopoulos, who is in charge of security at GSP, fired back saying "it was stadium staff who stood in the way" to protect people and not police officers who arrived at the scene "after the fact."
"We are never going to put the blame on someone else, as we all work together, and I don't believe there is as much blame as some try to suggest," Papadopoulos said.
Local media said the Greek Cypriot businessman was released into the care of a private clinic in Limassol while the Iranian suspect was remanded in custody.
The incident came one week after violent alterations erupted outside GSP stadium between hooligans from rival teams during a match between APOEL Nicosia and AEL Limassol.
Videos showed violent confrontations outside the stadium, with local media reporting cars were set on fire on the highway while one person was rushed to the Emergency Room with a head injury.
Officials are debating security and safety measures at Cypriot stadiums, including a controversial ID card seen by proponents of the measure as a safety boost and opponents as ineffective and an invasion of privacy.
Local media said the security detail last Friday had not gone through security at the gate, with stadium officials now contemplating ID card inspections on every single person as well a full pat-down searches. 
@Cyprus_Police @GS_Pancypria @npetevinos @apoelfcofficial https://t.co/5GR19wyJkD pic.twitter.com/RJC4tStPFO

— MixalisNotia (@MixalisNotia) October 7, 2022