Arraignment of five Egyptian fishermen set for Monday in a Turkish Cypriot court in Kyrenia
Five fishermen, who were arrested off the coast of Kyrenia by Turkish Cypriot authorities over the weekend, are set to appear in court Monday morning to face charges of illegal entry and illegal fishing.
(Click here for an update to the story)
According to Turkish Cypriot media, the suspects described as Egyptian nationals were apprehended by Coast Guard officials about 7.5 nautical miles off the northern coast and were detained in connection with illegal entry and unlicenced fishing activities while on board a vessel flying a Republic of Cyprus flag.
The five suspects were remanded on Saturday morning for three days in police custody and were set to appear in court on Monday for their arraignment.
Officials in the south have called for their immediate release and mounted a campaign through the United Nations, protesting the arrest of the five men as well as the confiscation of the boat named "Yia Sou Kaiki Mou Ai Nikola."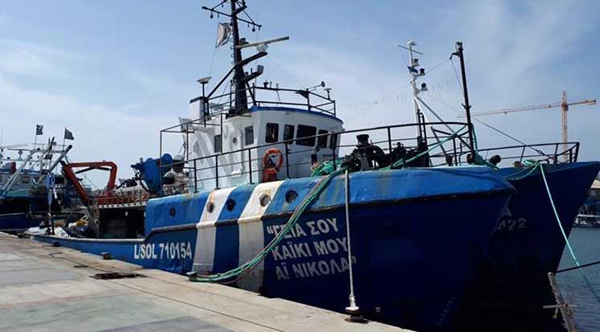 Media reports in the south said the owner of the vessel, described as a Greek Cypriot male, attempted but failed to meet with the suspects while in custody, while other reports said the vessel was in international waters during the arrest.
Over the weekend, officials in the north said the five men were assigned an Arabic-speaker as an interpreter and were being treated well, contradicting reports in the south regarding the conditions of their detention.
Knews understands that consultations are also being carried out through the bicommunal crime committee between Republic of Cyprus law enforcement officials in the south and their Turkish Cypriot counterparts in the north.
Turkish Cypriot administration officials, however, said the men will appear before a court of law to face charges.