Cyprus and Germany agreed on Tuesday to intensify their cooperation within the framework of the EU's Permanent Structured Cooperation (PESCO), with Ursula von der Leyen, Germany's Federal Minister of Defence saying that ''Cyprus is a valuable partner for Berlin''.

The German Defence Minister, who is in Nicosia, had a meeting this morning with her Cypriot counterpart, Savvas Angelides.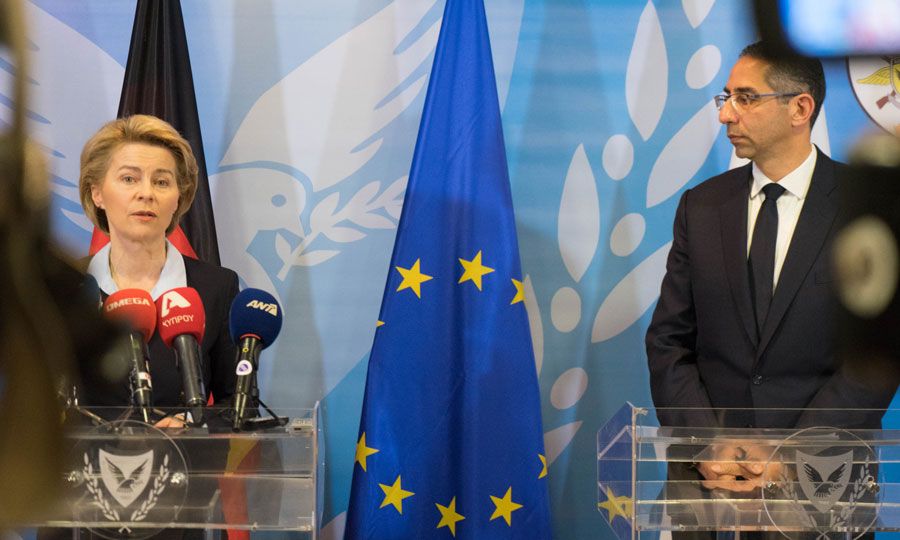 "Today we discussed developments in the region but also our cooperation within PESCO. We underlined the need for stability in the region and also with regards to the energy prospects of the Eastern Mediterranean. Stability in the region is also linked to the security of EU Member States", Savvas Angelidis said.
Germany's Defence Minister said that "there is mutual respect among our countries and it was also evident from the talks we had. The debate covered geopolitical issues in the region, common European issues such as PESCO, defence, through joint actions. We brought our specialists on the subject, and they also discussed cooperation between the two countries. We are committed as members of the EU to international law and we are calling all states to abide by it'', Von Der Leyen said.
Von der Leyen also thanked Cyprus for hosting German Forces for the past 10 years that make up the United Nations Interim Force In Lebanon (UNIFIL).