Children will learn about the life of bees and gain knowledge about how bees are connected to our food chain, biodiversity and the existence of all ecosystems.
Get ready to don your beekeeper's hat and join the buzz at Melini's upcoming Children's Honey Festival on September 17. This unique event is all about celebrating the incredible world of bees while having a blast!
Organized under the auspices of the Environment Commissioner and dedicated to our tiny friends, the Lone Bees, this festival is a must-visit for kids and anyone who loves our planet. Cyprus is home to a whopping 378 different species of solitary bees, and this festival aims to spread awareness about these remarkable pollinators.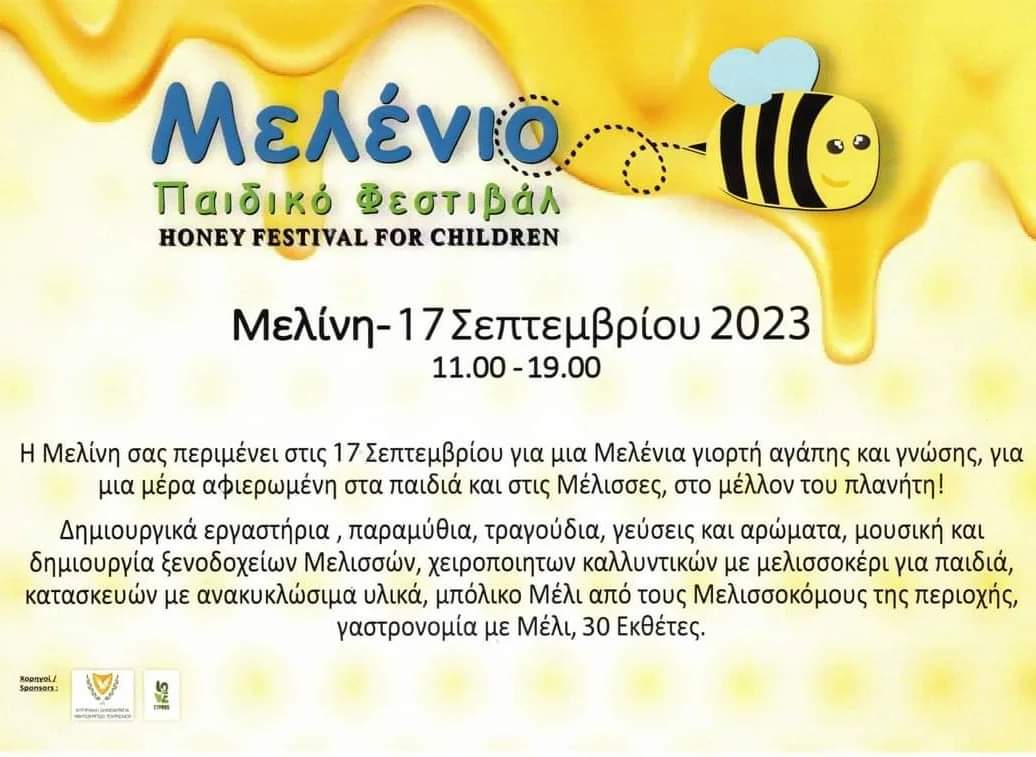 So, what can you expect at this bee-tastic gathering? Plenty! The festival offers a beehive of activities, from hands-on workshops and stories to crafts and music. Children will dive into the fascinating life of bees and discover their vital role in our food chain, biodiversity, and ecosystems.
Creative minds will thrive at the festival, where kids can create their own bee hotels, whip up handmade cosmetics with beeswax, and craft art using recyclable materials. Of course, there will be a honey extravaganza with sweet treats, honey gastronomy, and local beekeepers sharing their golden nectar.
But the fun doesn't stop there! You can groove to live music, watch children's dance groups, and explore 22 exhibitors offering a range of bee-themed goodies.
Melini invites you to join the celebration on September 17, from 11:00 to 19:00, for a day filled with love, knowledge, and a whole lot of buzz. The festival is organized by the Melini Community Council and promises to be a hive of excitement for kids and bee enthusiasts alike. Don't miss out on the sweetest event of the year!