Nicosia students defy weather warnings as they march in front of empty chairs outside Greek embassy
A number of "Ohi Day" celebrations went ahead on Monday in the Republic of Cyprus amid public confusion, following last-minute cancellations of school parades on the advice of weather officials.
The education ministry issued an early morning announcement on Monday canceling all school parades following consultations with weather officials, who warned of rain chances and stormy weather in a last-minute yellow alert issued early Monday morning until late afternoon at 5pm.
Weather officials were worried about audio gear exposed in a possible storm, thousands of people stuck in the rain and students drenched to the skin
Weather officials were reportedly concerned over audio gear exposed to the elements in a possible storm, while also citing fears of thousands of people stuck in the rain, students drenched to the skin, and wet flags.
According to the Cyprus News Agency, the "Meteorology Department urged people to take extra care in exposed areas, like mountains, forest and open terrain, noting that disruption to outdoor activities is possible."
But a number of cities including Limassol and Paphos issued counter-announcements, saying school parades would take place normally due to clear weather conditions. Reports said parades also took place in Paralimni as well as Larnaca, where reserve commandos also took part.
According to photographs published by Reporter, students in the capital also went ahead with the parade despite official cancellations. Photos showed students and their marching bands in proper uniforms, parading with Greek flags in front of empty chairs outside the Greek Embassy in downtown Nicosia. A few bystanders cheered the students on including embassy staff.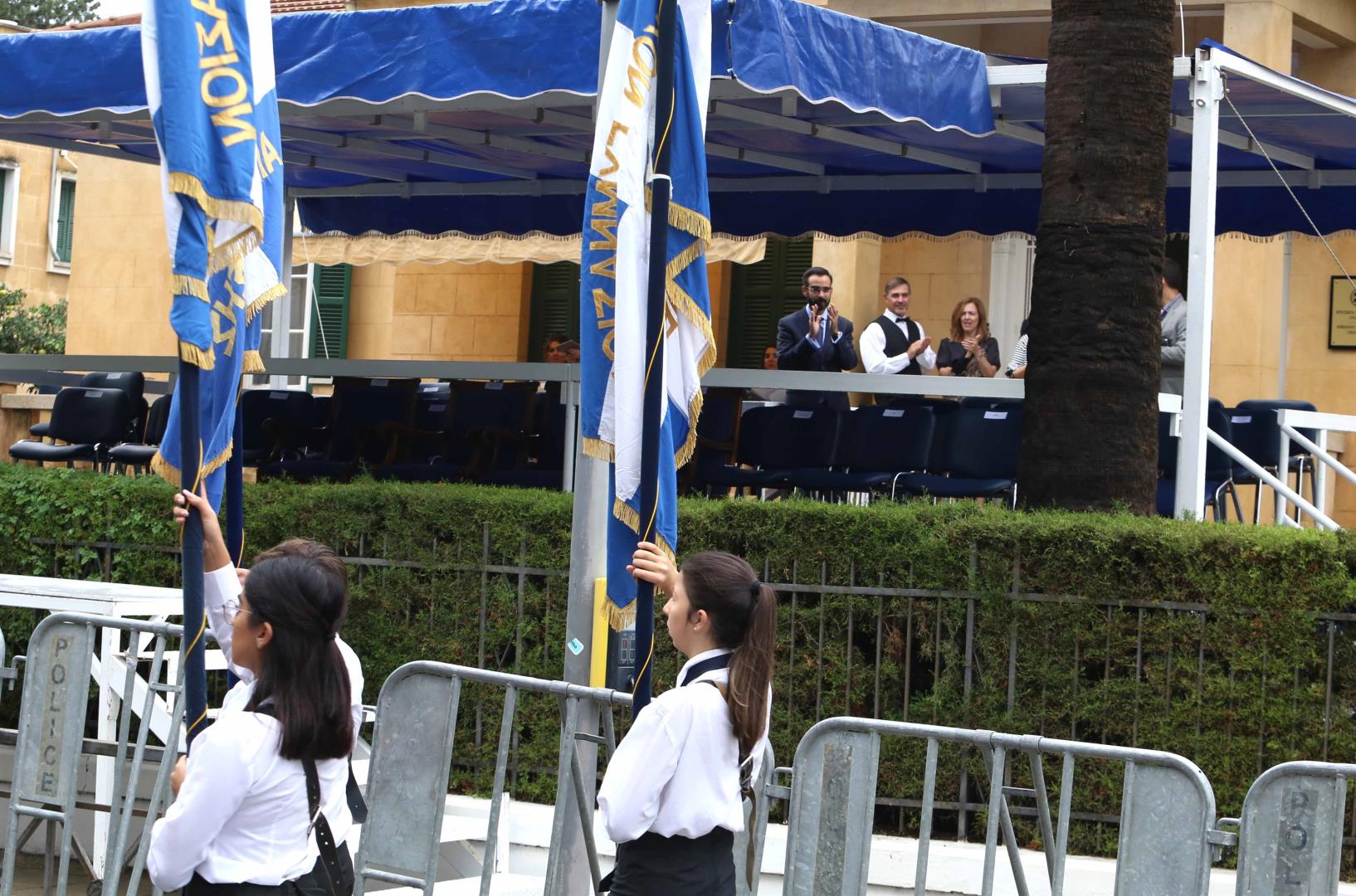 Ohi Day, a celebration against fascism when Greece rejected an Italian ultimatum on 28 October 1940, is celebrated by Greek Cypriots who put on school parades in villages and towns throughout the Republic of Cyprus.
Many scheduled celebrations and activities took place as Monday weather held up, while the number of parades was not immediately clear.