South says Turkey requested humanitarian flight for quarantined player, north sees political motives
Turkish Cypriots are accusing Greek Cypriots of trying to trying to score political points after a handball player quarantined in the south was not allowed to cross into the north to head back to Istanbul and had to be airlifted by an ambulance plane.
A handball player for the Turkish National Team who tested positive for coronavirus after arriving in Cyprus, returned to Istanbul after spending quarantine in the southern part of the island.
Alperen Arabaci, who sat out both qualifier games between Turkey and Cyprus for the 2024 European Handball Championship due to testing positive for coronavirus, flew back to Istanbul on Tuesday evening on a humanitarian flight out of Larnaca.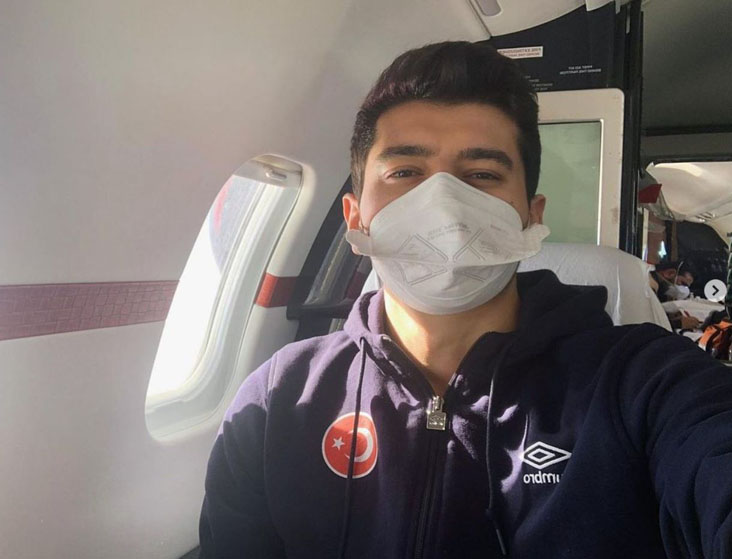 Greek Cypriot government spokesperson Marios Pelekanos said Turkish authorities requested permission from the Republic of Cyprus to fly Arabaci out of Larnaca on a direct emergency flight to Istanbul.
While there are no direct flights between Turkey and the Republic of Cyprus in the south, due to the ongoing Cyprus Problem, humanitarian flights can take place in rare cases.
"As soon as the player tested positive, all protocols took effect and he was put in isolation, with the Turkish authorities asking us to send an ambulance airplane to pick him up, and this is what happened," Pelekanos told the Cyprus News Agency.
Turkish Cypriots tell a different story
But Turkish Cypriot officials have criticized the airlift, accusing the south of trying to score political points and saying Greek Cypriots did not allow the player to cross into the north through the divided island's UN buffer zone.
"It is obvious that despite the request of the Turkish Handball National Team officials and the player, the decision of the Greek Cypriot Administration not to allow the Turkish Handball player to be brought to our country with all the safety measures taken is political," a statement said in the north.
Turkish Cypriots went on to suggest that UNFICYP was 'ineffective' in carrying out a role to facilitate the transfer and had 'moved away from the principle of neutrality'
Turkish Cypriots went on to suggest that the United Nations Peacekeeping Force on the island was "ineffective" in carrying out a role to facilitate the transfer and had "moved away from the principle of neutrality."
Arabaci confirmed on social media that he had been transported to Turkey in an ambulance plane chartered by the country's health ministry.
"I convey my love to everyone who helped me with all my needs during my stay. I would also like to thank the doctors and pilots who took care of me throughout the flight for their efforts," Arabaci said, adding that he was in good health and looking forward to getting back in the field as soon as possible.
Turkey went on to defeat Cyprus in both games at the Tassos Papadopoulos - Eleftheria Athletic Center Stadium in Nicosia. No tickets were available to the public but attendance was possible only by invitation for registered sports fans under pandemic Safe Pass measures.
Cyprus has been divided for half a century between Greek Cypriots in a fully recognized south and Turkish Cypriots in the north recognized only by Turkey, with the two communities failing to reach agreement to reunify the island.