Cypriot officials remain upbeat after Haifa disappointment as a welcoming local industry looks ahead
Odyssey of the Seas sailed away from Cyprus on Tuesday after Royal Caribbean pulled the plug on operations out of Haifa, but Cypriot officials remain upbeat over cruise ships seeking a friendly port in Limassol.
Following turmoil in the Middle East over the Israeli-Palestinian conflict, Royal Caribbean announced over the weekend it had cancelled its scheduled cruise season from Haifa, Israel.
Odyssey of the Seas, which docked in Limassol for a few days before setting course for Florida, was to resume operations in early June out of Haifa.
"However, due to the unrest in Israel and the region, we have not been able to complete the preparation required to operate and as a result, sailings out of Haifa will be cancelled," Royal said.
Media sources noted that besides unrest in the region, it was also reported that Odyssey was unable to secure vaccinations from Israel for all of its crew members.
Early birds who re-book by 13 June 2021 a sailing out of Limassol will also be offered an additional €330 on board credit
The cancelation came as a huge disappointment to cruise enthusiasts who had already booked with the ship, with the company offering the choice of a 125% future cruise credit or a 100% refund.
But Cypriot officials remain upbeat including Transport Minister Yiannis Karousos, who has embarked on a new mission with Deputy Tourism Minister Savvas Perdios.
According to the Cyprus News Agency, the two ministries are preparing a more detailed strategy to make Cyprus a center for cruise liners.
Perdios said if a benefits package was put together to include hotels, commissions, change of crew, and services, "Cyprus stands to receive more than €70 million from a program that will last four to five months and begins in July."
CNA reported that Sindre Borsheim, Captain of the Odyssey of the Seas, described services in Cyprus as excellent and his crew felt very welcome.
"We are safe and feel healthy and we thank the Republic of Cyprus for the services offered," Borsheim was quoted as saying.
Still time for re-bookings
But with Odyssey currently en route to Florida, Royal Caribbean says it will give anyone who has a cancelled cruise on the ship a €330 onboard credit if they rebook for a Jewel of the Seas summer 2021 cruise from Limassol.
Early birds who re-book by 13 June 2021 a sailing out of Limassol will also be offered an additional €330 On Board Credit, if they meet the deadline and book at prevailing rate.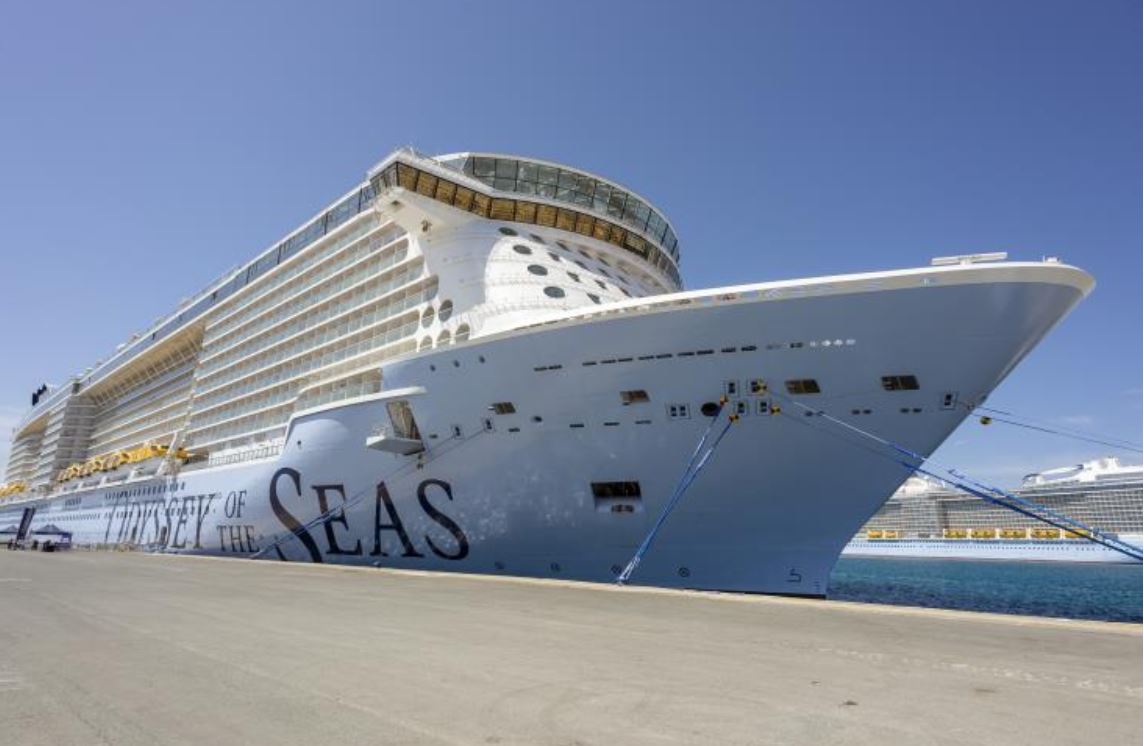 Both Odyssey and Anthem of the Seas docked at Limassol for services at the same time.
"This is very significant for the economy and tourism and sends a message that expectations in this field are very high and we can attract many other companies that can use Cyprus as their homeport," Karousos said.
Cypriot officials remain upbeat after Haifa disappointment as Odyssey sails for Florida, leaving behind a welcoming island with a local industry looking ahead