Social media in Cyprus on fire after allegations of political cover up in deadly crash, police deny claim
Police are re-opening a case of an unresolved and forgotten road fatality that took place more than a decade ago, after a tweet from a known political parody account went viral for suggesting there was a cover up.
A well known parody account on Twitter, Jho Low the Presidential Godchild, posted a tweet on Sunday with information about an unresolved road fatality in 2012, suggesting there was a police cover up in the death of a 17-year-old Andreas Loizou.
"So, here is a brain teaser. Who was the 'unknown woman' who was having fun with what female friend at a club until 5am and drove while being intoxicated her convertible causing an accident and the death of a 17-year-old and then disappeared," the online jester asked.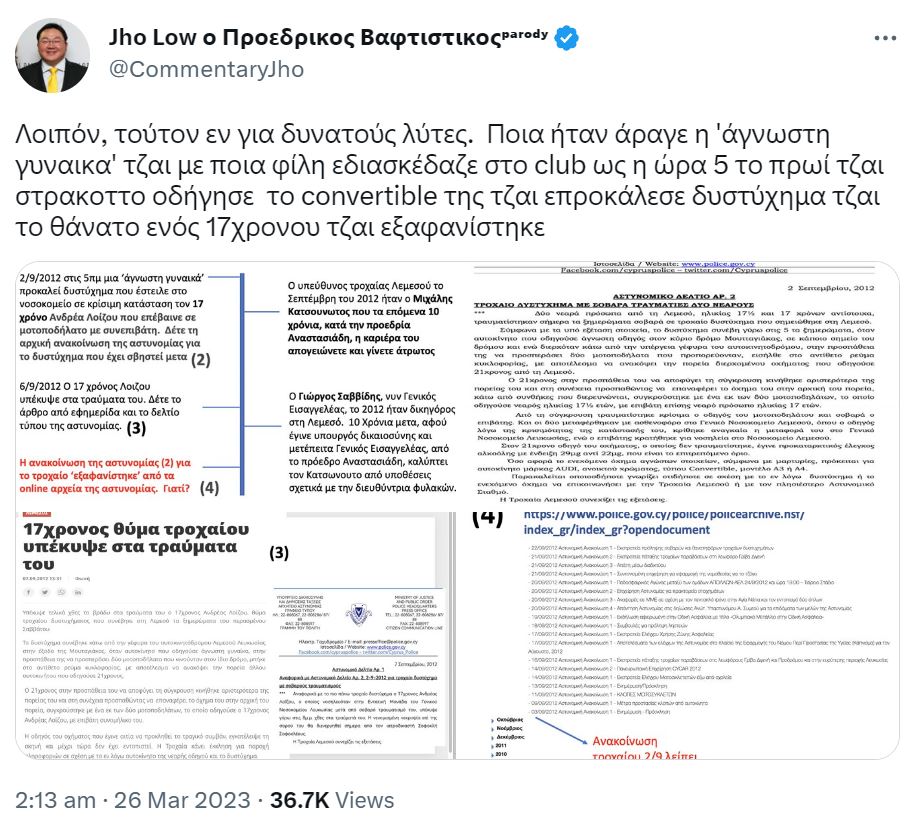 Loizou was a passenger on one of two mopeds along a road in Mouttagiaka, Limassol district, when a car driven by a 21-yer-old male in the opposite direction veered off lane and struck the teenager.
According to a police incident report dated 2 September 2012, the male driver said he first veered left to avoid a white Audi convertible A3 or A4, which was driven by an unknown female who entered his lane to overtake the mopeds.
As he was trying to swing back right into his lane, the driver struck the moped in the opposite lane under circumstances still pending investigation.
The tweet, known for political satire on current issues, drew up connections that also involved a police official and an accident lawyer, both in Limassol who went on to serve in high posts
An additional police report on the same day later said the driver was arrested and released, while adding that the white convertible could be possibly of a different make other than AUDI.
But according to the political tweeter, the police reports about the incident had been taken down from online archives. A screen shot he posted on Twitter showed a list of reports for September 2012 that started from Monday September 3, noting in red ink that the report from the previous day was not listed.
Police spokesperson Christos Andreou confirmed the incident report was not posted online but rejected allegations of a cover up, saying it was missing as a result of an error due to an upgrade of the website.
"The file of the case has been requested from Limassol Traffic," Andreou said, adding that the investigator in the case was called to Police Headquarters in Nicosia.
But the tweet had already gone viral after the online jester, known for political satire on current issues, drew up connections that involved a police official and an accident lawyer, both from the southern town who also went on to serve in high posts.
Other insinuations online reportedly made references to other political figures, including former justice minister Emily Yiolitis, who "may have been at the club" with the "unknown woman" according to the tweeter.
Yiolitis, a social media influencer who was a corporate lawyer in Limassol before becoming minister, weighed in on the conversation saying this was "a very serious accusation."
"I had nothing to do with a road fatality and I call on those who published or reposted to prove or apologize," the former minister wrote.

Yiolitis, a known friend of former president Nicos Anastasiades' daughters, had often been criticized for posting carefree photos on social media and cozying up to the first family.
Social media users have called on the police to reinvestigate the accident, with Andreou saying the case would be reviewed.
Journalist Manolis Kalatzis from daily Politis wrote on Twitter over the weekend that he had been unable to get to the bottom of what he described as "an orphan case."
"Police ought to clear up what happened with the road fatality in 2012. I have been trying for a year to crack this case open and would always hit a wall or mouths were kept shut," Kalatzis wrote.