Government promises some employees to keep jobs under old contract following hours of chaos at Paphos International
The Cypriot government is scrambling to put out fires in the aviation industry, with union ground handlers at Paphos airport forming a picket line to protest a merger downsize and leaving passengers stranded for hours in the terminal and on the tarmac.
Passengers on planes at Paphos International Airport say they were stuck on the tarmac for hours on Wednesday, when ground handling workers went on strike demanding to keep their jobs during a downsize following a merger.
Dozens of flights were said to have been affected, mostly those with British destinations, while some planes were also diverted to Larnaca.
'If I were a tourist and came to a country that is holding me inside a tube for three hours, I don't think I would ever want to come back'
Videos appearing on social media showed hundreds of passengers in the terminal complaining that nobody was telling them what was going on and whether they could catch their flights or would need to check into a hotel.
One passenger, Elena Socratous who was already stranded inside a plane on the tarmac, told Sigma reporters on the phone that they were inside an airplane on the tarmac with the doors shut for over two and a half hours, adding "it's very difficult, the situation is intolerable and officials are not answering our phone calls."
Another passenger, Maria Charalambous, said there were babies and elderly on the plane, along with tourists "and I cannot understand how we call ourselves a European country that wants to live off tourism."
"If I were a tourist and came to a country that is holding me inside a tube for three hours, I don't think I would ever want to come back," Charalambous said.
A similar ordeal was unfolding in the terminal managed by Hermes Airports, with a video by DailyMail showing frustrated British passengers not knowing whether they should wait or leave and catch their flight on another day.
While union bosses said they had tried to reason with ground handling workers, it was also reported that the employees formed a picket line at the last minute as their representatives were negotiating with the government on how to manage a number of workers who were being affected by a merger.
Last week the Cypriot Competition Authority was notified that S&L Airport Services was staffing its aircraft cleaning services and ground handling operations through a merger between LGS Handling and Swissport Cyprus, two companies that jointly control the new firm.
On Tuesday ground handlers carried out a two-hour work stoppage at Larnaca International Airport after employees at both LCA and PFO in Paphos were being let go due to downsizing.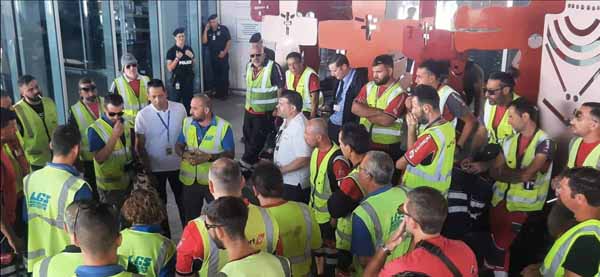 The new company has reportedly offered different terms of employment compared to previous contracts signed between the unions and the two companies brokered by the state, which included higher payt.
But while employees in Paphos also warned of a strike, local media said negotiations were underway.
Union bosses suggested employees in Paphos had justified concerns while Transport Minister Yiannis Karousos said work stoppage was not necessary as negotiations were underway.
The strike in Paphos had started in the early afternoon and it did not end until in the early evening, when it emerged that Karousos reached a deal with the unions.
According to the deal, 28 permanent non-seasonal staff at Paphos airport could continue their employment if they so choose under their old contracts.
Similar negotiations are taking place to hash out remaining issues both in Paphos and Larnaca, with a deadline for concluding negotiations pushed back to November 9.