Greek Prime Minister Kyriakos Mitsotakis is chairing an emergency meeting of the country's top decision-making body on foreign affairs and defense matters, KYSEA
Kathimerini Greece Newsroom
Turkey issued a new navigational telex (Navtex) on Monday morning to conduct seismic research operations over the next two weeks south of the island of Kastellorizo with the Oruc Reis research vessel.
The navtex will remain in place until August 23. Oruc Reis will be accompanied by two auxiliary vessels.
At the same time, Turkey started naval exercises on Monday in an area southeast of the islands of Kastellorizo and Rhodes, an activity announced on August 6.
Amid the escalation, Greek Prime Minister Kyriakos Mitsotakis was due to chair on Monday noon an emergency meeting of the country's top decision-making body on foreign affairs and defense matters, KYSEA, to discuss the developments.
A tweet by the Cyprus Foreign Ministry on Monday said the island's Foreign Minister Nicos Christodoulides reached out to his Greek and Egyptian counterparts, Nikos Dendias and Sameh Shoukry, to discuss the latest regional developments.
Foreign Minister @Christodulides held telephone conversations with his counterparts from #Greece@NikosDendias and #Egypt#SamehShoukry concerning latest developments in #EastMed. pic.twitter.com/S9HPANNVGX

— Cyprus MFA (@CyprusMFA) August 10, 2020
Donmez: Turkish vessel has reached destrination
Turkey's Oruc Reis seismic vessel has arrived in its area of operation where it will conduct seismic research activity, Turkey's Energy and Natural Resources Minister Fatih Donmez said on Monday, according to a report in Anadolu Agency.
"Our MTA Oruc Reis seismic research vessel, reached the operation area after departing from Antalya, for its new mission in Mediterranean. 83 million Turkish people support you, Oruc Reis," Donmez was cited as saying by Anadolu in a tweet.
He also said that Ankara's research activities in the Mediterranean and Black Sea "will continue nonstop" to achieve "Turkey's energy independence."
Oruç Reis'ten İlk Görüntülerpic.twitter.com/Kb31XQU5nJ

— Turkish Defence Agency / Türk Savunma Sanayii (@tdefenceagency) August 10, 2020
Greek PM reaches out to EC President Charles Michel
As tensions between Athens and Ankara revived following Turkey's decision to issue a new navtex for seismic exploration south of the island of Kastellorizo, Greek Prime Minister Kyriakos Mitsotakis called European Council President Charles Michel on Monday to discuss the "worrying developments in the Eastern Mediterranean" and the Greek-Egyptian maritime border deal," Greek government sources said.
He is also scheduled to speak with NATO secretary general Jens Stoltenberg at 5 p.m.
EU raises alarm over Greek, Turkish naval deployment
Josep Borrell, High Representative of the European Union for Foreign Affairs and Security Policy, has expressed his concern over the deployment of Greek and Turkish naval forces in the Eastern Mediterranean.
In a statement he released Sunday afternoon, Borrell calls for dialogue and negotiations to define maritime boundaries.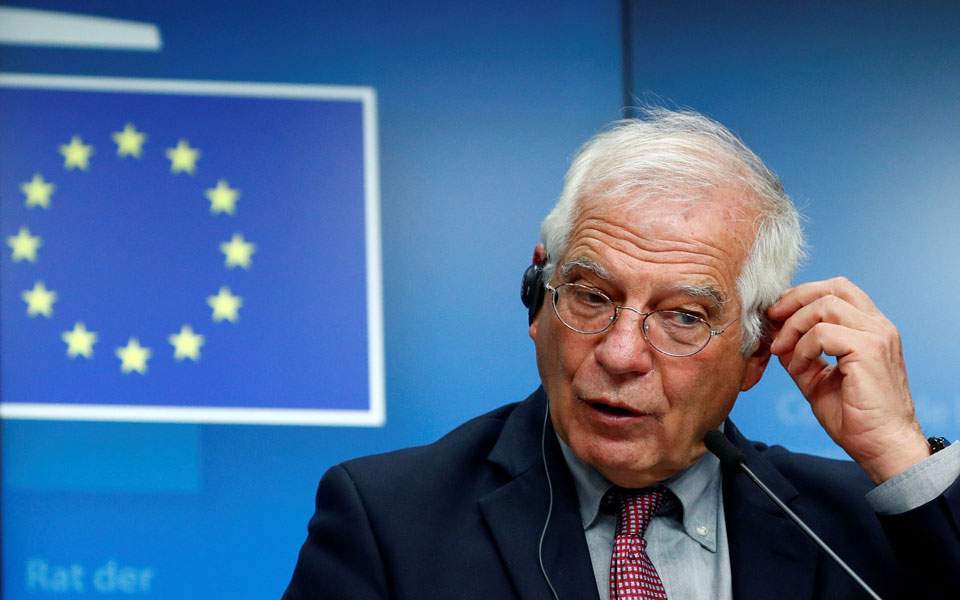 The statement, in full:
"Latest naval mobilisations in Eastern Mediterranean are extremely worrying. They will not contribute to finding any solutions. On the contrary, they will lead to a greater antagonism and distrust. Maritime boundaries must be defined through dialogue and negotiations, not through unilateral actions and mobilisation of naval forces. Disputes must be solved in accordance with international law. The European Union is committed to help solving such disputes and disagreements in this area of vital security interest. As the High Representative for EU's Common Foreign and Security Policy, I will deploy all efforts necessary to re-establish such a dialogue and to facilitate re-engagement. The present course of action will not serve the interests neither of the European Union, nor of Turkey. We have to work together for the security in the Mediterranean."