Money Review
Europe has been thrown into a battle of the fourth wave of the pandemic.  Countries are called upon to deal with high levels of new infections on the one hand, and the persistently significant percentage of unvaccinated citizens on the other.
In this context, every country of the Old Continent takes their own emergency measures to protect the health system and ensure that we live as "normal" and have as close to a "traditional" festive period as possible.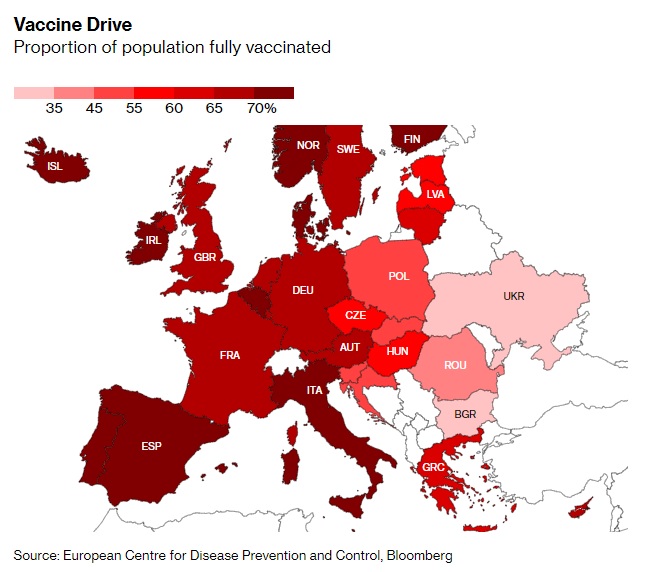 * Vaccination rates in European countries
Let's see how some states treat unvaccinated citizens in this new outbreak of the health crisis.
Greece
The Greek government has made it mandatory to vaccinate all citizens over the age of 60. Those who refuse to be vaccinated will be fined 100 euros each month.
Austria
Austria has one of the lowest vaccination rates in Western Europe.  The government recently imposed a total lockdown until at least mid-December and is considering the imposition of mandatory vaccinations from next February.
Finland
All bars and restaurants that accept unvaccinated customers are forced to stop serving alcohol after 5.00 pm.
Spain
Spain has banned the entry of unvaccinated travelers from the United Kingdom and from December 1, it will only accept vaccinated travelers regardless of country of origin.
Hungary
The government has required some companies to have only vaccinated employees. Those who refuse to be vaccinated are automatically put on unpaid leave.
Slovakia
The government wants to issue a voucher (discount coupon) worth 500 euros to those seniors over 60 who rush to get vaccinated or have already been vaccinated.
Lithuania
All citizens over the age of 16 must have a vaccination certificate to enter restaurants, bars, malls, cinemas or any other public indoor space. From the end of December, the age limit will be reduced to 12 years. In addition, those over the age of 75 who have received their booster shots by March 2022 will receive the amount of 100 euros.
Ukraine
Teachers and civil servants who have not been fully vaccinated are put on unpaid leave. Restaurants, malls and slimming/wellness centers can only operate if staff is vaccinated. Public transport is only available to vaccinated people.