US and Turkey positions on collision course regarding F35 jets, American pastor, relations
The US senate passed a huge defence bill granting President Donald Trump waiver authority on certain sanctions against Russian-buying countries but also forcing him to wait 90 days before deciding to allow the transfer of F-35 jets to Turkey.
On Wednesday, in an 87-10 vote, the US senate approved a €620 billion defence budget, which includes an amendment that bans the sale of F-35 jets to Turkey for 90 days until Pentagon issues an assessment report.
Trump is expected to sign the bill, which also includes pay raises and boosts spending.
But the bill also allows Trump to waive sanctions against countries that buy Russian weaponry if they demonstrate they are taking steps to get closer to the US
The Pentagon is currently assessing Turkey's participation in the F-35 programme as well as evaluating potential threats over Ankara's purchasing Russian-made S-400 missile defence system.
But the bill also allows Trump to waive sanctions against countries that buy Russian weaponry in cases where these governments either have maintenance contracts with Russia or demonstrate they are taking steps to get closer to the US.
Turkish Foreign Minister Mevlut Cavusoglu said last week that Turkey had been trying to purchase the Patriot air defense system from the US but the deal could not go through.
"This is the reason why Turkey, which is in urgent need of these weapons, has chosen to purchase them from Russia," he said.
American pastor
But Trump took to Twitter this week to hint at potential large sanctions over Turkey's ongoing detention of American evangelical pastor Andrew Brunson.
The tweet came following a decision by a Turkish court to place Brunson under house arrest instead of releasing him from custody.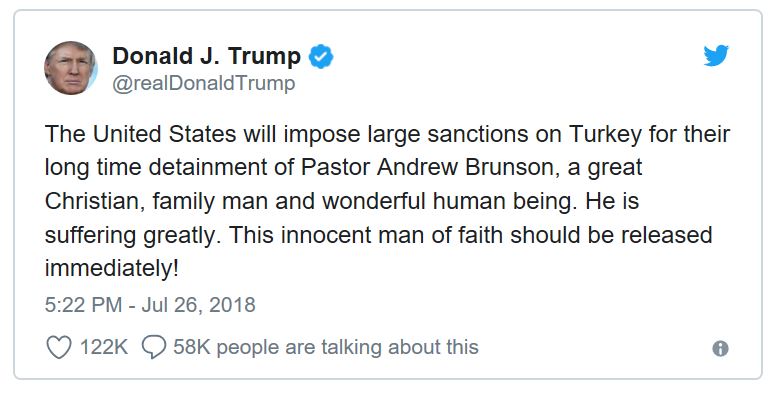 The pastor, who has been living in Turkey for two decades, was arrested in 2016 in connection with the failed military coup against the Turkish government.
Brunson, who is accused of espionage and supporting a terrorist organisation, has consistently denied the charges and American evangelical groups have been exerting political pressure to free him.
Cavusoglu hits back
Cavusoglu took to Twitter last week in what was believed to be a direct message to the US government.
"No one dictates to Turkey. We will never tolerate threats from anybody. Rule of law is for everyone, no exception."
Turkey says if the country cannot be allowed to get its F-35 planes, then no government should expect to stop Ankara from shopping elsewhere or even making its own jet fighters.
Pentagon also involved
US senators, who introduced a bipartisan bill to block the sale of F-35 jets to Turkey, said the transfer of sensitive F-35 technology and state-of-the-art capabilities was "increasingly risky" due to what they described as Turkish President Recep Tayyip Erdogan's broad consolidation of power in that country.
Turkey has already paid for the planes and it could have a number of them delivered if Trump waives the sanctions 90 days from the time he signs the bill into law.
Several Turkish pilots will need to be trained over the summer while the rest of the 100 planes, worth €10 billion, are not scheduled to be delivered before the year is out.
But as relations between US and Turkey are going through a rough patch, made worse by the outstanding Brunson case, it is unclear what will happen after Pentagon releases their assessment on NATO-ally Turkey.
Experts see this either as a "block" or a "delay" in the F-35 deal, which could potentially end up in international arbitration courts.