George Tziortzis joins EY as Head of Consulting Services

The full Cyprus partnership now proudly sits at 28 partners

while the new promotions strengthen the female representation in senior leadership positions
EY Cyprus Country Managing Partner, Ronald Attard, has welcomed the announcement of 4 new partners to the Cyprus practice.
An exciting addition to the EY leadership team is George Tziortzis, who has been directly admitted to EY as Partner, after a remarkable career in Cyprus and abroad, to lead the firm's fast-growing Consulting practice. As the market is still emerging from turbulent times over the last two years, EY is investing in strengthening its consulting teams, aiming to maintain the strong lead they have in the market by supporting clients realize their business, technology, and digital transformation initiatives, while at the same time managing risk and ensuring compliance.
Commenting on this, Country Managing Partner, Ronald Attard said: "I am very excited to welcome George to the EY family. Knowing his impressive background, I am confident that he can reinforce our consulting services and through the vast experience and skills that he has acquired throughout his career will help us grow our business during these disruptive times."
In addition, the firm proudly announces 3 new partners who have been promoted within the Tax and Strategy & Transactions service lines, raising the total partnership in Cyprus to 28. "Andreas Anastasiou, Andria Koukounis and Anna Papamichael are brilliant people, with great values and vision, who will make a significant contribution to the firm, our clients and our teams", Ronald stated.
At EY, we believe that diverse perspectives combined with an inclusive culture, drive better decision-making, stimulate innovation, increase organizational agility, and strengthen resilience to disruption. In this context, Ronald commented, "I am particularly proud that half of our new partners are women, confirming our commitment to diversity and equal opportunities. I am equally proud of the progress we continue to make and at the same time I recognise that this is only the beginning. We need to strengthen our teams with diverse members in order to achieve inclusivity. There is definitely a long road ahead of us in fulfilling our commitment to equal representation, but I strongly believe that we have set a solid foundation and great momentum."
As the world emerges from COVID, and notwithstanding various geo-political and economic headwinds, the demand for professional services remains strong, particularly as businesses look to transform; to understand, meet and exceed their changing obligations. EY in Cyprus is committed to continue offering solutions that meet our clients' needs and help them tackle their challenges in an unforeseeable future. "Our brilliant teams are consistently delivering outstanding client service, demonstrating agility, adaptability and perseverance. Our partnership is being enhanced with great leadership and we vow to continue to invest in the professional development and advancement of our people, because they are what makes this organisation exceptional. We look forward to working together with our new partners as we help our clients navigate through this challenging environment", Ronald said.
George Tziortzis has joined EY since 1st June 2022 while the new Partners will take up their new roles as of 1st July 2022.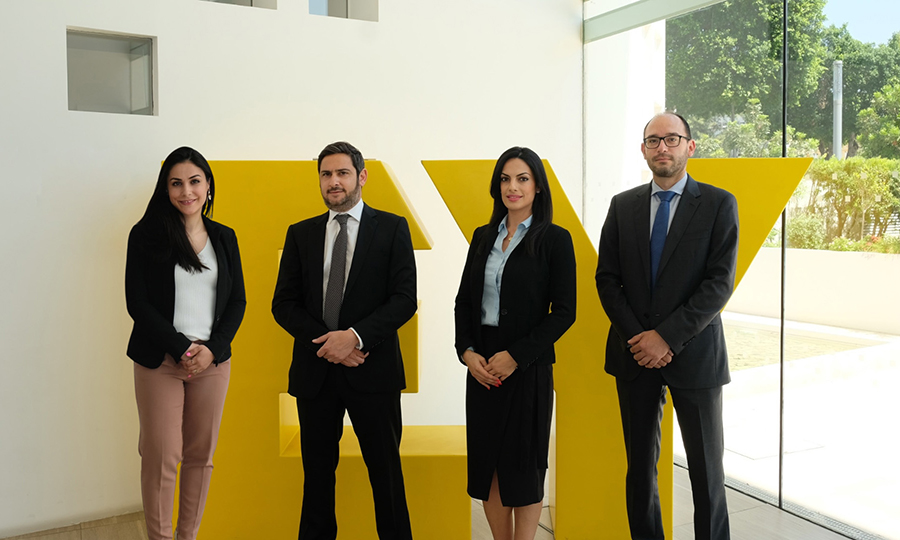 Introducing our new Partners:
George Tziortzis, Head of Consulting Services
George has more than 25 years of experience in management and consulting roles with a focus in Business and Digital Transformation. He has worked, on a full-time basis, in the United States, Switzerland and Cyprus helping organizations in different industry sectors transform and increase value. George has lead consulting practices, acted as a C-level executive and has been a member of executive management teams, always brining the transformation and technology view to the executive and board level forums of organizations.
George enjoys assisting organizations re-define their operating model, optimize operations, develop new business models and leverage technology and digital services to increase revenue and optimize customer value and experience. He has managed and delivered engagements for clients in different countries and industry sectors with a focus on Banking, Payments, Government/eGovernment, Retail and Telecommunications, contributing significantly to national level initiatives such as national level digital signatures model and digital economy platforms.
Prior to joining EY, George worked for the Louisiana University Office of Telecommunications for 2 years, was a member of KPMG for 22 years, and acted as the Digital Transformation Manager, CIO and Digital Economy and Transformation Advisor at the Bank of Cyprus.
Andreas Anastasiou, Strategy & Transactions
Andreas works in the Strategy and Transactions team of EY in Cyprus. He holds a UK bachelor's degree in Accounting & Finance and is a qualified Chartered Accountant with the ICAEW (UK) since 2003.  Before joining EY, Andreas held managerial positions in another Big 4 and in a group operating in the hospitality and real estate industry. To date, Andreas has led a range of different financial advisory engagements.  Engagements included among others due diligence exercises, lead advisory engagements, corporate and debt restructurings, the preparation of feasibility studies, business plans and IBRs for capital raising and investment appraisal purposes.
Andria Koukounis, Tax-Law
Andria studied Law at the University of Warwick and obtained an LLM in International Commercial Law from the University College London (UCL). She became a Barrister-at-Law of England and Wales from the Honourable Society of Gray's Inn and has trained at the European Commission (DG Consumer Protection). She is a CySEC Approved Person holding the Advanced Certificate and a member of the Legal and Regulatory Committee of CIFA.
Andria is a Cyprus qualified lawyer and has been heading the Financial Services, Funds and Capital Markets practice of Prountzos & Prountzos LLC | EY Law in Cyprus since March 2020. She is an experienced banking and finance law practitioner and has been extensively involved in the establishment of investment funds and investment firms. She has taken part in the processing of some of the largest NPL portfolios in Cyprus, advised on landmark financial transactions and is regularly advising financial institutions on legal and regulatory matters.
Anna Papamichael, Tax
Anna joined EY Cyprus in 2008 in the Business Tax Compliance and Advisory team, where she specialized in Tax issues within the Banking, Insurance, Financial and Real Estate sectors. Anna holds a bachelor's degree in Mathematics, Statistics and Accounting, and she is also a Qualified Chartered Accountant. During her career in the Business Tax Compliance and Advisory department, she has led a variety of projects covering the entire spectrum of Direct Tax. Anna has extensive and expert knowledge with banks, insurance, and construction companies, as she is dealing with their daily regulatory and tax issues. She has led and worked on the restructuring scenarios for the leading banks in Cyprus, as well as for buyer and seller sides of Tax due diligence projects for various banks, and she advises on Tax planning for acquisition and disposal of assets/ immovable properties repossessed by banks and construction companies.