This August 15th, prepare yourselves for a celebration out of the ordinary with the sounds and taste of the Caribbean. Le Sundeck Robuchon, the lounge bar in the heart of the commercial zone of Ayia Napa Marina, is getting ready for another magical music evening and on Tuesday, August 15th, it will take you on an express trip to Cuba!
Cuban Night will commence at 8:30 PM and will feature a live performance by Yemaya Son Cuban Live Band, full of the unstoppable energy of Cuban music. And in true authentic Cuban fashion, the cocktail list will feature 3 refreshing signature cocktails based on either Yaguara Cachaça or the famed El Dorado rums: Brazilian Daquiri (Yaguara Cachaca, Lime, Sugar), The Rum Fashioned (El Dorado 5, El Dorado 8, Sugar Bitters) and West Indies (El Dorado 5, Mango, Vanilla, Lime, Rinomato Aperitivo).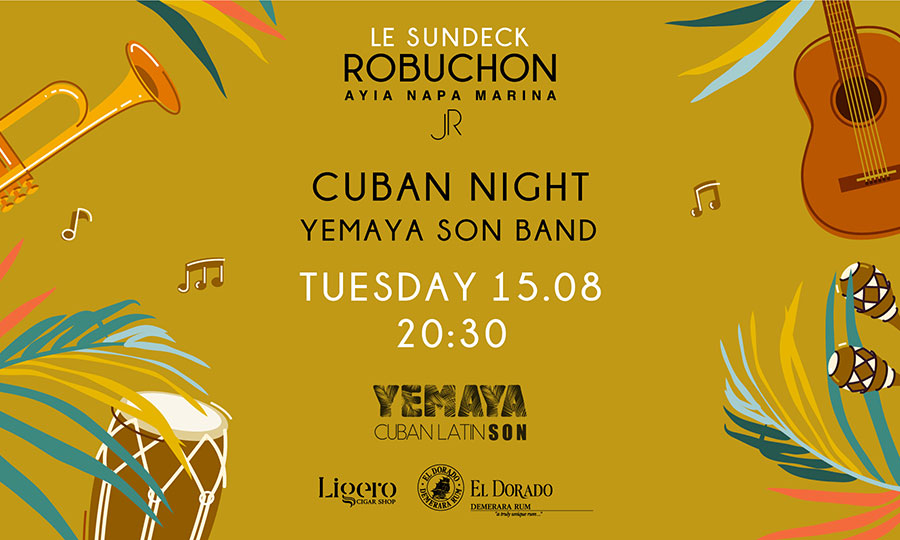 And what better and more fitting way to enjoy your cocktail than combining it with a true Cuban cigar like the Casa Magna Colorado Robusto? It will be available, courtesy of Ligero Cigar Shop, throughout the night at Le Sundeck Robunchon.
Come and enjoy the most festive night of August in authentic Cuban fashion, let the scenic ambience of Le Sundeck Robuchon work its magic, and have a taste of the streets of Havana!
Make your reservation in advance by calling +357 23 300 570 or via email at  reservations@jrobuchoncyprus.com.
Le Sundeck Robuchon is open from Monday to Thursday, 18:30 - 24:00, and from Friday to Sunday, 18:30 - 01:00, offering a distinctive summer atmosphere and a gastronomic experience that exceeds all expectations.