Social media users cry foul over 'stupid medieval' book with morality reverences to abstinence and premarital sex
A biology textbook is the center of heated debate in Cyprus after references to "purity" and "abstinence" in a chapter on sexually transmitted diseases were posted on social media.
Social media users in the Republic of Cyprus were up in arms this week over a Greek biology textbook for ninth graders, after a screenshot of a page on preventing STDs appeared to suggest that avoiding premarital sex had a "100% success rate."
"Yes to education on contraception," a social media user wrote on Facebook, but she added she was against biology textbooks being used to give morality lessons.
Under the "natural methods" section, the book listed "abstinence" and "purity" as a top technique to avoid getting an STD, saying it was effective and the only absolutely reliable way with a 100% success rate.
'One virgin female somewhere in Galilee would look at this 100% success rate and crack a smile' a critic wrote
The book also suggested only a mutually faithful and monogamy relationship could the above methods offer protection.
Users ridiculed the book, pointing out that marriage had nothing to do with birth control, with comments saying a point could be made about responsible versus irresponsible behavior both within and outside wedlock.
Some expressed disbelief that a biology textbook would veer off subject, suggesting the church had influence over education.
One user poked fun at Cyprus' newly-enthroned Archbishop Georgios, who was said to have been a biology teacher, while another person wrote about Virgin Mary.
"One virgin female somewhere in Galilee would look at this 100% success rate and crack a smile," a user wrote.
Another user pointed out that there were other methods mentioned in the book that were not visible in the screenshot.
Local media said Education Ministry officials have confirmed the content of the textbook but added the points in question were not being taught per se but simply were included on the page.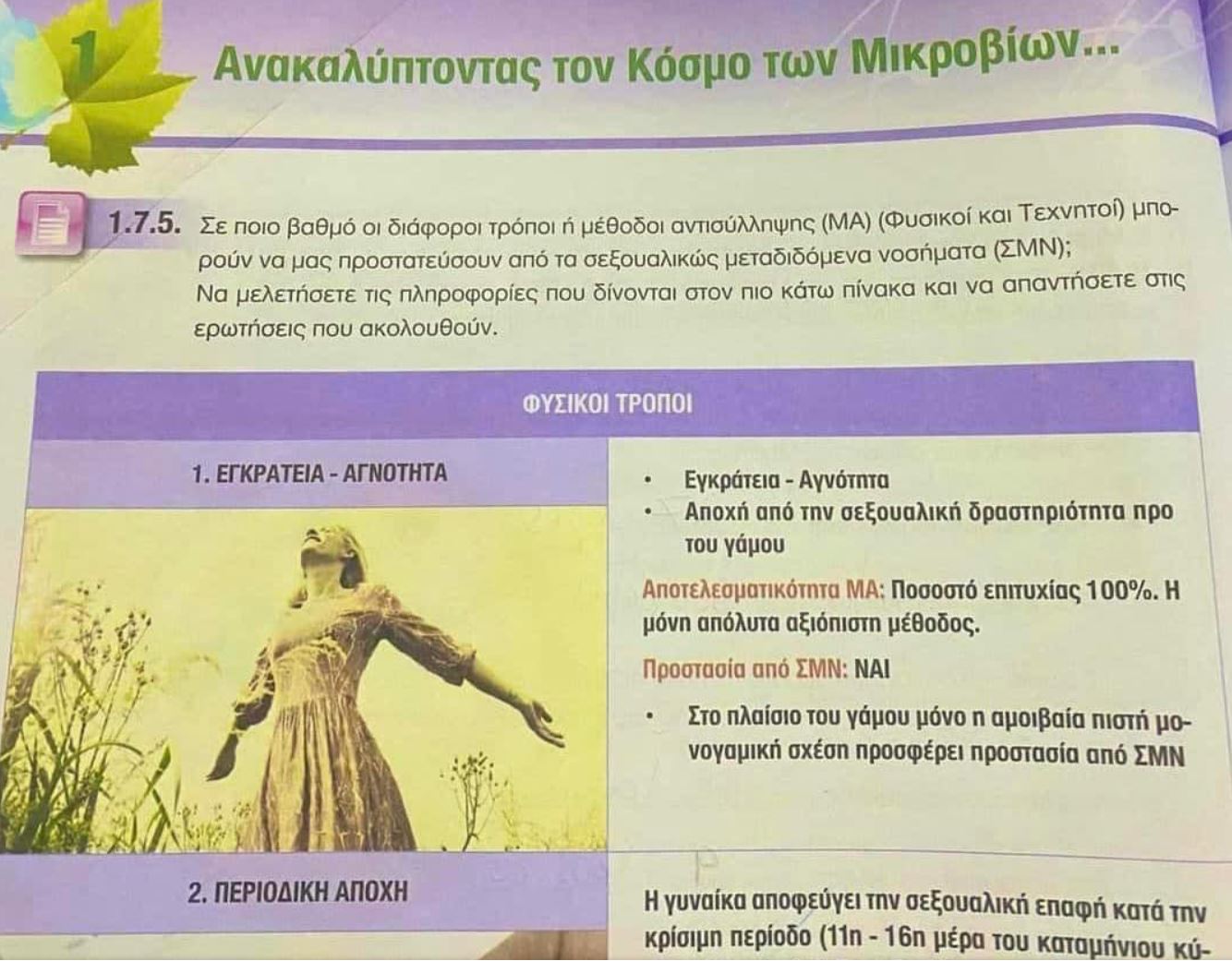 But users still pounced on what they described as "morality references" by calling the content "stupid," "dumb," and "medieval."
A person who posted the issue said abstinence and purity were not synonymous, saying she wondered how the book author would describe a child who did not abstain.
It was not clear how the issue went viral but reports suggested parents have been aware of the book for some time as students prepare to take their winter exams.
Semester exams as part of education reform in Cyprus have been very controversial in state schools, with students and teachers resisting the change while parents criticized false starts in the program, such as scheduling winter term exams after the Christmas holiday.
The issue also comes at a time when politicians on the island have been debating sex education.