Cypriot minister takes initiative with three proposals as power struggles on migration continue in the bloc
The Republic of Cyprus is adding pressure on a pending agreement over an EU migration pact, with three proposals backed by MED5 countries aimed at airing their grievances against the bloc, a union that is going through a power struggle.
According to the Cyprus News Agency, Interior Minister Nicos Nouris told the House committee on foreign and European affairs on Tuesday that he was pushing for a proposal on behalf of the five Mediterranean countries - Malta, Greece, Italy, Spain, and Cyprus - until the bloc's 27 member states reach an agreement on a new European Pact on Migration and Asylum.
Nouris has taken leadership on the issue after the MED5 called for more EU solidarity with "front-line" member states, with the island nation and partners demanding a bigger role in EU decision making on asylum and migration.
"Cyprus will submit to the Council of the EU a proposal containing three measures to deal with migration inflows until the bloc's 27 member states reach an agreement on a new European Pact on Migration and Asylum," the Nouris told the committee that on Tuesday.
Green Line
Nouris said the first measure had to do with EU border security, with the monitoring of the Green Line on divided Cyprus to be included in order to curtail illegal crossings from north to south.
While not an official border, a UN buffer zone stretches over 100 miles across the island east to west, separating the Greek Cypriot south from the Turkish Cypriot north.
Nouris says increased numbers of undocumented migrants have been arriving to Cyprus through Turkey and the northern part of the island through a porous buffer zone.
But the Commissioner also said there were 'question marks' about the Cyprus-Lebanon agreement, noting EU regulations stipulate people can seek asylum at the bloc's sea borders
But refugee advocates have argued that Cypriot customs officials at checkpoints, on orders issued by the interior ministry, have been refusing to let in refugee who wish to seek asylum in the south.
The second measure proposed by Nouris, who has pointed fingers at Turkey for increased flows to Cyprus, is calling on the Commission to reach a central agreement with several third countries on the return of undocumented migrants.
But Nouris has been harshly criticized over Nicosia's pushback policies, including a controversial deal with Beirut where refugees on boats are being sent back without being allowed to file an asylum application.
European Commissioner for Home Affairs Ylva Johansson has also raised questions over the agreement.
Commissioner talks Turkey
During a recent visit to Cyprus, Johansson said Cyprus deserved to get more help in dealing with migration flows and vowed to take up the issue during a trip to Ankara this week without giving further details.
But the Commissioner also said there were "question marks" about the Cyprus-Lebanon agreement, noting that EU regulations stipulate that people can seek asylum at the bloc's sea borders.
Nouris has said in the past that pushback policies were aimed at halting illegal immigration and the threat of terrorism, adding that legitimate claims by refugees fleeing war were still welcome as long as other EU states also got their fair share.
The Cypriot minister said the third measure would be to activate all existing mechanisms within the EU to maximize the number of returns.
EU has been lacking a comprehensive immigration policy but last year, after many years of discussion, a blueprint had emerged aimed to overhaul asylum and migration in the bloc.
The European Commission has said new initiatives were aimed to prevent ill-treatment of migrants, reduce illegal migration, and encourage better migration management.
But asylum policies in the plan have been heavily criticized by the frontline countries, including Cyprus, arguing they were absorbing a bigger impact than other EU member states.
Chairgate moment for the two commissioners 
Political disagreements have also emerged within the Commission. Observers in the media have pointed out that Johansson, a Swedish national hailing from the socialist camp, has been at odds with Margaritis Schinas, the Commission's vice president in charge of promoting the European way of life.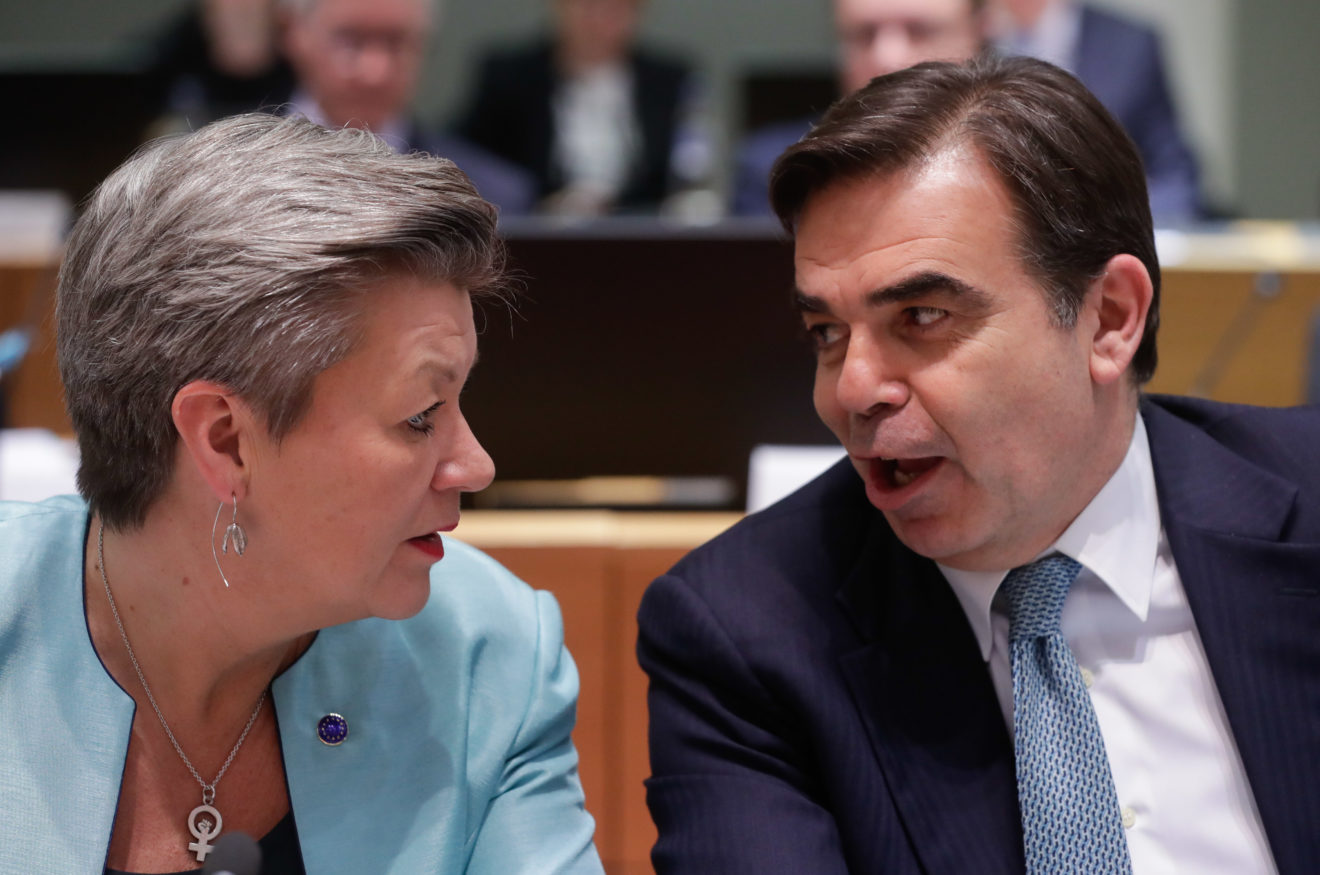 Schinas, a Greek national and a member of the center-right European People's Party, shares the migration portfolio with Johansson, with both commissioners making comments last week, one year after the adoption of the proposed pact.
"And if we have learnt anything in recent years, it should be that flying solo on these issues is not an option. Now is the time to come together around solutions," Schinas said last week.
Johansson said that "agreeing on our resettlement framework regulation will help Europe have a stronger voice on the global scene by showing how we and Member States are practically offering protection to people in need."
"We have balance, now we need delivery," she added.
But Politico also picked up on another issue, writing last week about "Chairgate" when the two commissioners ended up sitting side-by-side in violation of health protocols that also brought back memories from Sofagate.
The European Commission last week took stock of progress and developments in migration and asylum policy over the past year and a half, including the pandemic's impact on events but also additional issues in key areas that include Cyprus.